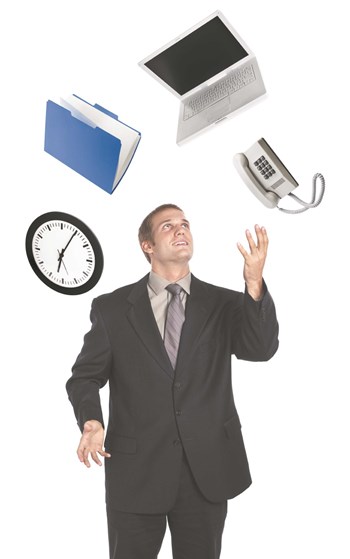 When your community, co-op or condominium building is externally managed, the bills get paid, assessments get collected, light bulbs get changed, and lawns get mowed. And believe it or not, it's not little elves that take care of these things, but often a team of pros that work under the umbrella of your property management company. Those are just several of their many duties. If managers are doing their jobs right, homeowners might not even realize how many different things, both big and small, that their property management company does. The job description is as varied as a day in the life of a property manager.
"There is no such thing as an average day," says Lisa Evans, CMCA, AMS, PCAM, a community association manager with Schaumburg-based Vanguard Community Management. "Daily, we are answering emails, returning phone calls, reviewing open tasks, preparing monthly management reports for board meetings, checking in with vendors regarding current or potential projects, procuring proposals for work or contracted services needed," Evans says.
Can We Talk?
The most time-consuming daily tasks can simply be responding to homeowners' requests, concerns and complaints. Management companies may have slightly different work-flows and procedures, but typically there's a point person to deal with daily tasks like these. At Chicago's Connected Property Management, these folks are called operations managers and they act as the first responders for each of the company's small- to mid-sized properties. "They're there for two things," says Connected's president and owner Paul Houillon. "First and foremost, to be very fast at responding to issues that come up at the building and to be there for the board," he says. "A lot of it is reactive, but that's what these buildings need," Houillon says. "Where we hear complaints about the management industry in general is that people call their management and don't hear back for days or weeks." On the contrary, a successful property manager responds quickly and is expected to handle the unexpected.
"You come in, in the morning and you have five projects you want to do," says Jim Stoller, president of The Building Group, a Chicago-based property management company specializing in co-ops and condos, with over 7,000 units in Chicago and Evanston. "And you look up at 5:30 in the evening and you may not have gotten to any of them, because part of what we do is deal with emergencies and occurrences that are unplanned at every building."
What often happens, Stoller says, is that a unit owner will wait until the 11th hour to alert the property manager about a problem that's been going on for a week. "It can be anything from a minor water problem, to a boiler's down, city water's been disconnected, elevators broken, you name it we've seen it." That's the truth, he says.
Behind Closed Doors
The Building Group has dealt with a murder, a suicide (someone actually jumped off the roof of one of their managed buildings), embezzlement by board members, and a homeowner doing business out of her fancy River North high-rise as a nude masseuse. But wait, there's more. "We had one unit where we were getting smells and the unit owner wouldn't let us in," Stoller says. "So we went to court to get into the unit and found that the owner had let his dog defecate and urinate throughout the unit." Ugh. They needed a court order to get in, make the unit habitable again and bar the homeowner from ever coming back to the building.
Another time, there was a fire in one of their buildings, just a little over a week after The Building Group took it on as a client. "It started at 10:30 in the morning and it was fairly significant," Stoller says. While the fire department took care of the fire and controlled the damage, The Building Group took care of the residents. "The fire department initially told us it would be three days before everyone would be back in the building, and by 5:00 p.m. that day, the fire department allowed the residents of undamaged units to move back in."
How were they able to do that? With a lot of legwork and quick-thinking. "We had all the cleaning services working non-stop," Stoller says. "We put a team together that attacked the problem from every angle, and we were able to quickly secure the facility and handle the units that were damaged so they weren't causing more damage," he explains. "No one was happy to have a fire in their building but they were happy to move back sooner than expected."
Evans recalls a messy situation of her own. One evening, she received an emergency call from a unit owner about a plumbing leak coming from the unit above. The owner had contacted the fire department because she thought the above home was vacant. "When the fire department went into the unit, they discovered a very unsanitary hoarding situation," Evans explains. "The health department quarantined the unit, which frightened many other owners in the building. It took a long time to resolve, because we had to work with the authorities to get the unit cleaned up, all the while ensuring the other owners were safe and secure." After a court-ordered inspection, the unit was deemed acceptable again, "but that took quite some time to gain the owner's compliance," Evans says.
"It would all make a great TV show," Stoller jokes, acknowledging the TV shows found on A&E and TLC networks on hoarding.
Unfortunately, a common occurrence these days are homeowners who struggle to keep up with their mortgage payments. With delinquencies and evictions, there's more stress than ever in these buildings, Stoller comments. It also leads to some homeowners who are looking to rent their units in buildings that have rental caps or prohibit rentals completely. "They're appealing to boards, and some are spinning out of control because they've allowed too many rentals, and people selling are having trouble." The property manager's role in situations like these is primarily to make solid recommendations on how to proceed.
"We have monthly financial reports that the board can review, but we're not leaving them to notice the delinquency; it's up to us to tell them, and then we recommend something," Houillon explains. Because a foreclosure can affect and worry the whole association, the property management company needs to take that into account too. "We don't just tell them this is happening, but we take steps to protect the association," Houillon explains.
All in a Day's Work
Responding to all situations in a professional manner is crucial. "What we first do is find out the facts and figure out the best solution. Since everything is unique, you have to listen carefully, get all the relevant data and form the appropriate response, whether it's a single phone call to a supplier or more complex," Stoller says.
In addition to the more unusual, there are vital seasonal responsibilities that a property manager takes on as well. "On an annual basis, we are very busy in the spring evaluating landscaping and maintenance needs," Evans says. "Summer is the time for completing projects. In the fall, we are preparing budgets for the following year, conducting annual meetings and elections, preparing for year-end audits, and then we prepare for winter."
The needs and projects are typically evaluated by professionals either on staff or as preferred vendors of the property management company. The property management will do all the necessary research and come up with the most intelligent options, factoring in legal, practical and financial issues. But with all these responsibilities, it's important for associations to understand that the property manager definitely makes recommendations but not the final decisions. "It's up to us to lead and guide the association," Houillon explains. "Where you can really add value is in really helping the board to plan and deal with issues, tell them what we recommend and ask them how we should proceed," he says.
To juggle all these jobs, a successful property manager needs a wide-ranging skill set—"You have to be an expert in everything, from knowing state laws and each association's governing documents, to insurance, financial and budgeting, maintenance and building components, negotiating contracts, and much more," Evans rattles off—as well as plenty of pertinent personality traits. "You must be very adaptable, well organized, and able to prioritize quickly," she says.
Add to that: friendly and outgoing, having a sense of integrity, responsibility and responsiveness, says Stoller, who also likes to see a working knowledge of building systems or at least the willingness to learn about them. "We need to communicate what is wrong with a building to a board that might not know anything about a building—what is working and not working," he says. There's also a huge component of customer service without much direct thanks, so Stoller says a sense of humor as well as self-satisfaction is useful as well.
And, says Evans, "You're constantly juggling multiple priorities—a manager's job is never done."
Elisa Drake is a freelance writer and a frequent contributor to The Chicagoland Cooperator.