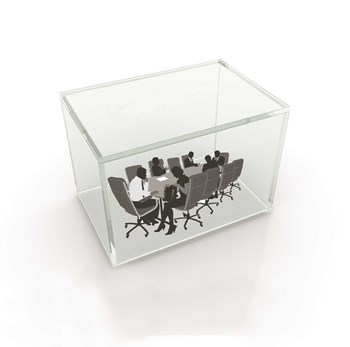 This in an anxious time in which to sit on the board of directors. With defaults and foreclosures accounting for some 20 percent or more of the units at some condominiums, frustration among association members is off the charts.
"Condominium associations face greater financial pressure than they ever have in terms of delinquencies, foreclosures, bankruptcies and lack of sales," observes attorney David Hartwell of Chicago-based Penland & Hartwell, LLC.
"I think that's why transparency has become such a big issue," says Hartwell. "When everything's good, nobody seems to care, but when things go bad, suddenly, they ask, 'why aren't they telling us what's going on? How do they make these decisions? Who's running the joint?' "
Indeed, according to attorney Ryan Shpritz, principal of the Buffalo Grove law firm of Kovitz Shifrin Nesbit, which represents thousands of associations in Illinois, "I would say lack of transparency is one of the most common complaints [from association members] about boards."
While it is next to impossible for those running the joint to completely forestall accusations of lack of transparency, especially when financial pressure forces boards to raise maintenance fees or levy assessments. But members and management can make the bitter pill of cost increases easier to swallow by paying scrupulous attention to the way they communicate with owners.
Doing it by the Book
Firstly, of course, says Shpritz, "the board needs to do things by the book" —to adhere to the letter of the laws prescribing the records boards must keep and the rules on their disclosure. Illinois makes this first step to transparency easier to execute than do most states. The Illinois Condominium Property Act (ICPA) is a comprehensive and detailed prescription for running a condominium.
Section 19 of the ICPA covers the records the board needs to keep on file and where they must be stored. The records include the association's declaration and bylaws; the rules and regulations; the minutes of all board and association meetings (for seven years); all current insurance policies; all contracts, leases and other agreements; names and addresses of the board members; and ballots and proxies related to board elections and any other matters (for 12 months). They should be held at a designated "principal" office, commonly the property manager or managing agent's office or, for self-managed properties, with the board's secretary.
There's one last record keeping rule for condominiums, a formidable one: the board must keep "the books and record of accounts for the association's current and 10 immediately preceding fiscal years, including but not limited to itemized and detailed records of all receipts and expenditures." This should be reason enough for boards to keep close tabs on how well their manager is storing the property's records so they can be produced on request reasonably quickly.
Some records could be essential for an association's defense in a lawsuit, cautions New York real estate attorney C. Jaye Berger. "There's a litigation matter I'm consulting on where it is important to have old records concerning monthly charges, rental agreements and the like," she says, "and they seem to have gotten lost in the transition from one management company to another. The loss may cause a real weakness in the case [which is pending]."
"Boards might assume when they say, 'please transfer the files,' that everything will be transferred in an orderly fashion," says Berger. "But sometimes when there is a transition, like when the board fires a management company and hires a new one, documents are lost in the process. That is a scary thought."
Board Members Have Total Access
Every member of the association has the right to examine and even copy almost all of the records on file, but there are a few exceptions. They include: those relating to association employees, pending litigation, monies owed by individual members and the details of the sale of units by other owners. "At the end of the day," after all, explains, Shpritz, "it is a business, sometimes a multimillion dollar business, and in all businesses certain information has to be protected."
Illinois law compels the board to distribute some documents directly to each unit owner. A proposed budget must be mailed to all association members 30 days before the board votes on the annual budget, covering all of the anticipated common expenses and income for the coming year and including any proposed assessments. In addition, each year the board must distribute an itemized accounting for the prior year of the revenues collected and monies spent. Lastly, should the board intend to change any of the rules and regulations, details of those must be forwarded to owners.
As the management company is an agent of the board, there is nothing they keep on file, except for those few exceptions mentioned above, that is not accessible to any board member, except any litigation involving that board member. And while there are no specific protocols for how management should run the building for the board, "property managers best serve their clients," advises Hartwell, "by providing the board with as much information as they can so as to make fully informed decisions in administering the operation of the association."
The Illinois Condominium Property Act requires that boards of directors to meet at least four times a year and record and hold the minutes of the meeting, but has nothing to say about the contents of that record.
Minutes: Just the Facts
"There are no precise regulations for the preparation of meeting minutes," says Hartwell. "As a general rule they should be prepared in such a way that somebody reading the minutes who did not attend the meeting can reasonably ascertain what business was performed by the board of directors at that meeting. They should be somewhat succinct—not paragraph after paragraph about what the discussions were." It is basically a chronology of the meeting, with topics discussed and actions taken or deferred.
On more sensitive issues, if, say, "the board makes a decision to start collection procedures against a particular owner," advises attorney Stuart Halper, principal of the New York-based Impact Real Estate Management, "the discussion generally doesn't get recorded, but the decision should be."
Halper encourages abundant disclosure in the board's communications with their association generally, but discretion is important in the minutes, he explains, "because you want board members to have freedom to discuss things openly in meetings."
Indeed, while most managers and consulting attorneys recommend a policy of openness, "transparency is a concept that the board has to balance as it sees fit," says Hartwell. "Really, it's a case-by-case basis." An appearance of less than full disclosure on important issues, he says, "simply raises in the mind of the unit owners, rightfully or wrongfully, that information is being hidden, or maybe the decision process wasn't really consistent with business principles, or somebody has been involved with self-dealing."
At the same time, experienced board members come to understand that even their best attempts at transparency will often prove futile.
Best Intentions
"People don't read agendas," says Hartwell. "So if the board comes up with an idea that all of them believes would be good, it may not generate much interest—until all of a sudden somebody shows up to a meeting and says, 'have you heard so-and-so wants to spend $2 million to put a gym in our building?' [Hartwell represents some very high-end residences]—and it flies around like wildfire."
"It's easy to generate interest based on negativity," explains Hartwell—"much easier than it is to generate interest based on a positive, especially with special assessments. People don't see all the behind-the-scenes work, so they imagine that work never took place."
Robert Ferrara, director of management for the New York-based Anker Management describes an example of a major project with a disclosure program that worked. Ferrara helped guide the board of a huge, 39-building HOA in White Plains, New York through the approval of an expensive, multi-year roof-replacement project.
First, the board commissioned a roof consultant to write an exhaustive report, an abridged version of which they distributed to unit owners. After leaving the owners some time to review the plan, the board held a special meeting featuring a presentation by the consultant, who explained his report in detail and took questions. They followed up right away with a letter to all the unit owners with a summary of the meeting. They allowed any of the owners to visit the management office to review all the records related to the project. Once the project and special assessment were approved by the board, they notified owners about the decision and gave them a building-by-building construction schedule.
Taking pains to be transparent has paid off, observes Ferrara. "While the unit owners may not be thrilled with having the assessment, they have been positive with how they have been kept informed along the way."
In a day and age where the most private of information may be shared via the Internet or social media, being open and communicating with your residents on matters of importance will go a long way towards fostering and maintaining harmony in your building community.
Steven Cutler is a New York-based freelance writer and a frequent contributor to The Chicagoland Cooperator.