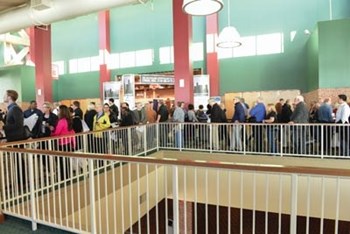 The highly popular Chicagoland Expo will be back at the Navy Pier for its fifth consecutive year on Wednesday, November 18, 2015 from 10:00 a.m. to 4:30 p.m. bringing solutions that you can take home.
Featuring more than 275 exhibitors, a day-long series of educational programming and free advice booths, it's a one-stop, custom-built marketplace for vendors, products and ideas that your buildings need. Go to chicagocondoexpo.com to register and to learn more information about this exciting event. (Admission to the trade show is FREE of charge.)
Come-Meet-Network-Learn
Visiting with exhibitors is only half the story. A full slate of educational seminar panels will offer attendees an in-depth discussion of legal, administrative, management and financial concerns important to Chicagoland's condo and HOA managers, board members and owners. Stay tuned to chicagocondoexpo.com for more information on the upcoming event.
Free Help and Advice
Admission isn't the only thing that's free at the Expo—in addition to networking and education opportunities, the Expo will feature free advice booths staffed by professionals from a wide array of industries, waiting to answer any and all community association and building-related questions you might have. If you have legal questions about your association, financial questions, or questions about day-to-day management of your building community, you can stop by one of the booths for answers from leading legal, management, maintenance and financial professionals.
Winner-Winner
And attending the Chicagoland Expo can make you a winner. Dozens of raffles and giveaways will take place throughout the day. And association boards can benefit from our Grand Prize Reserve Fund giveaway, courtesy of The Chicagoland Cooperator and Yale Robbins Publications LLC. One attendee's name will be drawn at random to win a $2,500 contribution to their building or association's reserve fund. Only board members qualify to enter the reserve fund drawing, and attendance at the Expo is required for eligibility. For complete details on how to enter the reserve fund drawing, visit chicagocondoexpo.com/conditions.
A Day Well-Spent
Make plans to attend The Chicagoland Condo, HOA & Co-op Expo at the Navy Pier Convention Center on Wednesday, November 18th. For more information on who is exhibiting at the show or to register for this event, visit chicagocondoexpo.com.