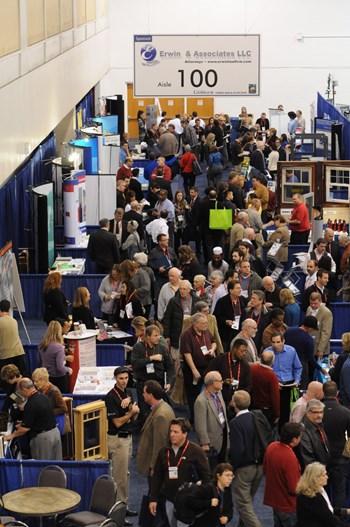 The winds were a bit chilly but the sun was shining brightly on the Navy Pier as more than two thousand enthusiastic attendees packed The Chicagoland Cooperator's 2nd Annual Condo, HOA & Co-op Expo to meet with nearly 250 exhibitors, attend seminars and have their questions answered by the professionals. They came not only to learn about new products and services, network with hundreds of service providers but also to socialize and exchange information with their fellow board members and peers. The main goal of the day was to gather valuable advice to help their boards and community associations run more efficiently.
All in One Day
The all-in-one-day event at the Navy Pier Convention Center brought together Chicagoland's best property managers, board members, real estate professionals, shareholders, service providers, vendors and unit owners all under one roof.
Many attendees were impressed with the diversity of information available at The Chicagoland Cooperator Expo, "I can't believe there are so many vendors. As a board member it seems to take forever to find the professionals I need to talk to," said Raymond Johnson, a board member from Lincoln Park, "here I just walk around and every professional I need to talk to are standing right there. I never realized the wealth of resources available. Today has been so helpful. I talked to as many people as I could. I'm going to tell the other members of my board that they have to come next year."
In challenging economic times, good information is critical and The Chicagoland Cooperator's Condo, HOA & Co-op Expo provided the resources and learning tools board members and industry professionals need to stay ahead of the curve. The Chicagoland Expo not only gave attendees a chance to meet with professionals in the community association field but also provided a full slate of unique educational programming, plus free management, legal, insurance and financial advice.
"Attendees can find everything here from asbestos abatement to window replacement," said Henry Robbins, executive vice president and sales director of Yale Robbins, Inc., the producers of the expo.
An Information-Packed Day
The instructional offerings started early with a pre-show seminar entitled "Foreclosures, The Aftermath," hosted by the Illinois chapter of Community Associations Institute (CAI-IL) and sponsored by the accounting firm of Frost, Ruttenberg & Rothblatt; Mesirow Financial, an independent insurance and financial services company and Reserve Advisors, a firm providing reserve studies. The industry experts speaking at this seminar were Patricia Bialek, director of portfolio management from the property management firm of Wolin-Levin and Kelly Elmore, Esq., an attorney from the firm of Kovitz Shifrin Nesbit. They gave attendees valuable advice of how to deal with foreclosed units, being proactive in filing liens and the collections process.
Next up on the list was a tell-all session entitled, "The Truth and Nothing but the Truth—Insider Secrets from an Attorney, an Accountant and a Property Manager." This seminar featured Marcia E. Caruso, CPM, RAM, owner of Caruso Management Group, Inc.; Mark Cantey, CPA of Cantey Associates and Patrick Costello, Esq. of the law firm of Keay & Costello. In this session, attendees were presented with a realistic and insider version of how buildings should operate and how they can be successfully managed.
"It was a great session," said Cantey, "we covered so many topics and we were able to really answer so many questions."
Orest Tomaselli, president of National Condo Advisors LLC and Strategic Inspections, LLC, sponsored a seminar which examined the recent changes adopted by the FHA, Fannie Mae and Freddie Mac related to condo lending and reserve funding. Tomaselli said many associations are unaware of the ramifications of being FHA-approved. After the mortgage crisis and tighter lending standards, about 9,200 developments across the country lost their status and some haven't gotten it back.
Tomaselli was extremely pleased and energized. "It was amazing. One of the biggest turnouts we've ever had. Amazing questions, a lot of problems were handled, and we had a line out the back of booth for the last two or three hours. It was a fantastic presentation."
Christine Evans, CMCA, PCAM, the president and CEO of Vanguard Community Management spoke to a packed room at the third seminar of the day "The Top 5 Things Managers Wish Boards Knew," sponsored by Associa. Evans engaged the crowd discussing the interaction between the property manager and the board. Evans said managers are there to help, and not make the decisions or replace the board. "My philosophy is that the management company and the board are partners, you have to work together, but there are some things that board members should know to make this relationship is successful."
One attendee said that the seminars gave her much food for thought and she looked forward to return again in 2013. She indicated that the information she learned was helpful and looked forward to sharing her newfound knowledge with her fellow board members.
The last panel also was well-attended. "Energy Efficiency Issues–How Can Your Building Be Greener," sponsored by DRF Trusted Property Solutions and Nicor Gas Energy Efficiency Program, featured Scott Schnurr, DRF's president and Dennis Fiddick, a solutions engineer from DRF; Peter Santangelo, president of Community Advantage; Jeff Crittenden, custom program manager/senior engineering manager with Resource Solutions Group and Tom Kovalak, program manager, C&I Programs, Nicor Gas. Here, attendees learned all about emerging technology, what it takes to make buildings run more efficiently and lessening a building's carbon footprint. Attendees were also given information on financial incentives and tax breaks that are available.
Free Advice & More
One of the Expo's prime attractions are the free advice booths hosted by The Chicagoland Cooperator and staffed by a rotating roster of industry professionals throughout the day. Attendees waited to question experts about association finances, policies, and day-to-day management issues. The Expo featured a cyber cafe to check email, stocks and other news of the day; a full service food court to whet the appetite, regroup and re-energize before heading back to the Expo floor packed with hundreds of exhibitors.
"The Expo is exciting and provides a great opportunity to learn, grow and meet with experts," says Robbins. "Everyone has a great day."
Mark your calendar for the next Chicago Cooperator's Condo, HOA & Co-op Expo, which will return to the Navy Pier on Tuesday, October 22, 2013. Make your plans to attend.
Liam P. Cusack is associate editor at The Chicagoland Cooperator.