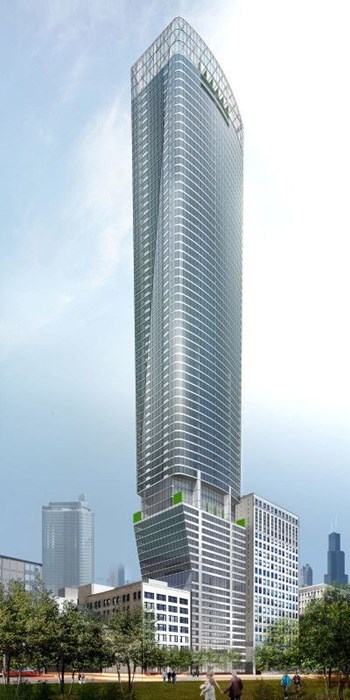 A Helmut Jahn-designed tower at 1000 South Michigan Avenue—dubbed 1000M—has experienced a series of ups and downs, both literally and figuratively.
Originally intending to build a luxury condo rising 832 feet into the skyline and housing 421 units, developer Time Equities has now applied for a zoning variance that would allow an additional 232 units beyond what the current zoning allows, bringing the total to 738. The revised plans also show the project's final height reduced by 27 feet to 805.
Reporting by The Real Deal and Crain's reveals that the $470 million development near Grant Park - the largest active condo project underway in the city - hit its first snag in June of 2020, when foundation construction stopped. A statement from the developers claimed that the stoppage was due not to financial issues, but rather because of safety concerns—although the halt coincided with a spate of stalled construction across and beyond the city thanks to the economic fallout and uncertainty brought by the coronavirus pandemic.
Then the following month, another blow: Goldman Sachs pulled its planned construction financing from the project, citing "concern[s] about economic stability of the market … due to recent events," according to Time Equities chairman and CEO Francis Greenburger - who added that 101 of the originally planned 421 units were in contract at the time, with buyers having put 10% down.
According to TRD, Time Equities' application with the City Council to increase allowable units at its planned 74-story tower doesn't specify the type of units they would market - but Greenburger told the Chicago Tribune in December that the property would be mostly rentals, with construction timing dependent on the economy and financing.