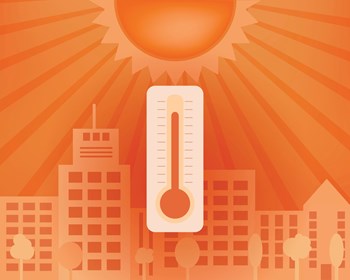 The reality of climate change is upon us. Weather patterns have changed, and seasons have been altered. We experience more intense heat, more frequent, destructive storms, wide-ranging wildfires, and more destructive cold. Tornadoes—the spawn of conflicting hot and cold air masses—touch down in places they were once almost unheard of. What was scientific prognostication only a few years ago has become reality. It's also a reality that most of the structures that house our homes—particularly high-rise multifamily buildings—were not designed for these types of changing climate events. While that's a chilling thought, today's communities have no choice but to deal with that reality, as well as plan for what may be ahead.
The New Reality
Perhaps the two most pressing and dramatic ramifications of climate change currently facing our communities are the rise in sea level and the increasing frequency and severity of storms and other weather events. More concerningly, these two events often overlap, causing even greater peril. The worry is particularly severe for communities built along our coasts and shores—including along the shore of Lake Michigan.
"The real impact in the Midwest has involved Lake Michigan," says Phillip Mahan, owner and president of Bloomingdale, Illinois-based engineering firm Structural Technologies. In recent years, he says, "The lake's water level has risen by two feet due to increased storm intensity and runoff. The result has been significant erosion of the shoreline, especially around Chicago and into Indiana and Michigan—whole sections of land are shearing off and falling into the lake. The trend and the damage are significant. In an effort to stave off the damage, pilings have been put in or reinforced. Seawalls—including gigantic stones to act as breakwalls to protect building foundations—have been built, but we do have potential building collapse problems."
"The biggest issue is along our waterfronts," says Kevin Keating, an architect with Selldorf Architects, a global architectural firm, echoing Mahan's analysis. For oceanfront communities in New York, New Jersey, Florida, and New England, for instance, rising sea level is the biggest issue. Combine that with bigger storms up and down the East Coast, and you must ask the question of how we will fortify the properties against the combination of these two factors.
In Chicago's case, Mahan explains, "[The city] is built on silt and backfill as far west as Michigan Avenue. The lake is already two feet higher, and that backfill is saturated. Lakeshore Drive is at risk. It's an iconic address, and owners are very concerned about the stabilization of their footings because of the rising water table. The problem we face is destabilized soils. Building pilings are on bedrock, but the steel is exposed to water and can corrode. Corrosion of steel within pilings and rebar is the major issue."