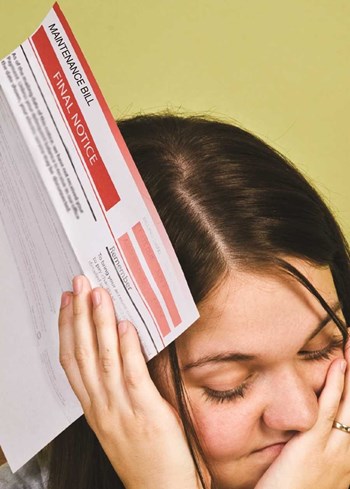 The foundation of any properly run condo association or co-op building rests on residents paying their monthly maintenance fees on time and in full, with no delays or delinquencies. However, thanks to the lingering effects of the recession causing job losses and financial uncertainty—especially here in the Chicagoland area—many buildings and associations are feeling the pinch of late and/or missing maintenance payments. Many owners are also unable to cover the cost of special assessments to fund much-needed capital repair and improvement projects.
Hard Times vs. Hardball
Most real estate industry pros have seen the effect that non-payment and arrears have on buildings and HOAs, and say that it's a problem that has surged in some buildings in recent years, for an array of reasons.
According to Tom Skweres, regional vice president of ACM Community Management in Downers Grove, the reasons for non-payment vary. "It can be because of financial hardship. They've lost their job, or have other expenses that have come up—but it's mostly employment."
Residents going into arrears deliberately is another issue that can make for serious administrative and budgeting headaches for boards, says Jeffrey Cagan, president and CEO of Chicago-based Cagan Management. In these cases, "It doesn't have anything to do with financial hardship—it's because they're angry with a board member about something." Fortunately, says Cagan, "It doesn't happen a lot. We manage what I consider established condominiums and co-ops, so we don't find that as a big problem. Conversions with a lot of renters in the building can be different, but when it's owner-occupied, we don't find a big issue with it."
When to Act
Regardless of the reason for an owner's arrears, says Skweres, "The budget still has to be met—and the unit owners in good standing have to bear the expense of the unit owners who are not paying. Hopefully they would collect the money back, but in the short term everybody bears that burden." Multiple and ongoing arrearages can have a trickle-down effect across an entire association, limiting the funds the community has available for both regular maintenance work and important capital projects.