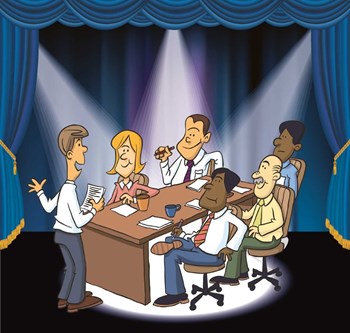 A key to success and functionality in any relationship is clear and regular communication. In a residential community, part of achieving functionality is managing the information in the governing documents and records which detail the community's finances, legal proceedings and correspondence between unit owners, the board, the management company and others.
Who gets to know what, and when they can know it could become a bone of contention pitting residents against each other, but it needn't. The differences between information that can be shared with members of the community, and data that should not be shared, are clearly marked by the law. This doesn't mean all members of the community, or even every member of the board, understands what is legal or illegal to share. Unfortunately, misunderstandings in this area can lead to lawsuits, which create legal fees that are paid by all members of the community.
Experts say that keeping residents in the loop, while maintaining appropriate levels of confidentiality, is the smartest and most economical course. Openness helps to prevent misunderstandings.
What's Hidden?
Just because it is community business doesn't mean it's your business. While it is the bailiwick of board members to know what records they can and cannot reveal, all unit owners should know what official records they legally have a right to see.
"There are some legal requirements that allow for transparency," says Lara Anderson, an attorney and shareholder with the law firm of Fullett Rosenlund Anderson PC in Lake Zurich. "There are requirements with regards to providing access to certain association documents and records upon request. There are a number of documents a unit owner can request to review and make copies of. The documents include things such as obviously your governing documents, which would be your declaration, your bylaws, your, articles of incorporation, rules and regulations, records of receipts and expenditures of the association and minutes of the meetings."
Strictly speaking, official records of the association include a copy of the plans, permits, and warranties provided by the developer; a photocopy of the recorded Declaration of Condominium and recorded bylaws and amendments to both; a certified copy of the articles of incorporation; a photocopy of the cooperative documents; and a copy of the current rules of the association. Other official records include minutes of all meetings for the past seven years; a current roster of all unit owners and their mailing addresses, unit identifications, voting certifications and, if known, telephone numbers; current insurance policies; and current copies of any management agreements, leases or other contracts. Also, records of bills of sale, accounting records, records of all receipts and expenditures, a current statement of account for each unit, all financial reporting statements, and records of all contracts and bids for work to be performed must be maintained.
"Members of an association can obtain records such as proxies and ballots for elections and contracts, but those types of records require that they provide a proper purpose to review them, which really isn't a hard burden for a member of an association," Anderson says. "If they state that they want to look into how the association is being managed and the financial status of an association, generally that will be sufficient to look into certain financial records. If they're concerned about the validity of an election, that should be sufficient as a proper purpose for them to then review the ballots and proxies for a recent election," she says.
But as with any business, there is a need to keep some things confidential. By law, HOA boards and management companies have to be transparent in their operations, allowing members of the community to see what's happening throughout the process, Anderson says. Still, there are limits to what the public can see.
"There is some information that the board can withhold from members of the association, in particular, any information and anything that would be detrimental to the association," Anderson says. "Pending litigation is generally what a board can keep from the members of the association because they need to protect the sanctity of the attorney-client relationship and make sure their legal strategies aren't divulged to the other side of the litigation. It's in the best interest of the association as a whole that it's withheld, but it would not be withheld indefinitely," she says.
Other records exempt from public scrutiny include unit owner medical records and unit owner screening records.
Sometimes board members can react defensively when given requests for information from a resident. They might feel as if they are being questioned, and they could secretly fear that they will be found to have made a wrong decision on some matter if they allow official records to be released. The first problem with that thinking is it's illegal. Secondly, such thinking (and behavior) is contrary to performing the role of board member properly, which means acting fairly on behalf of all members of the community.
What's Open
According to the Illinois Condominium Property Act, the board of managers of every association must keep and maintain the association records, or true and complete copies of the records, at the association's principal office. Official records of the association from within the last 10 years must be made available to a unit owner within 30 days, according to the Illinois Condominium Property Act after the board gets the owner's request. But if the association doesn't allow access to the records, it can be held liable for not sharing the information. However, under a city of Chicago ordinance, Chicago proper-based associations have three days to provide records from an indefinite amount of time.
The association can comply by providing a copy of the official records for inspection or copying on the community's property. The association also could make the records available to a unit owner electronically through the Internet, or by being viewed in electronic format on a computer screen and printed.
The recent Supreme Court of The State of Illinois case of Gary Palm V. 2800 Lake Shore Drive Condominium Association (opinion was filed on April 25), shows what can happen when a board refuses to provide access to owners. As per this ruling, those living in Chicago proper must keep in mind that the city ordinance requiring boards to turn over required records in three days is not superseded by the Illinois Condominium Property Act or the General Not for Profit Property Act of 1986, regardless of the fact that they are state statutes.
Many individual condo owners are not familiar with the process of acquiring records of the community, even though they are entitled access to some of the records. The proper way to do so is to write the board to ask for access to general categories of records and follow up the request with a phone call and/or email. During the call, the requester should make an appointment to go and see the records at a certain time and date.
When a resident goes to see the records, they should be prepared to make copies. Bringing a portable scanner or smart phone and copying the documents is a good idea. Otherwise, if you have the management company or board copy the documents they are legally able to charge you for the work.
Board members must be mindful that they are not keepers of golden secrets, but rather, administrators of a community made up of many individuals. That's why there's little need for secrecy.
"Organizations that hoard information have all of the knowledge—thus, all of the power. Board members may also suffer from an exaggerated sense of their mission. They may forget
their function is simply administrative," says Sara Benson, CRB, ABR, president of Benson Stanton Realty in Chicago.
"In communities, where there is turmoil, and they are trying to recall the board, a lot of that is tied to the belief that the board is hiding something," says Donna DiMaggio Berger, a partner in the national community association law firm of Katzman Garfinkel & Berger, which has offices in Florida. "There is no such thing as connecting too much with your association members."
Any unit owner who is denied access to official records could be entitled to damages. Also, the failure of the association to permit inspection of the records entitles any person winning in an enforcement action to recover attorney's fees from the person in control of the records who, directly or indirectly, knowingly denied the unit owner access to the records. In such a case, a unit owner might be able tocollect statutory damages from the association, too, and in doing so, cost everyone in the community more money.
Spread the Word
According to Mark Roth, a partner with the Chicago law firm of Orum & Roth, LLC, "Boards need to be transparent—[they] should not hold meetings that are unannounced to the owners." "We have experienced too many lawsuits that could have been avoided had the board been more transparent in its dealings with unit owners," Roth says. "Boards frequently make decisions outside of regular meetings open to all owners. We have seen situations from associations with a few units to hundreds of units make this common mistake. Too often the president of the association is either implicitly assigned authority, or takes authority, to enter into contracts or make other decisions on behalf of an association."
This is not just a stern recommendation. Under Illinois law, community associations and condos are required to hold open meetings so any association member can attend if desired, Anderson says. Furthermore, The Common Interest Community Act requires the board to reserve a portion of the meeting for homeowner comments in order to give owners an opportunity to ask questions and raise issues, she adds.
"Board members must remember that all decisions must be made by the board of directors, and all votes must be taken at an open meeting," Roth says. "An exception would be in an emergency situation, where there is a threat to safety or to property, and there is no time to call a board meeting. In those situations, the board may obtain unanimous consent from the board members to take some action, but must then later ratify that action at an open board meeting. That procedure should be used sparingly," he adds.
Like the name implies, multifamily buildings are comprised of different people with vastly different schedules. Because of this, many owners aren't able to take the time to sit in on meetings, no matter how large their desire to be in the loop is. To mend this issue, Roth recommends publishing the association's approved meeting minutes.
Current laws combined with the "immediate gratification" dictates of technology mean that the transition of some boards to a more transparent style is an unpreventable (and necessary) evolution. After all, the state and the neighbors are demanding it.
"The association may choose to publish the minutes on a website, post the meeting minutes on the property or send the minutes by email to those unit owners who desire to see the minutes," Roth says.
New technologies enable boards and management companies to publicize community information quickly, easily and cheaply via the Internet. Failing to do so, in this age of purported "full disclosure," almost invites suspicion. That's why it's best for the managing members of the community to get into the practice of disclosing as much official info as possible, as quickly as possible. One way to do this is through regular email "blasts" to members, or through a periodic e-newsletter that provides info on board and management proceedings.
Sometimes there can be cases when a board might want to let the community in on information, but the group probably shouldn't disclose the info. If there is any question in the board members' minds, they should ask their attorney if there could be a downside to letting members know about the matter, Berger says. "Often, there's very little downside to letting people know," she says.
An important part of openness is dependent upon how the board approaches the matter. Financial records should be disclosed at each board meeting, experts advise. Approval of the expenditure of funds should always be a resolution of the board in an open meeting. Contracts, such as those pertaining to garbage removal, property management, maintenance, landscaping or others, should be voted on in open board meetings, where the vote should be recorded for posterity. Doing anything less invites trouble.
Jonathan Barnes is a freelance writer and a frequent contributor to The Chicagoland Cooperator. Editorial Assistant Enjolie Esteve contributed to this article.