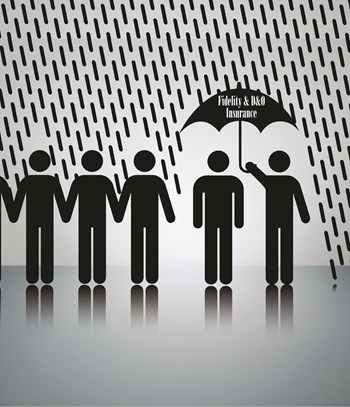 When you decide to run for a board, you're usually thinking about all the great changes you're going to make to your building, along with all the time and effort that you're prepared to sacrifice for the good of your home.
Of the many thousands of dollars a large condominium, co-op, or homeowners association may spend each year on insurance, two policies that typically cost less than five percent of the total are two of the most vital: crime insurance (often called fidelity coverage) and directors and officers liability insurance (often called simply D&O).
It sounds confusing and complicated—but boards must understand what each type of policy covers and what they don't cover.
First Things First
First, there's general liability coverage, which protects the association if someone is hurt on the property. This one is straightforward. But fidelity bond insurance and D&O insurance can seem more complicated to understand. Essentially, they are there to protect the board against lawsuits.
Fidelity bond insurance or crime insurance is typically a stand-alone policy or is included within a package policy that protects an association from any theft or misappropriation of funds by people entrusted to handle them.
"Your choice of D&O and fidelity are significant," says Jon Schildt, a managing principal of Calculated Risk Advisors, LLC in Chicago. "Since the Illinois Condominium [Property] Act requires associations to carry D&O and fidelity insurance, many associations buy without knowing what it covers, or else do not even realize they need to purchase it."
That's not a good idea. These are two of the most important insurance policies purchased for your building association so it's incredibly worthwhile to spend time researching them beforehand.
Fidelity bond insurance protects boards and other building administrators from malfeasance carried out by building or homeowner association staff members. New Federal Housing Administration (FHA) requirements now provide that condos must have this insurance—so not only must boards consider it—but they must research it, purchase it and renew it.
"Fidelity coverage is one of the most neglected and misunderstood areas of insurance for an association, says Karyl Dicker Foray, CIRMS, CISR, an insurance broker for Rosenthal Brothers, Inc. in Deerfield. "This type of coverage is also known as employee dishonesty coverage or crime coverage. Having three different names doesn't help the matter, and often, insurance agents use fidelity, crime and employee dishonesty interchangeably, just to confuse the matter further.
It's Required
The first thing to understand is which buildings in Illinois are required to carry fidelity bond insurance. "As for fidelity, buildings with six or more units are required to carry crime/fidelity equal to the amount of funds under their control at any one time plus reserves," Schildt says. "The policy must also cover the building manager if there is one."
If you take that one step further, the rule of thumb as to how much fidelity coverage to buy is three times an association's total monthly assessments plus the amount in your reserve fund, Foray says.
Even if fidelity coverage isn't required for your condo or townhome, it's strongly advised.
"Just like any other business, your assets need to be protected from unexpected loss the same way you protect yourself from fire or a slip and fall loss," Foray says.
For example, in 2007, $2.2 million of board funds went missing from a management firm's bank accounts in Virginia, and they heavily relied on their fidelity insurance to bail them out.
"Locally, Chicago has certainly seen their share of fidelity bond claims over the last five years," Foray says.
Of course it's possible to figure out who took the cash in the first place, to hire lawyers at that point and to hope that the money hasn't been spent yet so your building could get it back. But in the meantime, the association's bills will have gone unpaid and the entire building may go into foreclosure. Getting a good insurance plan is much easier and could be less costly in the end.
Once you determine if you want or need coverage, it's important to ask the insurance agencies for their definition of an insured employee, since this varies from one company to another. Some define this as a person who is paid a salary, while others may include people who are committee members. This is obviously a very important distinction since you'll want your board members to be covered under your fidelity coverage, in addition to your manager or management firm, Foray says.
The costs of the insurance---as with any insurance—are variable.
"Costs depend on the limit needed and the deductible chosen by the association," Foray says.
Having said that, fidelity coverage is relatively inexpensive.
"It all depends, but a typical premium is about $100 a year for a small limit—say $5,000—added to an existing policy," says Michael Doering II, CISR, a commercial lines agent manager/producer for Lakeview Insurance Agency, Ltd. in Chicago. "For standalone policies with limits of $500,000 or higher, it will likely be at least $1,000."
While adding on coverage usually costs less, it is also almost always more restrictive, Doering says. "You usually cannot enhance add-on coverage much either, while standalone policies offer many options," he says.
But there are other ways to cut costs. Choose a higher deductible and your annual cost may go down, but you'll end up paying more out of pocket if there is a lawsuit or legal action. Make sure that the limit for the management firm is the same amount that the association is purchasing.
"A property management firm's own fidelity bond covers the management firm's personal corporate assets—not association assets that they are handling for you," Foray says.
In theory, every type of insurance does the same thing: protects its buyer from unexpected, unanticipated future losses. But even though D&O insurance sounds and looks similar to fidelity bond insurance—and often gets commingled together in the same sentence, they are two separate entities.
Directors & Officers Protection
D&O coverage is necessary to protect boards from legal actions and damages resulting from their own good-faith decisions. It essentially protects the board from any liability related to alleged errors in judgment or other wrongful acts while doing their job in good faith on the board, Foray says.
The Illinois Condominium Property Act also requires that every condominium association purchase D&O insurance—but this state-mandated requirement doesn't extend to townhome, homeowner or master associations.
Depending on your particular building's coverage, the D&O policy can protect against claims of libel, slander, discrimination and other decisions the board makes regarding the operation of the association. However, D&O coverage doesn't indemnify a board or board member against decisions made "in bad faith, " or with illegal intent. If a board is found to have acted in an illegal manner and are hit with punitive damages, members are on their own in having to pay them.

Some more specific scenarios it may cover could include: failing to pay the HOA debts on time, improperly managing the board's money resulting in monetary loss, continuing a wrongful practice even after discovering that it is wrong, making poor decisions based on advised judgment, being ignorant of HOA records and books, conflicts of interest, aiding and abetting in actions of others, careless wrongdoing, poor oversight of employees.
Thus, D&O insurance is incredibly important—and having poor coverage can result in the loss of thousands—if not hundreds of thousands of dollars should something go wrong.
And while D&O insurance is required by the state, Foray says, "It is important to keep in mind that not all Directors' & Officers liability policies are created equal."
While some of the policies may include coverage for libel, slander, discrimination, non-monetary damages and coverage for the building's property manager, others don't. Some include exclusions for claims resulting from insufficient or improper insurance purchases while other insurance policies don't have this exclusion.
Some D&O coverage policies are made on a claims-made basis, and still others—though rarer—are made on an occurrence-basis, says Foray, who prefers a claims-made basis.
Questions to Ask
If no details are offered beyond the name of the type of coverage and the coverage limit, Foray suggests the board asks the insurance agent the following questions:
Does this policy include coverage for volunteers, committee members and prior D&O members? Is coverage included for the management team? If not, how much would it cost to add the extra coverage?
Is the policy occurrence or claims made, and is there a retroactive date?
What exclusions are on the policy, and is there an insurance exclusion that can be deleted?
Before agreeing to the policy, always ask to review a sample policy so you can go over the details and make sure this will include what's necessary for your particular building.
One big issue would be third party liability, says Michael Rubin, president of The Rubin Group, a New York City-based insurance company. For example, if a minority vendor approaches your building and offers to clean it for 20 percent less than your current cleaning service—and your building declined his services, he could sue the building for discrimination.
Since he would be a third party, the D&O insurance policy may or may not cover your building, depending on your coverage.
"A typical policy may not cover that," Rubin says. "An upgraded policy may cover that. Like anything in life, you get what you pay for."
That doesn't mean that you need to overpay, nor does it mean that spending a couple hundred dollars will do the job. Rubin suggests getting four or five quotes before deciding on the right policy for the building.
Although you may have many different insurance policies, there's nothing that requires you to buy the D&O insurance policy from the same insurance carrier that provides the rest of the policies, Foray says.
When the insurance company determines the cost of your building's policy, they're looking at two factors: the total number of units in the building and the number of prior claims. An association with a building that has 50 units would expect to pay about $800, while one with 50 units and one prior claim may have a premium of $1,000 plus a higher deductible (perhaps $2,500 per claim instead of $1,000 per claim), Foray says.
"The premiums are based on the number of units and are paid for by the association," she explains.
The last step before signing on the dotted line should be checking out the insurance companies' ratings. This can be done at www.Ambest.com. If you're looking for an insurance agency specializing in insuring associations, you can get more information from the following organizations, the Community Associations Institute's Illinois chapter in Schaumburg at www.cai-illinois.org and the Association of Condominium, Townhouse and Homeowners Associations (ACTHA) at www.ACTHA.org.
Danielle Braff is a freelance writer and a frequent contributor to The Chicagoland Cooperator.