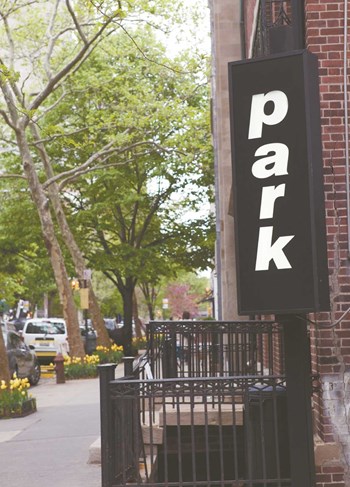 Anyone who has ever circled the corners looking for a parking spot in Chicago, especially in the brutal winters, understands the importance of having a regular parking spot. In a city as crowded and fast-paced as Chicago, parking is a big deal, and many take advantage of the need by charging exorbitant prices.
Given the hot commodity that parking spaces represent in the city, it's not surprising that many co-op and condo buildings operate their own parking facilities, both as an amenity for residents, and as a source of revenue."Indoor parking is a tremendous luxury, especially during the brutal Chicago winters," says Larry Rodriguez, a Chicago-based realtor specializing in condos. "It's an enormous convenience, a huge asset, and it's hard for me to believe that any new high-rise would attract buyers if they didn't have garage services. A building without parking amenities, you would have to rely on public transportation."
"Many of the older buildings in Chicago do not have parking associated or have had to rent in nearby garages and facilities," says Mary Coursey of LAZ Parking, which operates seven condo or co-op garages in Chicago. "Newer construction has a high percentage, if not 100 percent due to city of Chicago zoning requirements. Of those buildings that do have parking, a high percentage own their own garage, where a few have actually carved the garage out as a separate unit in the building and sold them to private owners."
Management Matters
Regardless of whether the facility is underneath the building or adjacent to it, there's more to running a parking garage than just painting some stripes on the pavement and watching the cash roll in. Management, allocation of spaces, insurance and security are just the beginning of the considerations that must be taken into account.
With 75 residential locations in the Chicagoland area, Standard Parking is the largest garage management firm in the city. "There are two types of services; you can do management or a lease," says Steven A. Warshauer, Standard's executive vice president of operations. "With management, we operate the garage on their behalf and we collect all revenues, pay all expenses, and at the end of the month, if there is money left over, we present a check with the financial statement. If there's a shortfall, we present an invoice and they pay us for that."
Warshauer explains that condos with 400 or 500 spaces almost always have a surplus, while those with 70 to 80 are almost sure to have a shortfall. A lease option is rare with residential buildings. In this scenario, the management company writes a check to the association each month and that's all they get. The condo loses control of everything.
Parking Relationships
According to Coursey, there are a number of different relationships that can be established between parking operators and condo associations.
In a fee-based arrangement, the operator is responsible for the collection of all revenues and payment of all expenses, and earns a base fee with performance incentives for this work output. The association is the recipient of all net income or shortfall of the operation.
In a revenue-sharing agreement, an operator is responsible for the collection of all revenues and payment of all expenses, but must share a percentage of the revenue with the association.
In contrast with these first two, there are lease and labor lease arrangements. "With a lease, the operator will pay the association a flat monthly payment for the right to collect all revenue and pay all expenses," says Coursey. "The operator will be the recipient of all net income or shortfall of the operation."
A labor lease is a little different. For this, an operator will provide its staff to the association for an agreed upon hourly rate, which will typically cover specific cost elements solely related to payroll expenses.
Generally speaking, "A fee-based arrangement tends to be the best arrangement for a condo association in the long run," says Coursey. "This is based upon the fact that condo associations typically desire a high level of customer service, and want to keep parking rates low and static with little disruption to the garage from outside business."
Another option is to convert a current valet operation to a self park operation. When Pioneer converted the 7337 South Shore Drive Condominium garage from valet parking to self park, it eliminated a yearly liability of about $60,000 per year to more than $200,000 net income per year for ownership, according to Bruce Cohen, president of Pioneer Parking Inc. in Chicago.
According to Cohen, his company offers a few other options, including limited building management, wherein "the building management prepares all billing, payroll, etc., therefore saving ownership costly and duplicate billing, payroll fees, data processing fees, accounting fees, management fees, printing fees, and supervisory labor fees.
In this scenario," Cohen continues, "garage employees would be building employees, building insurance policies would cover the garage, as it should, with adding garage keepers legal liability to the premium. This cost is a fraction of the expense for additional premiums held by the garage operator."
"Six years ago, RiverBend Condominiums wanted to hire us for full service garage management," Cohen continues. "We explained to ownership the concept of limited garage management, and after debate and thought, weighing the pros and cons, they chose limited garage management. After one year, we eliminated the deficit and created on or about $75,000 net income for ownership along with improving every aspect of their parking service."
For Residents
Buildings will typically allocate one parking space per unit in their planning, however, it is all based upon the city of Chicago building code.
"Normally, each resident is entitled to one car with the option for additional spaces if available," Warshauer says. "The monthly fee for parking is separate. I don't have any buildings where they take the parking fee and add it on [to maintenance fees]; they like it separate."
Spaces can be managed a number of ways, including nested parking areas, signed areas (self park), various floor commitments, or tandem parking in special areas dedicated for resident parking only.
"The fee of a parking spot will have various common area maintenance (CAM) fees that can be allocated to the association," Coursey says. "Depending on the type of garage (valet versus self-park, for example) and outside revenue generators, these CAM's can range from $100-$500 per month per parking [space]. Most associations only charge those residents that use the garage."
Money Matters
A condo garage is somewhat limited in what its operator can do with parking rates and vehicle
commitments in the garage. Associations typically like to keep parking rates static and ensure that service is enhanced through the operation. In Chicago, the rates paid on employees, per the union, are higher at residential locations as well. The pros advise that maintenance of the garage should be viewed similarly.
The amount of money a parking facility can bring into a building annually depends mainly on the area of the city, size of the garage, and openness to bringing outside revenues into the garage. "Some garages can generate anywhere from $2,000 up to $15,000 a month in income for an association," Coursey says. "However, revenue growth is typically static as associations do not like to increase their parking rates on an annual basis, thus associations need to look long term at the expenses they have with their parking garage, which in Chicago can typically increase by 5 percent-8 percent a year due to the union environment."
Some buildings will sell their parking facilities. Likely, buyers would be private owners, real estate firms, or the third party parking operator themselves (LAZ actually owns two garages associated with condo buildings in Chicago).
"The sale of the garage gives the association a large upfront cash payment that can be used to bolster reserves, pay for building capital improvements, and helps to reduce the association's dues," Coursey says. "A sound agreement will call for a clear demarcation of cost responsibility between the new owner and the association."
According to Roger Walters, vice president of Standard Parking in Chicago, revenue is determined based on a number of factors. Profitability depends on the number of spaces, self parking vs. valet, size of the staff and spaces established by the board for other vehicles.
Story of Success
Two years ago, Pioneer Parking took over the garage management of 3600 North Lake Shore Drive. Prior to their management, the garage lost money yearly and was plagued with auto damages, like most parking garages in Chicago.
"Over the years we have had a procession of larger companies that proved to be unsatisfactory for one reason or another," says Monica Mori, board president of the association at 3600 North Lake Shore Drive. "Pioneer ran a sister building and did it at lower fees than we were charging. The people across the street were paying $110, and we were at $140."
After one year, Pioneer Parking, Inc. made the condo in excess of $100,000 yearly net income profit and virtually eliminated auto damages.
"This has sold me on the idea that it's a good idea to take a look at smaller service companies because they have less overhead salaries to support," says Mori. "They tend to run a cleaner, trimmer, business. It has really turned us around, and that $100,000-$130,000 a year is extremely meaningful to our budget."
Once the money comes back into the condominium budget, it helps pay for repairs in the garage but also helps with other costs in general.
"We don't segregate the funds but we are inclined to think of that $100,000 as the cushion that makes possible some capital investments or some major project investments," Mori says. "We are thrilled."
Final Thoughts
A professionally-operated parking operation that focuses on service and strict fiscal management can be a valuable quality for potential buyers and current residents.
"Most condos are in densely-populated areas of cities where parking is sparse, thus having a dedicated spot or an open garage where residents can easily park their vehicle becomes a valuable proposition," Coursey says. "The addition of security and other vehicle services, such as car washes, oil changes, and call down service, provide the extra touch of service that many people don't typically get while parking their car."
Keith Loria is a freelance writer and a frequent contributor to The Chicagoland Cooperator. Associate Editor Liam P. Cusack contributed to this article.