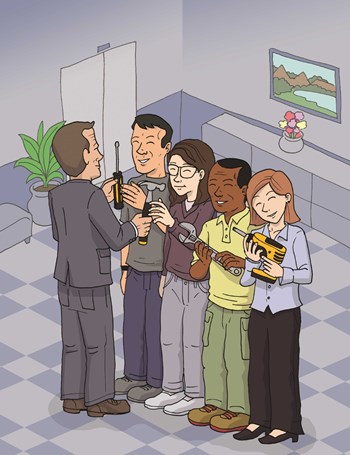 My condo association has a bylaw that limits the size and number of pets. About a year ago, a person moved in with a large puppy that has grown to be a very large dog. I reported it to the management and they did some investigating—then issued a request to the owner to bring in a veterinarian certification as to the weight of the dog. I went to a board meeting and asked what the status was regarding the dog. Their answer was that they can do nothing. I asked why and their answer was: "If we try to fine the person, the judge will throw it out and we don't want to waste the money." The management person agreed and all the board nodded its assent! Is it unreasonable for me to expect them to enforce the rules? Do I have any recourse?
—Upset about Overweight Pooch
A
"When looking at whether the pet restriction is enforceable against this owner, many factors come into play. The first question is whether a restriction of this type is valid," according to Gerald A. Cassioppi and Karmen Wong, attorneys at the law firm of Nyberg & Cassioppi in Naperville. "It is also important to distinguish between a restriction written in the bylaws and in the covenants—a unit owner is typically only liable for violations under the covenants, while the bylaws control what the association, the board and association members can or cannot do with respect to governance.
"When faced with a dispute of this type, it is recommended to closely scrutinize both sets of documents. The bylaws may very well authorize the board to make pet restrictions, but unless rules or covenants are specifically adopted addressing this issue, the unit owners remain free to own pets. Another factor affecting the restriction's validity is whether the board has a history of failure to enforce this restriction, which might render it unenforceable.
"Secondly, we have to look at the dog owner's circumstances and determine if the restriction applies. The dog might be a service animal or the owner might need the dog for emotional or mental reasons. These types of situations could bring up protection under the American Disabilities Act, which may lead a court to rule in the owner's favor despite a perfectly valid and enforceable pet restriction.
"Another thing to consider is that the owner already owned the dog when he or she moved in. It would be worth going back to the exact wording of the restriction: Does the restriction address both pre-owned dogs and dogs acquired after a unit owner has moved in? It may be possible that owners moving in with large dogs do not fall under this restriction.
"Overall, these types of matters are very fact-specific and will vary case-by-case, and the outcome will be primarily dependent upon the covenants themselves."