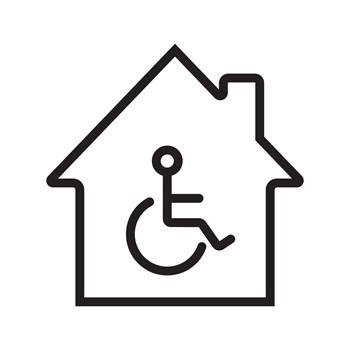 Brokers have a standard modus operandi when selling apartments: Depersonalize the property, stage it, and disappear. Take down family photos, stow the artwork, clear out excess furniture and the clutter of everyday life. And most importantly, make yourself scarce. A seller never meets the buyer.

Why all the editing? Prospective buyers need to picture themselves and their families in the space - and in order to facilitate that, a property should appear generic, more like a mid-20th century model home and less like the well-loved and lived-in space it is for the seller.
Brokers' advice to depersonalize and 'generi-fy' any home for sale is tried and true - staged properties sell faster, and for higher sums - but what happens when the seller, or someone who lives with them, is unable to leave the house when prospective buyers come to kick the tires, so to speak? Perhaps because they're elderly, infirm, or disabled? In those situations, creativity and sales acumen kick in.
Proactive Concerns
"In a scenario when you have a listing with a homebound person, it takes more patience and coordination for showings," says Nicole Beauchamp, an associate broker with Manhattan-based realty firm Engle & Volkers. "This problem existed pre-pandemic, but everyone involved in the transaction - buyers, sellers, and brokers - are even more concerned about being a carrier to someone who might be immunocompromised."
Initial conversations about the listing and understanding the homebound person's schedule, if there is one, is critical, explains Beauchamp. "Is it at all possible to have the person absent from the unit before listing and showing it? If not, you want showings to be as brief as possible. You may need masks, and to have prospective buyers remove their shoes, or wear shoe coverings. Maybe only the agent is permitted to touch things or open doors to minimize contamination. The homebound individual may be sequestered in a specific room, and in some cases that room may simply not be accessible for the showing."
Ariela Heilman, an associate broker with Brown Harris Stevens suggests the best approach with buyers is "to acknowledge that you're dealing with a situation of stress and hardship prior to your pitch appointment." Essentially though, she says the sales process remains the same. "What we sell is light and space, and our ability as a team to close the sale."
Depersonalization & Staging
Even if it's not possible to have a unit unoccupied during showings, brokers still stress the importance of a clean, depersonalized, staged space. Even the most beautifully decorated apartment is less appealing to a buyer if that buyer feels they're intruding on someone else's property.
"As a listing agent, I always arrive 30 to 60 minutes before the showings," says Beauchamp. In situations where someone in the apartment has health or mobility challenges, "I might have to do some rearranging of things," she continues. "Clearing away medicine bottles, for instance. And sometimes a bit of tidying up when the seller is unable to do so."
Brokers often advise sellers to put a fresh coat of white paint on their walls as part of the depersonalization and staging of their units. However, Beauchamp stresses that in situations where painting could be almost as disruptive to a homebound person as moving, the best policy may be to skip the paint job and consider contacting a virtual staging company to create virtual images of what the space would look like empty, or minimally and generically furnished. Virtual staging - and even virtual open houses - saw a huge surge in popularity and use during the pandemic, and many in the industry suspect that their convenience and sophistication have made them a permanent fixture.
Showings
The actual in-person showing of an occupied apartment should start with a whole lot of transparency, says Beauchamp. "In the initial conversation with the buyer, you must explain what the current situation is - that there's someone living there who requires extra caution," she says. "It may not be possible to spend 30 or 45 minutes there. At some point though, the buyer must get a feel for the property. There is a very delicate balance between the needs of the occupant and those of the potential purchaser."
Depending on the occupant's schedule, there may be opportunities for access. If they have medical appointments at certain specified times, that might be a good time for buyers to visit and get an in-person sense of the property. Of course, much depends on the nature of the specific occupant's situation, their comfort level, and the prospective buyer's willingness to be flexible.
Joanna Mayfield Marks, an associate broker with Brown Harris Stevens in Brooklyn, relates an interesting experience. "We had a 75-year-old seller who was very healthy, but had an aging dog who was unable to go out in the rain. We recently had an open house on a rainy day, and she and the dog were prominently seated in the living area - and stole the show!"
When it comes to selling units that are occupied during the viewing process, "The biggest issue," Marks stresses, "is that the focus comes off of the space itself, and associations are made with the person who lives there." With a bit of understanding, cooperation, and creativity however, that focus can stay on the property - to the benefit of both seller and buyer.