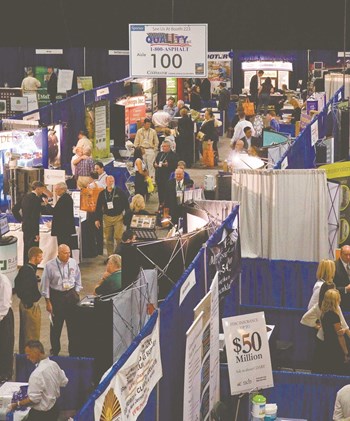 Soon Chicagoland area's condo and HOA communities will be battening down the hatches for another brutal Midwest winter and thankfully there are some networking and educational resources that can be of help.
This November, HOA administrators across the region can add a major tool to their arsenal—the first annual Chicagoland Condo, HOA, & Co-op Expo, to be held at Navy Pier Convention Center on Wednesday, November 16, 2011 from 10 a.m. to 5 p.m.
More than just another trade show, the Chicagoland Expo will help connect vendors and service providers with the decision-makers from HOAs, condominiums, and residential co-ops throughout Chicagoland, and will offer educational seminars custom-built for board/association members and property managers. The yearly pre-show 'Exhibitor University' (which already welcomed its first graduating class on June 16th) will also help exhibitors maximize their investment and get the absolute most out of the event itself.
What It's All About
Yale Robbins, Inc., The Chicagoland Cooperator's parent company and producer of the Expo, has been sponsoring successful trade events for the condo, co-op, and HOA community on the East Coast for years (the New York show is over two decades old and going strong) and according to Yale Robbins, Inc.'s executive vice president Henry Robbins, "We are thrilled to bring this one-of-a-kind event to Navy Pier this fall and offer Chicagoland's boards, managers, residents and vendors such a singular opportunity for education and business-building."
The inaugural Chicagoland Condo, HOA & Co-op Expo will feature hundreds of exhibitor booths covering everything from asbestos abatement to window replacement, and running the gamut of everything in between—what Robbins describes as "sort of like a supermarket of service providers and new products." That's in addition to informative seminars covering topics of perpetual interest to administrators and residents alike; raffles, giveaways, and plenty of space for relaxation and refreshment at the Expo food court.
For condo owners and managers, the Expo serves as a one-stop-shop for all services needed to manage and maintain buildings. The event is mutually beneficial to vendors as well, because as Robbins says, "We bring the business to you. The whole point of the show is to bring the right people in the industry together. The Cooperator's Expos have become a prime destination for real estate professionals and board members seeking resources and valuable networks. In one day, you can network across industries, gather information and leads, and get the latest and greatest in products and services."
Information is Everything
Good information and clear communication are crucial for anyone involved with the administration of a building or homeowners association—crucial not just to thriving, but even surviving in today's challenging economic times. Finding that information and developing communication strategies isn't always easy, however. The Chicagoland Cooperator's Condo, HOA & Co-op Expo offers attendees the opportunity to do both, in one day and under one roof, with a full slate of unique educational programming. This year's seminars are already being planned, and include expert panel discussions of new mortgage requirements, assessing management performance, and managing conflict between neighbors. Seminars at the East Coast Expos routinely attract standing-room-only audiences, so make sure to arrive early to the Chicago show and claim a spot in the audience!
Free Advice Booths & More
Booths and a full schedule of seminars may be the big draws to the Chicagoland Expo, but that's hardly the whole picture. In addition to networking and education opportunities, there will be free advice booths staffed by professionals from an array of industries, waiting to answer any and all HOA- and building-related questions. If you have questions about your association's finances, policies, or day-to-day management, you can stop by one of the booths for answers from leading legal, management, maintenance and financial professionals.
And of course, no trade show would be complete without giveaways and raffles. Among the day's big draws will be the first annual Reserve Fund prize giveaway, courtesy of The Chicagoland Cooperator and Yale Robbins, Inc. One attendee at the Expo will win a $2,500 contribution to their building or association's reserve fund. The winner will be drawn at random after registration has closed, and a check for the winnings will be made payable to the winner's association, care of their management company. Only board members qualify to enter the reserve fund drawing, and attendance at the Expo is required for eligibility. For complete details on how to enter the reserve fund drawing, visit the Expo website, www.chicagocondoexpo.com.
So stay tuned to The Chicagoland Cooperator for updates and new additions to the Expo's exhibitor and seminar roster, and be sure to visit us at the Navy Pier on Wednesday, November 16th! For more information on who is exhibiting at the show, to sign up as an exhibitor, or to register for this one-of-a-kind event, go to www.chicagocondoexpo.com.
Hannah Fons is associate editor of The Chicagoland Cooperator.