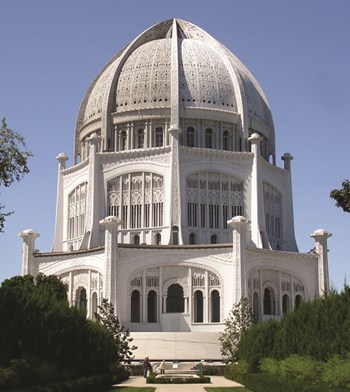 It is the hometown of current mayor Rahm Emanuel, actor Rainn Wilson and actress Virginia Madsen. But with its 14 miles of brick-paved streets, circa1925 street lamps, a plethora of trees, a top notch school system and a sprawling lakefront for outdoorsy types, it's no wonder that Willmette was ranked as the seventh best place to raise children, according to a 2007 Business Week article.
Located on the western shores of Lake Michigan, and a scant 14 miles from north Chicago's booming downtown arts district, this bedroom community is home to 27,087 residents who pride themselves on having a down-to-earth vibe and a small town atmosphere. The Village also ranks 46th on the list of highest-income places in the United States with a population of over 10,000.
The Early History
The village is named after Antoine Ouilmette, a French Canadian fur trader. Not much is known about Ouilmette's early life and background but conflicting reports say he was born in Lahndrayh, near Montreal in 1760. Another source notes that he was baptized as
"Antoine Louis Ouimet" on December 26, 1758 in the northwest Montreal parish of Sainte-Rose in what is now the city of Laval, Quebec.
Nevertheless, Ouilmette was employed by the American Fur Company. He moved to Chicago in 1790 and built a log cabin on the north side of the main branch of the Chicago River. Five or six years later he married Archange Marie Chevalier, a French-Potawatomi woman in what is known as Wilmette.
In 1829, he was instrumental in persuading local Native Americans to sign the second Treaty of Prairie du Chien. And, in recognition of this, the U.S. government awarded 1,280 acres of land in present-day Wilmette and Evanston to his wife and children.
A few haters suggested that the land was a bribe for Ouilmette's influence in securing the execution of the treaty. But overall Ouilmette had a reputation for being a kind, generous man who made friends with everybody, both whites and Native American Indians, and in turn was universally liked and respected.
The business-minded Ouilmette also owned a store in Chicago and had a slew of horses, cattle, sheep and hogs. In addition, he owned a farm in Racine, Wisconsin.
German Catholic farmers from Trier began settling in the area around the 1840s, and around 1848, Ouilmette sold his land to farmers and developers there who renamed the village Gross Point.
In 1869, the Chicago & Milwaukee Railroad constructed the first train station in the area. On September 19, 1872, the village of Wilmette was incorporated, and its inhabitants were around 300 residents, mainly a mix of farmers and real estate speculators. The railroad's presence and extension to the North Shore and Milwaukee brought new residents and vacationers to the area.
As the 1920s roared, Gross Point's municipal revenues were heavily dependent on the town's 15 speakeasies and taverns. Though with the pending arrival of Prohibition, money soon dried up and the village went bankrupt. It was eventually annexed in two parts by Wilmette in 1924 and in 1926. By 1940, Wilmette's population had grown to around 17,000 and from 1950 to 1960 it shot up to 28,000.
In 1942, Wilmette grew again when it annexed No Man's Land, an unincorporated triangular shoreline area bordering Kenilworth.
One of the village attractions is the oldest surviving Baha i' House of Worship. Constructed between 1920 and 1953, the filigree-domed House of Worship is one of only seven Baha i' temples worldwide. Encircled by blossoms and fountains, the temple continually attracts a steady stream of international visitors.
A Good Quality of Life
Today, Wilmette prides itself on its wide range of water activities and other fresh air amusements. Expect to find sailing and a summer camp on the beach at Gilson Park on Lake Michigan. Swimming is allowed only in specific areas of the water. Beach-goers are also allowed to bring their dogs to an area called Dog Beach, where pooches are allowed to frolic in the water. You can also find tennis courts, public swimming pools and ice skating facilities.
You can also find a two-theater multiplex, three shopping centers and a public theater that provides a variety of performances throughout the summer. The village's retail center has chain stores like Panera Bread Café but is dominated by mom and pop shops like Al's Meat Market, where steaks and chops are cut to order. The town is served by two train systems. The CTA purple line stops at Linden Avenue and The Metra station stops dead smack in the middle of downtown Wilmette at 722 Green Bay Avenue.
Wilmette is governed by a village board composed of seven trustees and a president. Trustees serve staggered, four-year terms and are elected at large. The current village president is Bob Bielinski and the current village trustees are Mike Basil, Carol Ducommun, Cameron Krueger, Ted McKenna, Alan Swanson and Julie Wolf.
A number of high profile personalities hail from Wilmette including Chicago's current mayor Rahm Emanuel, Oscar-nominated actress Virginia Madsen, actor Rainn Wilson, musician Pete Wentz and Playboy CEO Christie Hefner. Its hometown charm might just make you want to call it your hometown too.