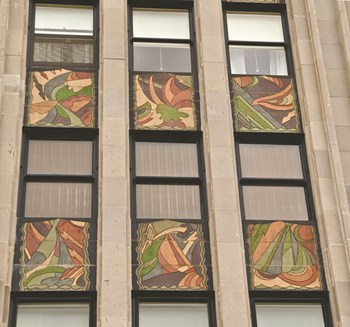 The Windy City has always been known for its fantastic, innovative architecture—much of it displayed in residential buildings. But while a lot of people appreciate the grandeur of a building like the Public Library or the Wrigley Building, most people don't put as much significance on residential architecture, or have much of a sense of the difference between styles of architecture, or their merits and drawbacks.
Knowing something about the different styles and ornamentation of Chicago's beautiful residential buildings, and having a basic understanding of architectural terminology can help both owners and board members relate a little better to their own buildings—and that appreciation can encourage community and pride of place in condos and rental buildings alike.
Building Atop Ashes
Even for those who haven't studied a whole lot of architectural history, Chicago is the Midwestern mecca of excellent buildings. But this town of famous facades wasn't always known for its grand designs. As is sometimes the case, some very bad times heralded the birth of something new and special.
A fire—the Great Chicago fire, to be more precise—broke out on October 8, 1871, and raged for two solid days. The flames ravaged the city, and by the time it was over, much of central Chicago had been destroyed. Commercial and residential buildings alike were gone, including the mansions of many of the old industrialists.
The fire killed some 300 people, and left more than 100,000 homeless—but it also left a scorched, blank slate for architects to build upon. In fact, architects from all over relocated to the city to aid in (and profit from) the rebuilding efforts. Out of the ashes came a new generation of buildings, styles, and star architects, among them Louis Sullivan, and his former protégé, Frank Lloyd Wright, who after parting ways with Sullivan pioneered the Prairie Style of architecture, which integrated architecture with the landscape.
The Great Fire of 1871 wasn't the only factor that contributed to the conglomeration of architectural styles and schools in Chicago. The challenges presented by the Windy City's harsh climate also played a role, as did the city's diverse mix of ethnicities, says Richard Fink, an architect with Coder Taylor Associates Inc., a firm in Barrington.
Chicago-Style
While many of the vintage buildings in Chicago (among them a few co-ops and condo buildings) are an off-shoot of French urban architecture, others are distinctive for different reasons. One of the most beautiful is The Powhatan in East Hyde Park, an Art Deco structure with fine mosaics that are still in near-mint condition. The Paddington on the city's North Side also is one of the finer residential structures in the city.
Though brownstones were a popular type of residential architecture in Chicago in the early 1900s, these days the city's residential buildings are a mix of Victorian, Art Deco and Contemporary styles. Many of the city's older high-rises were built in the 1920s and 1930s, and stand as excellent examples of Neoclassical architecture. A lot of Post Modern-style buildings were constructed here in the 1970s.
The Drake Tower Apartments next to the Drake Hotel along East Lake Shore Drive is one of the old-school, limestone-faced residential buildings. Another is the McConnell Apartments at 1210 North Astor Street, a circa-1890s building known for its distinctive look.
Vintage vs. Brand-New
Beauty and proximity both play a part in the popularity of these and other older structures. "Location is everything and these older buildings have the location," Fink says.
Of course, technological advances and the changing needs and expectations of residents means that the era during which the place was built has a large impact on both its common areas and individual units in terms of square-footage, amenities, and building materials. Different eras and types of construction also come with their own distinct pros and cons.
For example, pre-war buildings tend to have larger apartments—some of which are up to 5,000 square feet, and even contain maid's quarters—though those larger spaces may be divided into many smaller rooms. By contrast, post-war construction often means fewer spacious apartments, and more 1- and 2-bedroom units—but those bedrooms may be a little roomier. Pre-war buildings also tend to be quieter, because they're made of lots of masonry materials such as brick, limestone and terra cotta. Post-war residential buildings are more likely to be glass-and-steel construction, exhibiting more exposed concrete. Some of these buildings are prone to leaks and other water infiltration issues. On the other hand, some of the older pre-war buildings don't have the same amenities as many post-war buildings.
"There's greater intricacy in the architectural detail in pre-war construction," says Dan Baigelman, an architect with Full Circle Architects, located in Northbrook. "People who like these buildings don't mind the smaller spaces."
One problem with some of the older construction in the city is maintenance. Some construction techniques which once were used to repair these oldsters just aren't practiced much anymore— and finding a qualified specialist can be both time-consuming and costly. There are also fewer suppliers of some vintage construction materials as well, with just a handful of manufacturers making the necessary architectural elements of a building. This means that how well and consistently a building is maintained over the years is crucial to it functioning successfully, and retaining its value.
"The biggest problem with older buildings is the residents not having the capital reserves to keep them up," Fink says. "A lot of it is driven by how these places are managed. I would say some re-education [of board members] is needed. The cost of repairs has escalated in the past 20 years."
Designing a New City
According to Baigelman, repairing these residential buildings may have stayed mostly the same over time, but designing such structures has not. Much of the change has been prompted by building footprint considerations, as well as availability of real estate. In the end, it all boils down to what the consumer wants.
Michael Bonick, a senior project architect at Kellermeyer Godfryt Hart, PC in Rosemont, agrees. Filling these residences with tenants, and giving those people the amenities they want, is the whole point, he says.
Certainly part of what characterizes good residential architecture is its usefulness. The space also must feel comfortable and secure to residents.
"There has to be a bit of luxury in it," Baigelman says. "It has to have the right amenities. For a lot of buildings, the fitness center is now more important than the lobby. I'm seeing more pools in residential buildings. Rooftop dog runs are a must now."
Of course location is always important when talking of real estate. Buildings in the best locations are worth more money, especially to people who want to live along one of the waterfronts, or in the city center. Developers have capitalized on these attractions and have built along the lake and along the river.
They also seem to be creating more Modern architecture, and of course, creating retrofitted "adaptive reuse" residential buildings converted from office space use.
"Some of the office buildings along the river have gone residential," Bonick says. One of the city's architecturally significant residential buildings started its life exactly this way. The Metropolitan Tower at 310 South Michigan Avenue was an office building, but was converted to residential, as is increasingly happening in the city as people move back into the urban core. Architect Lucien Lagrange's newer contemporary building, The Park Tower at 800 North Michigan, is a circa-2000 structure that's also is well-known.
One challenge for some of those designing the city's new residential buildings is simply having a solid understanding of the architecture itself. For example, in a conversion of an office building into residential, the building's unique architectural traits could be troubling for some designers. "If you don't know how these high-rises function, you'll have problems designing in these buildings," Baigelman says.
Many other residential buildings also have been built along South Michigan Avenue. Bertrand Goldberg's creation, Marina City towers (which some identify as the "corncob" buildings along the river), also are well-known for their striking design. The Legacy at Millennium Park, a 72-story high-rise, was built in a difficult spot that had very little space in which to work. As a result, the building's street entrance is actually through the Art Institute of Chicago. The Ritz Carlton Residences, at 664 North Michigan Avenue, in 2013 achieved what some might have previously thought impossible: it saved and incorporated part of the existing old building into the new architecture. The Farwell Building, constructed in the 1920s, was a 13-story building with a limestone façade, part of which was saved and used to face the new building.
Though designing residential buildings in the city has changed over time, the most important factors concerning new designs continues to be the market, the availability of people to buy, and the delivery of a product to market that's affordable, Fink says. But doing the construction itself can be another series of obstacles. These days, there are just three roofing product manufacturers in the country and just a handful of siding makers, too. Fewer construction material suppliers are still in business, due to lower demand for product.
From Fink's standpoint, the availability of space to build upon, and proximity to the central business district, are two of the biggest challenges of designing residential spaces in a demanding urban environment like Chicago. "How are you going to overcome some of these distances?" he asks. "In my opinion, here in Chicago it's spread out too far already," Fink says. "You've got to provide affordable housing within a reasonable proximity of the workplace, as well as family functions within a reasonable distance."
Jonathan Barnes is a freelance writer and a regular contributor to The Chicagoland Cooperator.