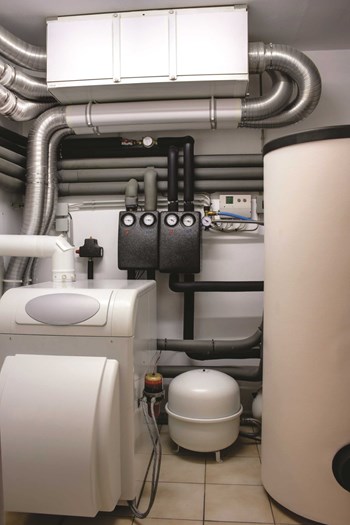 The rarely stated—but all too well understood—Murphy's Law for Boilers—asserts that if your boiler quits working, it will do so on Christmas or New Year's Eve, or at 4:45 p.m. on the coldest day of the year. With some planning, though, that broken-down boiler won't be yours on those inopportune frigid days. An association's management and staff can head off a worst-case scenario by scheduling regular maintenance and keeping an educated eye on the whole system.
With the heating season in Chicago extending from October to May, being certain that your building's boiler will function well should be a high-priority concern for the building's management. Maintenance also saves money by improving efficiency and extending the useful life of mechanical equipment.
Maintenance Musts
Michael Then, marketing manager at ABC Plumbing, Heating, Cooling & Electric in Buffalo Grove says that "general year-round maintenance varies," and depends on whether the boiler is providing domestic hot water and heating, or just heating. "If the boiler provides both, then the unit should be inspected twice per year. If it's only providing heating, then once a year is sufficient," Then says.
"Essential inspection items include but are not limited to: testing safety switches and relief valves, inspecting and lubricating pumps where applicable, checking exhaust venting to make sure it's in proper working condition, pulling, cleaning and inspecting burners and always following manufacturer inspection and maintenance procedures," says Then.
When Extra Care is Needed
'Regular servicing' can mean different things for different boilers. The need for more frequent maintenance and cleaning depends largely on the particular system—whether it's oil or gas, steam or hot water, large or small, old or new, steel or cast-iron.