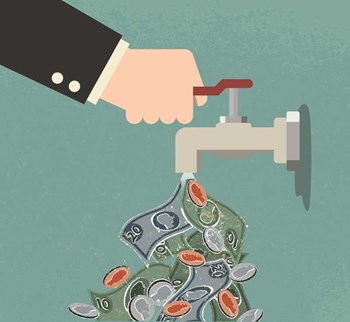 Whether you're managing or governing a suburban condo development or an urban high-rise, operating costs are a constant concern. No matter how hard you plan, there are always unexpected expenses, and you have to plan for them. This is true even if your association is a high-income one. In addition, the sheer number of operating expenses, from watering the lawn to maintaining your HVAC systems to buying office supplies, can be daunting. Thankfully, there are ways to catalog, organize and keep track of operating expenses in today's world.
Which is Which?
First of all, what is the difference between capital and operating expenses? Capital budget items usually apply to physical improvements that require a lot of expense, such as building a new entrance, constructing a new roof garden or replacing the building's boiler. Some people might say that anything that isn't a capital expense is part of the operating budget, but it's more involved than that.
"The operating budget for condominium associations," says Brian F. Lozell, CPM, director of condominium management for Seneca Real Estate Advisors in Chicago, "would include all expenses associated with the daily operations of the buildings." As examples, he mentions administrative expenses (office supplies, telephone bill, property insurance, management fees), payroll (office, maintenance and door staff, payroll taxes, health/life insurance), utility bills (electric, gas, water), repairs and "contract expenses" (window-washing, elevator, landscaping, exterminating and trash removal).
Similarly, Marshall Dickler, a principal with the Arlington Heights law firm of Dickler, Kahn, Slowikowski & Zavell, Ltd., says that operating expenses include "every expense incurred in operating the portions of the association other than reserves and unit owner expenses." Among the items he mentions are management fees and costs, accounting fees and costs, tax preparation, accounting and bookkeeping costs, maintenance and repair elements "for common elements and for those portions of the units for which the association is responsible," gas and electricity expenses, grass-cutting, snow removal, elevator repair, landscaping, cable and Internet expenses and more.
Keeping Track
Given the broad scope of purchases and payables involved, how must buildings or HOAs keep track of their operating expenses?
Steven M. Silberman, a CPA, and a shareholder with the certified public accounting firm of Frost Ruttenberg & Rothblatt, P.C., based in Deerfield, says that they should begin by preparing a budget. "By preparing the budget, the association knows that expenses they budgeted and how they arrived at those budgeted expenses. Now, they must review the financial package they receive each month from their management company, or treasurer if self-managed. They must review actual operating expenses compared to budgeted expenses and determine why there are differences, if there are any." The key is having a proactive board to review the financial info.
The basic concepts of preparing an operating budget have been the same for 100 years or more. But the methods have changed. At one time, records were kept with pen and ink. Then came the typewriter. Now, if the association is managed by a professional management company, the firm uses a professional accounting software package.
"Most property management companies used software designed specifically for condominiums/HOAs," says Lozell. "The operating budget is uploaded in the property management software and invoices are paid using general ledger numbers. Actual expenses are compared with the budgeted numbers so variances can be monitored." Lozell's firm, Seneca, uses property management software by Yardi, a company headquartered in Santa Barbara.
What if the building or association is self-managed? Kevin Kummer, CPA of The A.C.T. Group, Ltd. in Chicago says that in that case, there are other options. "If the association is small and disbursements are few, a simple Excel sheet can be used, but if the association wants to use an inexpensive accounting system, we recommend QuickBooks. It is a double-entry system that our tax preparer can review and make adjustments to easily."
How Waste Happens
There are quite a few areas where buildings or HOAs experience wasteful spending on operating costs—usually without their board, manager or staff knowing it. One common example is in maintenance supplies. This writer once worked as a management assistant in a non-condo residential high-rise, where a large supply of window insulating tape was ordered and placed in a storeroom. Some of it was used but most of it was still there three years later, totally forgotten.
Everyone has his or her own viewpoint on this subject. Bonnie Davis, CMCA, who is with the property management firm of Heil, Heil, Smart & Golee, LLC, in Skokie, says, "Some associations don't take advantage of bulk utility contracts that lock in a price for a certain amount of time and a heating system. This past heating season was terrible for many associations. Those that were locked in for the winter at a pre-fixed price didn't have the trouble that others had," she says. Some associations also have two-year contracts for HVAC repairs, roof repairs or snow removal.
Silberman says that "The general overall answer [as to where wasteful spending occurs] is when associations do not take their contracts to bid. They should always do their due diligence and get bids from at least two or three vendors and not just take someone who knows someone from the board." Associations, he adds, need not always take the lowest bid. "We've seen many instances when an association took the lowest bid, but the vendor did not do a quality job and the project had to be redone much sooner than anticipated, or there were issues that ended up costing the association more money later."
Often, overspending can be on cosmetic, prestige-type items. "I have seen some of what may be wasteful spending on overly ornate common area decorating, wrong or excessively expensive common are carpeting and similar expenses, although that can also be in the mind of the beholder," says Dickler.
Kummer warns, however, that at times, "condo associations do NOT spend money when they should. We see improvements that should be done timely and because board members don't want to spend the money (or they don't want to have a special assessment), they don't get done."
How To Tighten Up
Once you or your manager have identified a wasteful spending practice, how can you act to stop the overspending and reduce the cost to the association?
The simplest way is to keep a careful eye on costs by the association, and to monitor them on a fairly regular basis. "It could be once a month or once a year, depending on the item," says Jim Hare, CPA, of Mueller & Co. LLP, an accounting firm in Elgin. Also, the next time a contract comes up, the board or managers should go over it more carefully.
Many times, says Lozell, boards or managers spend money just because they can, thinking, "Why not spend the money? It's in the budget?" This can lead to overspending. All in all, he says, "Careful monitoring of expense and accurate recording of expenses allows the board of directors/manager to prepare a realistic operating budget. By strictly adhering to a well-prepared budget, controlling expense becomes easier."
Silberman offers another suggestion: "Make sure that the associations use professionals who specialize in the industry, like lawyers, insurance agents and accountants, to help keep costs down so that they are not learning while they are working for your association."
Yet another way to cut costs is to look at what jobs you're contracting out. Often, many of the jobs you're giving to contractors could be done by your in-house engineer or janitor instead.
Yes, managers can sometimes use preferred vendors to get better deals than they would elsewhere. But this type of thing can work two ways. "The policy should be not to do transactions with people who are relatives of board members—there could be some waste going on. They could be spending more than they need to," says Hare.
Lozell suggests several ways to check up on whether people are doing what they're supposed to: "A payroll audit is a way to confirm that all employees are recording time accurately and not submitting unnecessary overtime. An equipment/material sign-out sheet is also a good idea. By monitoring who has access to what, shrinkage can be detected and eliminated."
He adds that it is a good practice to review utility bills in detail, since unit owners sometimes may "tap" into building utilities to save money—and to review insurance policies, since it is common for properties to be overinsured.
One Example
One unusual way a particular association tightened up its spending was described by Silberman.
"We just had an association that was doing gutter repairs whenever a gutter repair was needed," he recounts. "They changed their policy and determined to do all the gutter repairs at one time, which means they would now hire someone to do all the gutters on the property once a year instead of sending out a contractor every time a repair was needed."
The association did the same thing with painting: "Do all painting as part of one project instead of hiring someone to do miscellaneous painting jobs during the year."
Finally, associations should plan several years into the future, and plan for expenses accordingly. This will save time and money in the long run.
Most of all, remember—each building or development is different and you have to look at cost-cutting on a case-by-case basis.
Raanan Geberer is a freelance writer and a frequent contributor to The Chicagoland Cooperator.