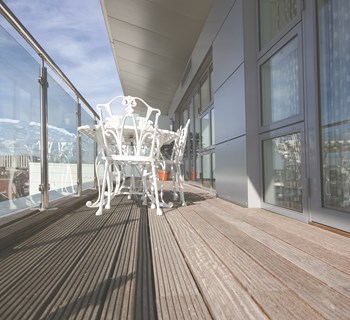 When you consider all the different exterior components that a condo association has to deal with, decks are sort of like the Rodney Dangerfield of the list—they rarely get any respect.
"Decks are definitely something that people don't pay enough attention to," says Frank Knight, owner of Mr. Porch in Avondale. "Decks are pretty much neglected."
Many of Chicago's condominium decks were built 10 to 20 years ago, and are now nearing the end of their useful life—especially if they haven't been maintained properly over the years. This is especially true with waterfront properties, where constant moisture and winds off the lake can be particularly tough on wooden surfaces.
Attractive, well-maintained deck surfaces—whether attached to individual units or part of your condo's common areas—add to the visual and practical appeal of your building or HOA community. Keeping those surfaces functional and safe is just as important as any other exterior concern. There are a number of simple things your board can do to extend the life of your association's decks, and new materials and methods that can help.
Out With the Old
In the current economic climate, most condo boards aren't thinking about making changes to their decks, especially if nothing is visibly wrong with them. Even with a steady maintenance program however, wooden decks eventually deteriorate and may need to be repaired or replaced. Luckily, a host of new technologies are available to make deck construction and future maintenance a bit easier.
"I have people with decks that are 10 to 20 years old and they are starting to replace them," says Dennis Stoll, a decking specialist at Fox Home Center in Alsip. "The majority of those people are deciding to go with a composite. Composite decks are extremely low-maintenance. All you have to do is power wash them a couple of times a year, and that's it."
Composite decking was developed around 1990 by the Winchester, Virginia-based company Trex, and is essentially a pressure-treated mixture of wood and plastic molded into the desired form. According to Stoll, these pressure-treated softwoods or low end woods are heavily in demand throughout the Chicago area.
Unlike traditional woods, composite decks are constructed with screw-type sink fasteners or with blind fasteners, which are hidden pieces into which the composite boards are attached with clips. These decks are finished off with railings that can be coated in nearly any color, and imprinted with textures that closely resemble the appearance of wood.
"I'm seeing a lot of composite decking, which is sort of like a recycled milk carton material, if you can picture that," says Knight. "Composite decking is probably one of the biggest things to have hit the market in recent years. Composites are popular in the custom market and in the suburbs where people want to do something that's a little more high-end. Manufacturers like Fiberon and Trex offer a 25-year guarantee that their product won't fade or crack or twist—and in this economy that's an added appeal for the consumer."
Treatment Time
Pressure-treated lumber needs to be allowed to dry for several months before sealing or staining. In most cases, the maintenance depends on the weather.
"Wood is a natural product," says Knight, "and a wooden deck tends to expand and contract through the seasons. You want to check for warping, twisting and cracking, and you have to make sure the sealant and stain that you are using is applied every two to three years. That is the most important. When you seal the deck on a regular basis, you can easily get 12 to 15 years out of it. Without water sealing, you'll be making significant repairs within the first five years. You'll be replacing—maybe not the entire deck, but you'll be doing major repairs."
"These days, you can get a combination stain and sealer," adds Stoll. "You'll get a stain with a water repellant built into it. So you put that on and you're good to go. But it has to be done every year. That means scrubbing down your deck every year, cleaning it up and power washing it."
Most composites that have been installed over the past 10 years require maintenance only once or twice a year to remove accumulated oils, pollen, grease and mold.
"For composite decking, the manufacturer's recommendation is really just regular power washing—you never have to seal it," says Knight. But he adds, "You do have to be careful to follow the manufacturer's directions to the letter however, because if you deviate from that, you risk voiding the warranty."
Inspect and Report
In the wake of several well-publicized tragedies involving deck collapses, building codes are getting tougher—and deck inspections are now something every condo administrator needs to have on their radar.
According to the North American Deck and Railing Association (NADRA), if your condo hasn't had an inspection lately, bringing in a pro to give it a thorough once-over is a good way to figure out if something needs to be fixed. The group is dedicated to increasing public awareness of the necessity for regular inspection and maintenance of existing decks and proper installation of new decks.
"A professional inspection will examine every inch of your deck, provide information on its capacity limits, identify any dangerous problem areas and give you a map of what to keep your eye on in the future," says Mike Beaudry, executive vice president for NADRA. "If your deck is older, this might include a regular deck inspection schedule."
The inspection includes key areas such as ledger connections, posts and footings, post-to-beam connections, joists and joist connections, stairs, deck boards, handrail assemblies and guards. An inspector will be on the lookout for telltale signs of rot and structural issues. Especially in older buildings, layers of paint or stain on a deck may be hiding water damage or decay, making the problem worse over time. Without the right protection and sealants, moisture and salt can do a lot to lessen the life span of a wooden deck.
Other important things that need to be looked for include cracking, splitting, splintering, loose nails, loose railings, twisted posts and broken balusters.
"When a deck begins to deteriorate, you'll start noticing that there's a lot of grain-raising going on," says Stoll. "The grain of the lumber will start to raise and separate or you'll see lots of checks and splits off of your boards. The other thing that happens with deterioration is the holes around your screws will start to open up."
"Once a piece of wood twists out of shape, there's no fixing it," adds Knight. "It has to be replaced."
Insurance Issues
Deck collapses—although generally not as dangerous or deadly as balcony collapses on mid- or high-rise buildings—can cause injury to people and expensive damage to the building the deck is attached to. And of course, anytime the words 'injury' and 'damage' come into the picture, so do issues of liability, insurance, and claims.
"It's important to understand who is responsible for the maintenance of the deck or balcony," says Arlington Heights-based insurance agent John Saisi. "This has to be clarified at the time of purchase but the maintenance is usually the association's responsibility."
"There is no special insurance to cover the collapse of a balcony or deck," says Saisi. "That would more than likely fall under the building coverage. But it all depends on why the deck collapsed in the first place. Earthquake insurance would cover it in certain cases. Imagine having a 20-story glass building and there's a little shimmer in the ground and the glass breaks. Earthquake insurance would cover that."
There are two pieces to the insurance puzzle. First is the physical structure that collapsed. It would need to be replaced. That would be covered under the condominium's property coverage. Second would be any injury or third-party property damage as a result of the collapse. That would be covered under the condominium's general liability policy.
"The important thing is for all unit owners to have a HO-6 policy," says Saisi. "It's required by Illinois state law and if you don't have it, you are in violation of the condo act."
Depending on the situation and how the condo outlines the responsibilities for the care and maintenance of the decks, the unit owners themselves could be held responsible.
A scheduled program of inspection, maintenance and repair can prevent damage to people, property, and the association's finances. Those decks, do, after all, deserve some respect.
Keith Loria is a freelance writer and a frequent contributor to The Chicagoland Cooperator. Editorial Assistant Christy Smith-Sloman contributed to this article.