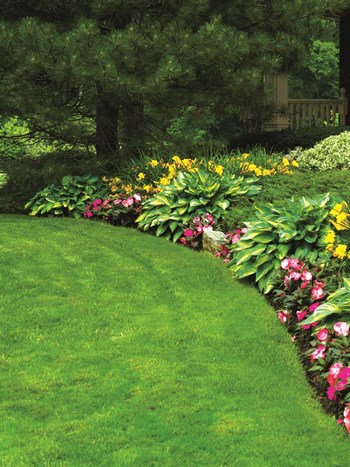 In the face of rising water costs, maintenance costs, and a continued depressed housing market, many community associations are finding long-term savings through new landscape strategies that also help our environment. Eco-friendly landscaping practices are not just the domain of the hardcore nature lover anymore. They can mean significant returns on your investment.
Aesthetics and Ecology
The implementation of an eco-friendly landscaping strategy does not mean only using tall grasses or having a loose unkempt look on your property, says Tom Lupfer, the president of Lupfer Landscaping in Lyons, Illinois and the chairman of the Sustainable Landscaping Committee for the Illinois Landscaping Contractors Association. There are many strategies available and HOAs considering these types of strategies have a long-term goal in mind: to save money and help the environment.
"Sustainable landscaping is not a design style, it is a thought process," says Lupfer. "You can have anything from a formal landscape design to a tall-grass prairie or anything in between. If you manage it carefully and appropriately, you can have a large amount of turf grass. You don't have to give up the lawn to be sustainable."
"The whole picture can be addressed," continues Lupfer. "You need to make sure you are doing things according to best practices. For example, we use compost teas instead of synthetic fertilizer and pesticides, which also saves a lot of money."
There are a few common themes in eco-friendly design, says Anne Roberts of Chicago-based Anne Roberts Gardens. "People ask us a lot for low-maintenance, which means that they are starting to come over to the native conversation more and more. We have seen an increased interest in this kind of garden."
Sustainable design is more contemporary now and people want to see it more and more," continues Roberts. "We are moving away from the clipped yews and evergreens and seeing more grasses and wildflowers."
Implementation of some sustainable strategies can require a little vision and patience on the part of residents, says Jo Ann Hannigan, a senior property manager, for Caruso Management Group in Naperville, "It takes a while for the plants to mature. We need to use smaller plants and sometimes it can take a while for the plantings to reach their potential. To get the full impact it could be anywhere from three to five years."
Some Meaningful Strategies
Common issues to address include appropriate plantings and storm water runoff. "When you are redesigning it is critical to put the right plant in the right place," says Lupfer. "If the bushes under the window have been trimmed five times this year, that's because they are not right for that place," he explains.
"We use many kinds of eco-friendly landscape solutions," says Hannigan, "including site-appropriate plants and permeable pavers….it all depends on the area. Our approach is anchored in both aesthetics and ecology."
And eco-friendly landscaping can mean thinking creatively to save money, continues Lupfer. "If you use your money to transplant that bush to another spot and put in a plant that suits that spot, you will save money in the long run. A careful review of the current maintenance program can yield hidden opportunities to save money. A change here will free up resources to invest in other areas."
One of the first things to be put on the chopping block is the ubiquitous lawn, although they don't necessarily have to go. Lawns also usually require copious amounts of fertilizer and pesticides, which are generally applied as chemicals on a regular schedule. Creating a healthy environment is much like creating a healthy body: the more toxins that are added, the poorer the systems will function, leading to eventual breakdown.
Lawns are extremely high maintenance, so some landscapers recommend reducing or eliminating lawn area entirely.
Judicious use of chemicals is another key point in eco-friendly landscaping practices, says Roberts, "We don't use pesticides unless we have to. I can count the number of times on one hand the time we have had to use them. We really just try to concentrate on using the right plant in the right place. We don't over-plant our gardens, we plant them with the long term in mind…as opposed to stuffing them at first and then having to pull things out as they mature."
An integrated landscape approach will also become a more sustainable system, says Roberts. "You get pest problems when you put in plants that are struggling, but healthy gardens take better care of themselves."
"When you put down herbicides, for example, you kill not only the harmful elements, but many of the beneficial microbes that foster life and growth in the soil," adds Lupfer. "The soil becomes barren, in a way, and has to be supplemented artificially, which means more chemicals."
Storm water runoff is a major area of concern for eco-friendly landscapes. "We do a lot of native gardens and rain gardens," says Roberts. "Being that we are in an urban environment, we deal with a lot of hard surfaces. Many of our clients have drainage problems that can be solved by French drains and rain gardens. Instead of trying to get the water off the property, we try to deal with it on site."
"The majority of these strategies could work anywhere," says Hannigan. "Often people will be resistant to the idea, thinking that it will be a very loose and unkempt look, but once it is explained, people really get on board. We show photos, which are very motivating. The aesthetics are going to be wonderful. There is a great opportunity for seasonal color. Flowers and trees and grasses can be used to illustrate the seasons."
Money Talks
In difficult economic times like the ones we have seen recently, it can be a struggle to convince people to consider redesigns that may be seen as expensive or outside the traditional idea of a residential landscape. But these solutions help save money as much as help the environment.
HOA's can save through a variety of ways, says Roberts. "By using native plants, you'll have much lower water costs, since natives have much deeper root systems, and they are acclimated to our conditions. In Chicago these plants have to go through all kinds of challenges: we have extreme heat, extreme cold, and, at times a lot of water. They have to be really tough here. You also save money by not having to replace a lot of plant material."
"Another way to save money is by keeping control of irrigation, only watering when water is needed instead of according to a timer," says Lupfer. "You can save 60-70 percent on your water bill. You don't have to put in new systems or spend any money up front. This is something everyone can do right now."
"Additionally, HOA's can save money through materials management," continues Lupfer. "Many HOAs bring in large amounts of bulk items like mulch, and often the mulch layer is still intact. I've seen 100's of yards of mulch brought in for sites that already have enough mulch. The two- or three-inch layer of mulch can actually be bad for plantings if it piles up and strangles them. The reason that people usually want more mulch is aesthetic, so we can use dye on the existing mulch to freshen it up at a much lower cost, making it look new."
Phasing and Timelines
Major overhauls like this can be expensive and physically disruptive to the sites where entire areas are being re-landscaped. In addition, starting small may be a good way to acclimate residents to a new aesthetic or landscape strategy.
Using professionals who know what they are doing is essential to the success of any project. "It's preferable to work with a designer for sure," says Hannigan, "or someone who is very knowledgeable able about local plant communities."
"We always recommend having a plan," says Roberts. "It's definitely worth getting a good landscape designer or landscape architect to come up with a master plan, and then at least everyone knows the direction that the site is headed… This year we are doing the hard-scape, the year after that we are doing the irrigation, the year after that we are doing larger trees. Eventually we will get there and this is the road map. We prefer to do it all at once, but sometimes it just isn't possible or practical."
Phasing can serve another purpose, as well: educating of the client, says Lupfer. "Let's slowly implement these changes over time. Once you have established a track record of trust that you will produce a beautiful, as well as ecologically conscious landscape, people will be more likely to trust you with ideas that are further outside the box of what they expect from a landscape plan. They get it. For example, the first year, I will recommend planting perennial bulbs instead of tulips, and change the fertilizing program. The next year we continue transitioning to a more sustainable landscape and maintenance plan."
Phasing also eases the financial burden of installation, says Lupfer. "The cost of new construction is large. The initial investment can seem overwhelming, but it should be incorporated into the reserve studies. You can see that over 5-10-50 years the savings of a sustainable landscape will come back to you. A good example is permeable pavers. They are more expensive going in, but have a 50-year lifespan. Plus you gain more usable land, since you require less land for drainage solutions like retention ponds or drains."
"The whole goal of moving toward sustainability is to subtly change it into a more vibrant-looking landscape and create a healthier environment. It should be a process of transitioning from a traditional landscape to a more sustainable one. A healthier landscape means that plants don't need as much attention, since they are growing as they should and are not afflicted by disease and don't need artificial food to keep them alive and flourishing."
Denton Tarver is a freelance writer and a frequent contributor to The Chicagoland Cooperator.