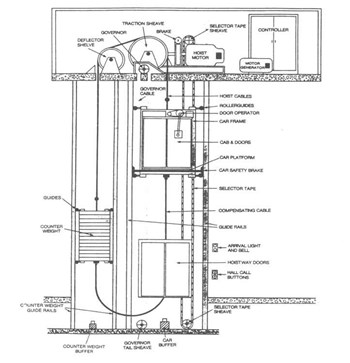 Any building in Chicago taller than, say, five stories usually has an elevator—and often, new buildings of even three stories have an elevator. If you live in a high rise co-op or condo building on Lake Shore Drive or elsewhere in Chicagoland, chances are that you use an elevator every day.
Chances are also that you don't give much thought to it, and when you look at the inspection report posted inside the elevator cab, you don't spend much time analyzing it. Yet, elevators are essential to any mid-rise or high-rise apartment building. See how upset people are when their elevator is out of service for even a few hours!
In the Beginning
There have been elevator-like hoist devices throughout history, but in 1853, American inventor Elisha Otis invented a freight elevator equipped with a safety device to prevent the elevator from falling in case a cable broke. This advancement paved the way for elevators to become commonplace in commercial and then residential buildings.
While the first passenger elevator was installed in a New York City department store, Chicago had a steam elevator installed in 1864 at the Charles B. Farwell store on North Wabash Avenue, followed in 1870 by C.W. Baldwin, who invented and installed the first hydraulic elevator in a store building for Burley & Company on West Lake Street.
The first passenger elevator for residential buildings came into general use around 1877, but before World War I, elevators were still fairly rare and confined to upscale apartment houses, prestigious office buildings and fancy department stores. Many of the elevators of that period resembled luxurious drawing rooms, with small couches, wood paneling and uniformed operators.
Computer-Aided Design
Today, we see two basic types of elevators—hydraulic and "rope-driven." One far-reaching change in the elevator industry, as in all industries, has been computerization. Whereas elevators 40 years ago or so were either controlled by relays or by an older type of solid-state controls, according to Brian Black, code and safety consultant for National Elevator Industry Inc., they are almost all computerized nowadays. That said, according to Black, "most elevators of any age are not obsolete. You can modernize systems; modernize old relay systems with a computer. Many elevators are being modernized on a regular basis. There's no reason any elevator should be obsolete."
Some of the most recent elevator design improvements are safety-based. One example is a device called a rope gripper—if an elevator should move on its own (because of an error), the rope gripper will sense this and grip the cable, preventing it from moving further. And in general, in newer solid-state elevators, the car won't move unless all the circuits are operating and all the doors are closed.
Oversight and Inspection
In Chicago, the city's Department of Buildings oversees licensing, inspection and repair procedures for elevators. While annual inspection is commonplace in all commercial and municipal buildings, residential (home) elevators used for personal use are exempt from annual inspection, says Scott Kinzie, the general manager of Smart Elevators Co., based in Naperville.
Elevators and escalators, under municipal code section 13-20-100, are required to have an annual inspection done by an "authorized technician." An AT, according to the statute, is a qualified elevator inspector licensed by the state of Illinois—an independent, third party contractor in good standing with the state of Illinois. According to the DOB, for elevators and escalators, the authorized technician is required to perform an inspection to the national standards for 'periodic inspections' found in ASME A17.1, which is the standardized safety code for elevators and escalators.
The authority having jurisdiction for a particular municipality or state adopts and enforces various versions of elevator codes, says Nick Budmats of Jeffrey Elevator Company in Schaumburg. "In Chicago, the city of Chicago building department is the authority having jurisdiction, and they enforce the city of Chicago building code, which has a specific section related to elevators. In the remainder of Illinois, the State of Illinois fire marshal's office is the authority having jurisdiction, and it adopts various national codes as its standards (with some minor modifications). The state fire marshal's office allows municipalities to have their own elevator code enforcement programs, provided they are equal to, or more stringent than the states own program," says Budmats. Municipalities in the suburbs can subcontract the work to third party contractors and these smaller municipalities can also create their own elevator codes, says Urban Elevator's Rene Hertsberg.
It's basically the responsibility of the building owner or manager (or, in the case of a condo or co-op, the board) to keep up to speed on these codes, new developments, and inspections, notes Black. So what is a good elevator maintenance inspection schedule—both as mandated by law, and as recommended by industry experts?
According to Budmats, officials generally perform one inspection of devices every 12 months, and "some municipalities and vertical transportation equipment require even less of an interval than that." He adds that testing of elevators known as Category 1, 3, and 5 tests, are required at one, three and five year intervals respectively.
At minimum, the elevator code requires periodic inspections at least once a year; some municipalities choose to do it twice a year, says Craig Zomchek, a licensed elevator inspector and the business manager of Colley Elevator Company in Bensenville, Illinois.
Different design elevators each have their own testing requirements. Monthly fire service tests for Phase 1 recall (where elevators are recalled to the lobby in the event of a fire) are also conducted, says Hertsberg.
Testing of the elevators can involve operation of an elevator's emergency braking system, verification of its speed regulation systems, or verification of the elevator's pressurized vessel integrity, as well as many other safety features often unseen by the riding public, says Budmats. While testing of the safety systems, the governor, the under car safety devices is routine for a Category 1 test, it's a no load test, continues Hertsberg. A Category 5 test, however, is done every 5 years, and loads are tested and weights are used to see how the elevator functions with people on board. "Every five years, we actually have to bring test weights in and load the elevator with 150 percent of its rated load. We put the test weights on the elevator and we perform the same test to make sure that it works with a full weight."
"An annual inspection is performed with a 3rd party witness, the elevator inspector," says Kinzie. "The elevator inspector will conduct the test while the elevator maintenance company provides the labor to perform the testing procedures. Typically the owner pays the city or village directly for the inspectors fee because they verify from city to city, depending on the elevator inspection company's agreed to pricing to service that area."
Annual testing labor, says Kinzie, can be written into the property's elevator maintenance agreement so that the cost to provide labor to perform the inspection is included. On average, it costs approximately $200 for an annual inspection, he says.
"Elevator maintenance schedules vary greatly," says Budmats, "depending on the equipment's age, design, and usage. Like your car, elevators require care on a regular basis to make sure they provide safe transportation to those riding inside. Some large buildings have a resident elevator technician who is on site daily for their care. Smaller installations may be serviced as infrequently as maybe once a quarter based upon their limited usage and design," he says.
"A good maintenance schedule is dependent on the specific building's age, environment, usage and traffic patterns," Zomchek says. "The more use a building gets the more maintenance the elevator may need, the older an elevator gets the more maintenance it may need. This is an item building ownership should be discussing with their elevator contractor."
According to Budmats, an elevator inspection typically involves a systematic check of the elevator and its environment to insure that it complies with code, and inspections vary in length based on the age and complexity of the elevator system. Costs for an inspection can vary widely. Some municipalities choose to regulate the costs of inspections for the elevators located within their boundaries.
Testing, Testing?
Black further describes what tests can reveal. "They will make show if there are suddenly unintended car movements, whether the car is going too fast, of malfunctioning. The governor – a device that ensures that the elevator doesn't overspeed—gets tested on a yearly basis. Devices that provide emergency power if there is a power outage would be tested once a year to be sure it kicks in properly. Door systems are tested once a year—you want to ensure your doors are opening and closing properly. You don't want to close too quickly or strike a passenger."
What are some of the most common problems affecting Chicagoland's residential elevators? Problems, says Budmats, typically involve interaction points with passengers. Doors which do not close due to obstructions in their path or operating buttons which are damaged due to inadvertent contact are common failures. However, with careful and considerate usage, combined with appropriate serving frequency, elevators are one of the safest and most reliable means of transporting people, he adds. Zomchek concurs that improper leveling at a floor and problems with doors are the most common issues affecting elevators.
"The most common problem that people face with residential elevators is a lack of proper maintenance, which could be caused by a couple of different things," says Hertsberg. "These days especially, and people are very budget-conscious. What companies do now is they send out contracts that are very low dollar, but the scope of the work contemplated does not involve adequate amount of preventative maintenance. So when you don't have adequate preventative maintenance it leads to shut down problems and all kinds of other things."
The average life span of an elevator is 30 years, he says, and when you get to the end of that life cycle, there is a lot more maintenance involved.
Training and Licensing
Budmats notes that the Greater Chicago metropolitan area enjoys the benefit of having an adequate supply of well-trained elevator technicians. Approximately 90 percent of the elevator technicians in the city are members of the International Union of Elevator Constructors (IEUC). Chicago's IEUC Local 2 has been in the forefront of educating its technicians for decades. Currently a federally recognized apprenticeship program is a requirement for all new union elevator technicians entering the elevator industry, he says. Non-union education programs have begun to appear and have a limited influence on the Chicago market.
He adds that the city of Chicago licenses elevator repair companies, and requires them to each have a supervising elevator mechanic, who is person responsible to answer to the city concerning the work the company provides. The state of Illinois licenses elevator companies, elevator mechanics, and also elevator mechanic apprentices. State of Illinois licensing requirements for elevator companies also demands that the company's maintain adequate insurance coverage for liability and the completed operations of the company for the protection of the riding public.
And, subsequently, the state further licenses elevator inspectors and elevator inspection companies. These licenses, says Budmats, require the inspectors prove they have passed national elevator code testing, as well as rigorous continuing education requirements due to the ever changing and complex codes which govern elevators. There is even a national code regarding how elevator inspectors are qualified and certified, he says.
"Everybody should be looking for a licensed contractor," says Hertsberg. It's important that people evaluate whether their elevator contractor has a history of working in that area and with the particular type of equipment serviced. It's also important, he says, to know whether the elevator company has an adequate stock of parts in their warehouse to minimize downtime. Always ask for references, he adds.
"The most important thing is that people evaluate and invest in their elevator equipment to get the performance that they are expecting. It's difficult stuff to work on and requires a lot of expertise."
With a good relationship with an experienced contractor, addressing any problems promptly, and good care by your residents, your elevator should be operating on the up-and-up for years to come.
Raanan Geberer is a freelance writer and a frequent contributor to The Chicagoland Cooperator. Managing Editor Debra A. Estock contributed to this article.