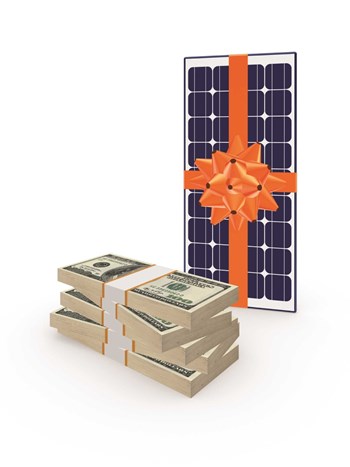 If someone offered free advice and equipment to help you use less of his product, would you say it's too good to be true? A lot of people do. That's a challenge as Chicagoland's electric and natural-gas utilities try to promote energy-saving incentives to their customers.
"One of the toughest things to do is give away free money," says Scott Schnurr, chief executive officer of DRF Trusted Property Solutions in Plainfield, IL, a contractor participating in the incentives program. "People don't believe they'll get a rebate. They think we're lying to them. There's a lot of fear. We hear people say, 'I'm a board president. What if this doesn't work? I have to live here.'"
Get With the Plan
In 2008, the Illinois Legislature passed a law requiring the state's electric companies to include on their bills a separate line item for an energy-efficiency trust fund. Customers pay into it for each kilowatt hour they consume. The utilities must use the money in the trust fund to educate consumers, reduce energy consumption, and increase efficiency.
Customers can tap the trust fund for free or discounted electrical improvements. In Chicagoland, ComEd (a subsidiary of Exelon Corporation) collects the money and encourages customers to use it.
Julie Hollensbe, ComEd's manager of energy efficient programs, says ComEd's version of the program—called SmartIdeas—has averaged about 40,000 electricity customers a year. Participants include multi-family condominium and cooperative buildings and communities, as well as rental apartment buildings, single-family homes, and businesses.
In 2011, the Legislature added natural-gas companies to the program, so ComEd began collaborating with Peoples Gas in Chicago and suburban distributors Nicor Gas (a subsidiary of AGL Resources, Inc.) and North Shore Gas Company (a subsidiary of Integrys Energy Group). Since 2011, about $150 million has been collected and redistributed statewide.
Jointly, ComEd and the gas companies hire contractors such as Schnurr's firm to help residents install the best mix of electricity and gas equipment to optimize their energy savings.
Nicor calls its program energySmart. Erin Wilson, Nicor's energy-efficiency spokesperson, says energySmart "is about saving energy and our carbon footprint." Since Nicor began participating in 2011, she says, the company returned $42 million to its customers through April of 2014. From June 2013 through April 2014, "the program served 21,000 units in multi-family buildings, and participating contractors have completed projects for 930 multi-family buildings," Wilson says.
Substantial Participation
Close to one in 10 northern Illinois utility customers has participated in the program in some way, Schnurr estimates. He says the utility companies are the major beneficiaries.
"They're being forced by law to do this because they have monopolies in their markets, but it has been a windfall for them. Giving back to the communities has improved their image, and the money they're giving back is extra money they collected that was in this fund that they had to give back. If they don't, they'll get fined hundreds of thousands of dollars. Meanwhile, as the population of their service areas continues to grow, reducing consumption by individual users allows them to add new customers while saving their infrastructure investment costs."
ComEd and the gas companies are aggressively reaching out to encourage energy-efficiency participation. "We have a lot of information on our website," Hollensbe says. "We make presentations to association boards, get them engaged with something free, and then layer on the additional information.
"Also, participating trade allies and contractors are aware of and are actively promoting our programs. They directly offer lighting upgrade projects and provide the discount directly to the property owner."
For larger associations with in-house management and a maintenance staff that can perform the upgrades, ComEd has rebate applications online for the staff to fill out and verify that the upgrades were completed, whether in-house, by a participating contractor, or through ComEd.
What's for Free?
At your request, the utilities will send a technician to install:
• CFL (compact fluorescent light) bulbs that use 75 percent less electricity than standard incandescent bulbs.
• Programmable thermostats that allow you to adjust the temperature settings of your heating and air conditioning according to a pre-set schedule, to avoid running the system full-tilt when you're not going to be home.
• High-pressure shower heads that use 40 percent less water than comparable products.
• High-efficiency faucet aerators for kitchen and bathroom sinks that use up to 30 percent less water.
• Insulation wrapped around hot water pipes to help conserve heat.
There is no charge for these products or for the technician's visit, beyond what you've already paid into the trust fund as a utility customer.
Hollensbe says individual condo or apartment dwellers receiving these free direct-install products save about $20 a year on their electric bills, plus additional natural-gas savings if they have gas.
"The program also offers a free energy assessment, a customized report that includes improvement recommendations," Wilson says. The report outlines the rebate dollars available and cost-benefit estimates for the proposed improvements.
In addition, Wilson says, "we can work with building owners to customize any sort of project. We look at them as small-business owners. If they come up with other ways to conserve energy, we can arrange a customized rebate."
For example, a modular and modulating steam boiler system might be suitable in some condo and co-op properties. Schnurr says such a boiler isn't in the technical resource manual that lists thousands of items for which rebates are available but he succeeded in securing an off-book rebate for one at Dominican University in River Forest, IL. "Most boilers are like a light bulb, on and off," he explains. "These are like a light bulb with a dimmer. It's built in sections, and controls the amount of heat it produces."
Slicing the Pie
To participate in these energy-efficiency savings, call your gas company (if you have natural gas) or ComEd. If you don't have natural gas, call ComEd.
In a multi-family building, who is eligible for what energy-efficiency initiatives depends upon whose name is on the utility bills. Many individual condo owners pay their own electric bill and can independently request the technician visits and free upgrades for their own apartment. In a building with individual electric meters, the association can make the request on behalf of all residents who want to participate. If the building has one central electric meter, the association must make the request.
For gas customers, "an individual owner is eligible if his name is on the gas bill," Wilson says, "but if the association covers the cost for natural gas, you have to go through them to take advantage of the program."
The energy assessment for a multi-family building also lists suggested improvements for the common areas. A frequent target is common-area lighting—such as exit and hallway lights, and parking-garage lights—for which new LED (light-emitting diode) bulbs that use 89 percent less energy than an incandescent bulb and last five times as long would be appropriate. Other potential common-area improvements include new domestic hot-water boilers, air-conditioning improvements in exercise and meeting rooms, insulation, and computerized vending-machine minders with sensors and timers that keep the refrigeration running but turn off the machine's lights during certain hours.
Multi-family property owners have saved an average of $1,300 a year on their electric bill through ComEd's energy-efficiency rebates, Hollensbe says. If they consume enough electricity, they are treated as business customers. Most condo associations fall into a separate small-business category because their bills cover only the common areas.
For gas customers, the costs and benefits of a rebate program will vary depending on the upgrade. "A 15 to 30 percent reduction in energy use is not unusual," Wilson says. "Boiler and furnace changeout result in dramatic savings. The results are unique to every building."
Paying for Improvements
Schnurr says DRF Trusted Property Solutions goes beyond the energy assessment to "provide a design-build solution, build it, and procure the rebates and financing. If there's not enough in the reserves, we help the association finance it. Typically there's no need for a special assessment or an increased assessment, and the reserve requirements are reduced once they've improved the property."
One source of financing is Community Advantage Bank (CAB), which specializes in servicing Chicagoland community associations with loans, lockbox services, and credit-card processing.
Financing for such projects also is available at low or zero interest from the Community Investment Corporation, which receives funding from federal, state, and local sources and works to renovate and improve the efficiency of multi-family properties.
Schnurr recounts a recent success story, the upgrading of the Chatham Park Village Cooperative at Cottage Grove Avenue and 83rd Street, "a little island of sanity in a rough area" on Chicago's south side. A 63-building, 532-unit development constructed in the 1930s, Chatham Park Village was converted from low-income apartments to a co-op in 1962. Today many of its 1,600 residents are elderly, living on fixed incomes.
"They were eligible for a $590,000 rebate but they couldn't get the property refinanced to cover the rest of the improvement costs, totaling more than $2 million. They stood to realize $210,000 in energy savings, and that plus the rebate allowed them to get the whole property refinanced through the National Cooperative Bank," Schnurr says.
"We changed the boilers, domestic water heaters, and system pumps in the middle of snow and cold this past winter to complete the improvements before the program year expired. It turned out great. "
Other Aspects
ComEd works in other ways to get energy-efficient equipment into its customers' homes and workplaces, using the U.S. Environmental Protection Agency's Energy Star program that certifies product performance and energy efficiency as "a seal of approval for our programs," Hollensbe says.
"Through our residential lighting program, we provide instant discounts at over 900 local retail locations for select Energy Star lighting products. Energy Star CFLs are instantly discounted, with no rebate application, and no coupon.
"In 2015 and 2016, we expect to be offering discounts on various Energy Star rated appliances, including top-tier, high-efficiency refrigerators, clothes washers, and other types of white goods that meet the latest construction codes."
ComEd also has a recycling program for old refrigerators, freezers, and window air conditioners in working condition. "We will come out for free to pick them up and recycle them in an environmentally-friendly way," Hollensbe says. "Ninety-five percent of their components can be recycled. We provide an incentive for participating: $35 for a refrigerator or freezer, and $10 for a window air conditioner. We collect about 40,000 items a year in that program."
A comprehensive list of federal, state, and local energy incentives is available on the Database of State Incentives for Renewables & Efficiency at www.dsireusa.org.
George Leposky is a freelance writer and a frequent contributor to The Chicagoland Cooperator.