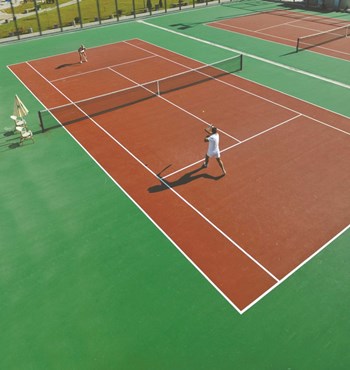 Pools, hot tubs, saunas and gyms are big-ticket, high-demand amenities. They add value and enjoyment to properties without question—but they also come with major considerations when it comes to insurance coverage.
A condominium association's insurance protects the condominium building and commonly owned assets, as well as offering liability assurance for the association, but when it comes to potential high-risk amenities like the ones mentioned above, basic liability coverage sometimes just doesn't do the trick. That's why supplemental or additional insurance is most likely necessary to cover the potential hazards that come with these deluxe amenities.
According to Karyl Dicker Foray, CIRMS, CIRS for Rosenthal Brothers, Inc., liability policies can include coverage for various items such as a slip-and-fall exposure, products liability (if someone should become ill as a result of eating tainted food at an association sponsored event, for example), host-liquor liability and medical payments to guests of the association and its unit owners.
"A condominium association provides insurance for the outside walls of habitational buildings, plus common areas (such as grass and walkways) surrounding the buildings," she says. "Coverage should also be included for a clubhouse, gazebo, pool, storage areas, parking facilities, tennis courts and any other areas owned by the association."
Generally the amenities, also known as the common elements, of a condo will be defined in the building or association's offering plan, condo declaration, and sales brochures. In a cooperative apartment, they're defined in the building's occupancy agreement or proprietary lease.
"The building amenities are collectively owned by the unit owners, which is why they are referred to as common elements. A separate policy needs to be in force to cover this exposure," says Joel A. Davis, regional marketing director at Community Association Underwriters of America, Inc. "The coverage from an individual homeowners policy would be inadequate to cover all of the common elements. Ideally, the insurance agent for a homeowner should make certain that the homeowners policy only covers the unit owners' property and that there are no gaps in coverage."
Common elements include recreational facilities, swimming pools, playgrounds, kitchens, party rooms, exercise rooms, walk ways, riding paths, and the like.
Insurance Needs
Since June 1, 2002, the Illinois Condominium Property Act (ICPA) has outlined the minimum coverage every condominium association must purchase for these types of amenities, so working with an expert who can guide you in making sure that your building is insured properly is a must.
The most commonly required types of insurance are Property, Equipment Breakdown, Commercial Liability, Fidelity, Directors & Officers Liability, Hired and Non-Owned Auto Liability, Auto Liability (if they own a vehicle), Workers' Compensation and Umbrella.
The personal liability coverage section in a homeowners policy covers non-business, non-automobile liability exposures of the named insured and family members as defined in the policy, anywhere in the world. This encompasses claims for bodily injury (physical injury, sickness disease or death), property damage (physical damage to property of others including loss of use of that property) and personal injury (claims for libel or slander or false arrest).
"For the community association, the general liability section of the commercial package policy covers the third party liability exposures the association faces as it conducts its operations," Davis says. "The same third party liability exposures that a unit owner faces are also present for the community association but on a grander scale. For example, the unit owner essentially has a slip-and-fall exposure for visitors falling while inside the residential unit. The community association has a premises liability exposure for all of the common areas."
The board's D&O policy excludes claims for injury or damage, which should be covered by general liability policies. A good D&O policy should cover "Full Prior Acts" of previous boards, with the exception of acts which resulted in prior litigation, which should be covered by earlier D&O coverage or events for which the insured had previous legal notice or knowledge.
A carefully worded lawsuit regarding the amenities could trigger the D&O policy, such as allegations that maintenance assessments were inappropriately imposed.
D&O insurance may also provide additional protection. For example, if there is an injury at a facility's swimming pool, and the director and the board had decided that it was not necessary to hire a lifeguard, this type of insurance could further protect them.
"The community association could benefit from a Commercial Umbrella Liability to supplement their General Liability, Directors & Officers Liability and Employers Liability," Davis says. "The Directors & Officers liability policy is a type of professional liability policy for board members. It covers claims made against the board stemming from a variety of causes. Some of these claims include breach of contract with a vendor, a unit owner who thinks a community association rule is discriminatory or somehow infringes on their rights."
Insuring for a Rainy Day
According to Barbara D. Wick of CARMIC, LLC, an insurance and risk management consulting firm in Northfield, Ill., a board needs to consider these three important things when selecting policies: a) A careful review and identification of what is their responsibility, and its value; b) A careful review of what could cause damage for which they would be responsible; and c) The magnitude of potential loss.
That's why in addition to the basic coverage, a building should have excess liability or an umbrella policy to protect themselves from exposure to lawsuits.
"When it comes to liability claims, you never know when enough is enough," says Ron Sirotzki of Hollinger Services, Inc., an insurance firm in Elk Grove Village, Ill. "Unlike insuring a building for a property, one has a good idea on what the replacement is if it had a total loss. For a liability claim it can be anything. Therefore, all you can do is work within the budget and make a prudent decision based on the exposures the association faces each and everyday."
So how much is really needed?
"The classic flip answer is $1 more than the largest lawsuit that could arise from the use or existence of the amenities," Wick says. "In reality, some reasonable estimate of the sort of losses that could result from the amenities. As high an umbrella as possible is wise; it provides good sleep medicine."
For unit owners, a personal umbrella liability policy would supplement both the personal liability coverage of their homeowners insurance and the personal automobile liability coverage. Umbrella liability policies are usually sold in increments of $1 million.
Board Decisions
The board needs to review their declarations and bylaws to make certain they are in compliance with selecting certain coverage that the documents require. Some policies like workers' compensation are shown as optional for the board to take.
"The board would benefit from a complete risk management review from their insurance agent, as well as input from the property manager," Davis says. "It is critical that the board does not omit coverage for property or liability exposures that they face."
For example, if board members, property managers or volunteers use their own personal automobiles for community association business, the board should include hired and non-owned automobile liability coverage.
When boards hunt for policies, they need to at least confirm that the coverage complies with their declarations and bylaws along with ICPA or the Common Interest Community Association Act (CICAA).
"Making sure that the insurance carrier is rated at least A- and be an admitted carrier to the state of Illinois is important," Sirotzki says. "If the association has a property manager, the association's commercial liability, fidelity and the directors & officers liability include them as a named insured. Lastly and very important is having proper coverage for increased cost of construction due to building codes."
Other Coverage
Wick says that workers' compensation is important as it covers injuries to community association employees. "We encourage associations to purchase this coverage even when there are no employees," Davis says. "This is used in cases when an uninsured contractor is injured on their premises and attempts to file a workers compensation claim against the association."
Commercial package policies cover real and personal property that is defined as common elements. It also covers general liability for operations of the community association, including hired and non-owned automobile liability. Fidelity coverage (also known as employee dishonesty) covers misappropriation of association funds.
To illustrate a not-uncommon scenario, let's say there is water damage claims due to a frozen pipe or sewer backup. If a condominium unit owner had minimal coverage—usually $1,000—they could be facing an uncovered loss of $10,000 just for flooring.
"If that same unit owner had a finished basement that was not originally installed by the developer and had a fire claim, that unit owner could be facing a uncovered loss of $50,000 or more," Sirotzki says. "However, if the neighbor next door had the proper replacement cost coverage for amenities and suffered either type of loss, he would only have to pay out his insurance deductible."
An example of a covered claim is when a visitor slips and falls on the wet swimming pool deck of the common element pool, then the general liability coverage of the association applies to this bodily injury claim.
An example of a denied claim would be if the community association is sued by a vendor for breach of contract. The lawsuit was filed when a new D&O liability policy was in force. It turns out the board knew of the contractual dispute months earlier while the previous D&O policy was in effect. The board/property manager did not purchase "tail coverage" on the expiring D&O policy, nor did they mention this dispute on their new D&O application, thus voiding coverage for this dispute.
Remember, all insurance policies are not created equal, and in our litigious age, getting proper coverage for your co-op, condo or HOA's amenities is crucial for the well-being of your association, its residents, and their guests.
Keith Loria is a freelance writer and reporter for The Chicagoland Cooperator.