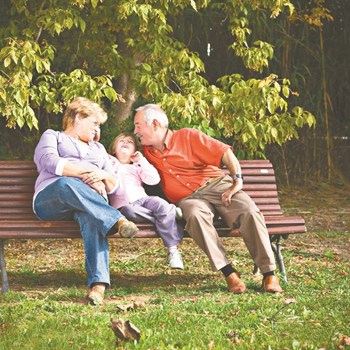 You've all seen the ads—whether you're over 55 or not. They're called "active adult" communities, "retirement" communities, "over-55" communities, "active-lifestyle" communities or any number of other names.
Popular locations for such communities are "Sun Belt" states like California, New Mexico and Arizona —but many are right here in Illinois. Sun City Huntley by Del Webb, the Woods at South Barrington, River Crossing Luxury Condominiums—these are just a few located in Chicagoland.
Regardless of whether they're in a desert or by a Great Lake, what nearly all active adult communities have in common is that they advertise a maintenance-free lifestyle for older adults that includes recreation options like golf and tennis nearby, a clubhouse, amenities such as exercise centers, small-group classes, entertainment, business centers, organized outings, and more.
Matching Up
Maybe you've retired—or are about to. You're healthy, active and want to have fun; an assisted-living community is probably not really your speed, but your old house is too big, and has become a bit of a hassle to maintain. If that sounds like you, an adult active community may feel like a better fit. There's about to be a big spike in "baby boomers" retiring, and many will certainly be heading to such communities. In fact, according to retirementliving.com, start-ups in 55-plus communities are projected to increase by almost half within the next two years.
But how do you choose the right kind of active adult community, and by what criteria do you evaluate them? And what's life like inside one of these communities?
Jennifer Prell is the senior partner and founder of A Silver Connection, a free service that provides information about these communities. Her goal is to match seniors with the communities that are the best match for their resources, needs, and expectations. She says, "An active adult community is typically 55-plus, and the older adult gets out and interacts with people with similar interests. There is usually a clubhouse, lots of activities, a health/fitness area with experts to guide the seniors, and classes geared toward the 55-plus age group."
The Legal Angle
Ellen Hirsch de Haan, managing partner of the Tampa Bay Regional Office of the law firm Becker & Poliakoff, PA, is another expert on the subject—she's the author of Boomer Shock: Preparing Communities for the Retirement Generation. Addressing the subject of how to establish an adult community, she says that to qualify as such under federal law, at least 80 percent of the units must have at least one permanent occupant over the age of 55. "This means," she says, "that the association must be able to limit occupancy of the units/homes to ensure that at least 80 percent of the dwellings remain occupied by at least one person 55 and over."
In addition, she says, there must be publication and adherence to policies and procedures that demonstrate the community's intent to provide housing for people 55 years of age or older. Also, the membership must adopt an amendment that gives the board the authority to "exclude individuals under the age of 55 from permanent residency."
That 20 percent leeway, Hirsch de Haan continues, has consistently been interpreted by the courts as applying only for surviving spouses under the age of 55 and heirs who are already living there at the time of departure or death of the person who is 55 or older. Finally, she says, under the law these communities are called "senior housing" or "housing for older persons"—the phrase "active adult" is a marketing tool.
And the 55-and-over benchmark is not necessarily universal. Hirsch De Haan says that "in a senior housing community, either at least 80 percent of the permanent residents are 55 and over, or 100 percent of all permanent residents are 62 and over."
Legal distinctions aside, there tend to be more 55-plus rather than 62-plus communities around just as a marketing decision, since 55-plus gives developers a broader market base, says Barbara Krueger of www.SeniorResource .com, a website that has lots of information about housing and other aspects of senior life.
As far as financial arrangements are concerned, Tom Wetzel, president of the Retirement Living Information Center says that unlike continuing-care retirement communities, where the residents are not as independent, people buying into active adult communities basically take out a regular mortgage and pay monthly condo fees like any other HOA member. "It's basically a real estate transaction," he says. "I think building costs are building costs—I don't know of any differentiation or restriction."
Often, it's actually easier, Wetzel points out, for an active seniors' condo developer to get approval for his or her project from the local zoning board than for a "regular" condo. The reason is that because there are few or no children living in the development, the association's presence won't necessitate the need for new school construction and other associated municipal expenses.
"Seniors use the libraries but don't send children to the schools," Krueger says. "They tend not to commit crimes, but use more emergency ambulance services." One senior community in California, she continues, went so far as to incorporate as a separate town—to avoid paying school taxes.
No Diving
When it comes to house rules and other regulations, active adult communities across the country don't differ all that much from their more broadly-aged counterparts. What differences there are usually involve restrictions on the use of the property by visiting children, use of the pool (no diving or no floats), or nuisance and noise provisions. Some communities may have specific "grandchildren hours" in the pool—or even a separate pool for visitors.
The rules, says Prell, "are usually put in place by the developer, but are guided by state law. The community will make bylaws, and they can restrict children from using some or all of the amenities in a community. This is for the safety and comfort of older adults." Some may allow children in the pool area, others don't.
These communities don't have healthcare services on the premises, says Prell, "But typically have a wellness center with information and education geared to older adults. They want their residents to stay healthy."
However, more heath-related services may be on the way for some of these communities, since many of the active seniors living in them are expected to "age in place" and eventually become less active.
Wellness centers, fitness programs, spas, aquatics and related services are extremely popular aspects of these communities—according to Wetzel and the Retirement Living Information Center's website, www.retirementlivi ng.com, the number of senior living communities offering wellness programs will nearly double during the next five years.
"Like-Minded Adults"
Aside from age, why do people choose these communities? What is the benefit to the homeowner?
According to Prell, "The benefit is safety, the support of like-minded adults that are in the same position they are, and a serene atmosphere. The traditional HOA doesn't have quite as many amenities [as an active adult community], and those activities help residents stay active longer."
Hirsch De Haan adds that as people get older, their reflexes get slower and they are less tolerant of noise and disruption—such as that caused by children on bicycles or skateboards.
Bruce Berlin, executive director of the Garlands of Barrington in Barrington, Illinois says that as people age, the sense of community and support that exists in a vibrant, active building or association can do wonders, staving off the sense of isolation and disconnectedness that seniors may feel after a being widowed or losing a tight-knit group of friends. "We give them a chance to make new friends, to take part in new activities, to be part of a community," he says.
Location, Location, Location
What makes a senior homebuyer with their eye on an active adult community choose one association over another? Why, for example, would they choose to stay in Illinois rather than head for the warmth and near-perpetual sun of Florida or Arizona? There are any number of reasons, from need to be near friends to a desire to take part in particular activities.
Hirsch de Haan says that in her experience, these factors are the same as those driving any other type of home sales—location, amenities, and climate. "Sometimes a friend has bought into the community, and it encourages others to do so as well," she says.
"Choosing a location for a retirement is difficult," says Wetzel. "Many people think the attraction is mainly resources, like golf courses or nearby leisure activities. It can also be to just be around people their own age and not have children run around the premises."
One trend that's gaining traction in Chicagoland and elsewhere is the semi-retirement community. Older residents don't necessarily want to do the 9-to-5 anymore, but the number of seniors who are doing consulting work, part-time work or occasional temporary work is increasing—both thanks to the recession and peoples' desire to stay in the active workforce. And seniors who want part-time or temp work opportunities will be looking for developments that are near these opportunities.
Perpetual Vacation
In these communities, any number of activities are available to the residents. There can include anything from the traditional cards and bingo to dinner/dances and shows, from book clubs to exercise classes, from golf and tennis to painting and sewing—and, essential in this day and age, computer rooms.
"It's like living on vacation for the rest of your life!" says Prell.
Raanan Geberer is a New York-based freelance writer and a frequent contributor to The Chicagoland Cooperator.