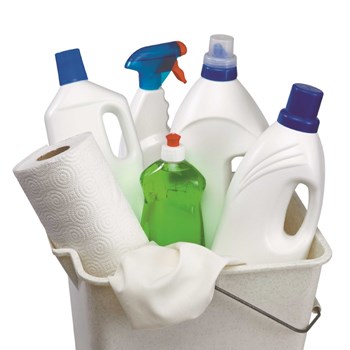 Traditional household cleaners may leave sinks, floors, carpets and countertops gleaming, but they also leave behind traces of toxic chemicals. According to PlanetGreen.com, in any given home in America, you're likely to find up to 10 gallons worth of potentially harmful chemicals; Eco-friendly company Gaiam, Inc. puts that number as high as 25 gallons. When inhaled or ingested, these substances may cause short-term discomfort like headaches or nausea, and have been linked to long-term negative effects including fibromyalgia, rashes, allergies, asthma and other respiratory problems, as well as behavioral and neurological issues like ADD and Alzheimer's—even some cancers. Not to mention the fact that the chemicals can wind up in landfills, and thus the soil and water supply, affecting the greater environment.
The Usual Suspects
Some of the most common chemical culprits include formaldehyde and phenol, both found in the fragrances of air fresheners; ammonia; bleach; perchlorethylene, found in many carpet cleaners; chlorine, a common ingredient in dishwasher detergents; petroleum distillates, which are hydrocarbon-based chemicals refined from crude oil and often in furniture polish; lye, a highly toxic substance used in oven cleaners; terpene, a common ingredient in lemon, pine and orange oils that can become carcinogenic if mixed with ground-level ozone; and hydrochloric acid, found in toilet bowl cleaners.
While there's ample scientific evidence of the hazardous or outright toxic nature of these particular chemicals, there are many more whose potentially harmful effects are not even fully known—and yet they appear in numerous everyday cleaning products, with more introduced every year.
Alarmingly, most toxic cleaners aren't even required to list all the ingredients they contain. In fact, a University of Washington study published in the journal Environmental Impact Assessment Review revealed that there were on average 17 potentially harmful chemicals in 25 popular scented products, but only one was mentioned on a label. The surprising part of this was that many of the products marketed themselves in some way as "green" or "natural." Anyone who's read an ingredient label on a cleaning product, has seen the term "fragrance" listed, but few people know that this seemingly innocuous word can actually encompass several hundred ingredients, any of which may be toxic or hazardous.
Demanding True Green
Consumers are catching on, though. They're realizing that although some chemically based cleaning products may cost less money, their long-term health costs make the monetary savings somewhat less appealing. They're demanding more truly green cleaners, and the industry is listening. Market data from Lincolnwood, Illinois-based International Sanitary Supply Association (ISSA), a leading trade association for the cleaning industry worldwide, indicates that more than 28 percent of surveyed clients require green cleaning products in their janitorial contracts and that more than 40 percent of residential consumers prefer environmentally friendly cleaning products.
ISSA's own Cleaning Industry Management Standard & Certification Program has recently been expanded to offer Green Building criteria and designation. It gives organizations a way to help customers secure points under the LEED for Existing Buildings: Operations and Management (LEED-EBOM) Green Building Rating System. Of ISSA's 80 organizations that are CIMS-certified, 55 are CIMS-GB certified, says Dan Wagner, director of facility service programs for ISSA. "Green cleaning as a movement is growing rapidly right now," he says, "and people seem to understand that going green is the wave of the future. The idea of green-cleaning was a hard sell five or six years ago, but it has become much easier – it's just better for everybody."
It's also become better business. The annual ISSA/Interclean trade show has gotten greener and greener in recent years. "We've noticed that on an ever-increasing basis the exhibitors are building their sales at the trade show around their green products," Wagner says. In 2010, the show's Green Connections Center was a centerpiece of the exhibit hall, reflecting, as the ISSA website explains, "The cleaning industry's mission to combine science and environmental preferability to help cleaning improve occupant health."
"The whole conference floor seemed to be advertising green stuff," says Hillary Thieling of her experience at ISSA/Interclean. As owner of Chicago's Sparkle Queen cleaning service. since 2003, Thieling says she originally had to educate potential clients on the benefits of green cleaning. "But over the past few years, people call me specifically because I'm green," she says.
Clean, Green Growth
The non-profit organization Green Seal has also seen tremendous growth since its inception in 1989. Through science-based research and programs, this pioneering organization develops standards and certifies that products and services claiming to be green meet those standards—Green Seal-certified products and service providers carry the Green Seal logo.
"There were a couple of years between 2006 and 2009 when we experienced exponential growth—it really has grown fast," comments Linda Chipperfield, vice president of marketing and outreach for the Washington, D.C.-based organization. "I've been at Green Seal almost five years since fall 2006, and when I started there were seven people," she says. "Now we have 16 people in our office and another 10 people in other offices—we started with just an office in DC; now there's one in New York, one in Madison, and one in North Carolina."
Chipperfield goes on to say that one of the best things is that when a service provider or manufacturer goes down the green road, they usually don't go back. "We are creating permanent change—we really are effectively protecting the environment and people's lives," she says. "We actually have numbers on one of our biggest standards—all-purpose cleaners. We've done life-cycle research and looked at the comparison between a product that has been certified under our standard compared to conventional industrial cleaning products. Results show that a product that follows requirements like reduced toxicity, concentrated, smaller packaging—we've found the [negative] health impacts can be reduced by 88 percent."
Dave Moore, owner of a ServiceMaster franchise in Carol Stream, Illinois, says his Green Seal certification is also good for business. "When the whole green movement started coming around, it seemed like the right thing to do for business and the future of our company," Moore explains. "It seemed like there was an increasing interest in the industry for cleaning service providers to take care of things in an environmentally responsible way." Besides serving his steadfast green cleaning clients, Moore says the certification has two additional bonuses. "From a hiring standpoint and public relations standpoint, to say how serious we are about the environment and the safety of our employees—all those pieces come together well."
Another comfort to clients who hire Green Seal-certified cleaning companies: Staff training is a must. "There are more requirements for service companies because that's a pretty big part of it," Chipperfield explains. "For a cleaning service [to be certified], all their personnel have to have 12 hours of training before they're cleaning independently. And they have to be trained on the specific site that they'll be cleaning." After that, employees must engage in another 24 hours of training each year.
Does Green = Clean?
That's not to say it's easy being green. "Probably the hardest transition as a company is that there are always people who don't like change," Moore says. "So anything you bring in that's different can be met with resistance." To combat such complaints, Moore goes about proving that his green cleaning service is actually a much simpler process. "There aren't as many choices… just two or three products, and they're universal enough that they take care of a multitude of different surfaces." Plus, the service staff likes that. "People get confused with six or more different bottles; with this, they have to pull out just two," Moore adds.
Thieling also has had some initial naysayers. "They don't think [eco-friendly products] will get things as clean as bleach, so people sometimes still ask my staff to use bleach," Thieling says.
What about the effectiveness? Can a green cleaner really go up against good, old-fashioned bleach and win? Moore explains that his company isn't green-cleaning 100 percent in every building they service because there are some jobs for which there just isn't an eco-friendly alternative to the tried-and-true. "A tile floor that has wax on it that needs to be removed is a good example," Moore says. "The wax-stripping chemicals are very aggressive; there's nothing else that does the same kind of job."
That being said, for the most part, there's a green cleaner for just about any task. "Part of the requirement for Green Seal certification after a manufacturer submits an application is that they have to show us test results," Chipperfield says. "We look at ASTM testing data, [verifying] that the product works as well as the non-green counterpart." Chipperfield explains that some of the learning curve of going green is actually using the products in the correct way. "A lot times people don't follow directions and especially with green products, it's important to follow the instructions." For instance, a cleaner may spray a product and wipe it off right away instead of letting it sit for a prescribed period of time, or the wrong concentration may be used—both of which can lessen the effectiveness of a product and undermine the client's faith in their use.
As for concerns about the higher cost of some green products, Chipperfield makes the point that most institutional green cleaners are on par with non-green products. "Plus, think about things like worker turnover in terms of people getting sick being around those non-green products every day," she adds.
Interestingly, another major issue many have with green cleaning products is the lack of lingering scent after they're used. "People think that if they don't smell anything, it isn't clean," Thieling says. "But the green products don't have a strong scent at all, so people will walk into their house and say, 'My house doesn't smell clean.' But clean doesn't have a smell; that's called perfume."
Learn More
As mentioned, some products may purport to be "all-natural," "green," "eco-friendly" or some other wooing phrase, when in fact they does not meet any true green cleaning standards at all. "You have to be careful that they're not 'greenwashing,' " Thieling notes. "I'm leery of all the products in the stores now," she says.
To find out more about using scientifically-proven green cleaning products in your properties, check out Green Seal.org and ISSA.com. Both offer a plethora of useful information about green cleaning products, industry standards, periodicals, and legislation and regulations, along with how to become certified. In addition, Chicago's annual Green Festival (GreenFestivals.org), typically held in May, is a wealth of resources and opportunities to learn about the latest and greatest in green cleaning products and services. It claims to be the largest sustainability event in the world and the only one that screens exhibitors for their "commitment to sustainability, ecological balance and social justice."
With green's solid position as the most popular color in cleaning, it's worth looking into whether it suits your needs and your properties.
Elisa Drake is a freelance writer and reporter living in Chicago.