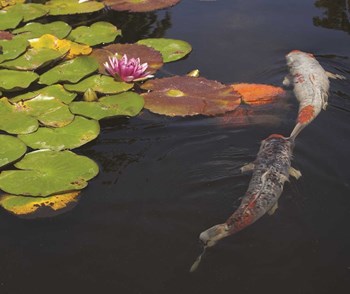 Patches of green, living things are pretty rare in the city—aside from tiny front yards and the occasional back garden, many Chicagoans don't get a lot of leafy goodness in their lives. Some co-op and condo buildings—and some whole neighborhoods—are trying to break up the grayness with greenness, however. They're doing it on their rooftops, in their courtyards and alleyways, turning unexpected spaces into oases of nature.
In the suburbs, houses are built on green spaces, yards of a half-acre or more covered with grass and landscaping. Space of that kind is a luxury that doesn't exist in many parts of Chicago. What all residential buildings do have, however, is a roof—and thus the roof is one of the most popular places to set up a green space.
Green Roof by Example
Chicago, in fact, is one of the leading cities in encouraging green roofs and, in fact it is number one in the country in Leadership in Energy & Environmental Design (LEED) buildings and space, according to a recent U.S. Green Building Council survey. Chicago's green roof initiative started way back with former Mayor Richard Daley and today the Windy City boasts more green roofs than any other municipality in the country. The roof on city hall that was installed in 2001 actually reduces the surface temperature on the roof by 70 degrees and the air temperature by an average of 15 degrees.
"Roofs are unique for a lot of reasons," says Greg Raymond, owner of Chicago-based Eco Gardens. "Obviously, weight and access are always issues. If it's new construction, the architect should have considered the excess weight that's going to be on the roof. If it's a retrofit, we'll employ a structural engineer or an architect, or both, to do those calculations and to make sure that everything is up to code. It's also important to have correct waterproofing, so, what's the right roofing, or waterproofing membrane?"
Not all roofs can handle the weight, or have the access necessary to go green. But many do. Some need to be modified, to ensure that the membrane doesn't leak, and that the structure can support the plant life. Then it's a matter of what to plant.
"On rooftops, plants and flora need to be able to deal with the elements," says James Vinyard, construction manager with Chicago-based Chicago Specialty Gardens. "Chicago is not considered a desert zone, but rooftops have no natural water table, so this limits the plant selection. Usually we like to use a lot of local plants but we have to choose the ones that can deal with arid conditions, higher winds, and less shade."
Indeed, roof gardens are all about water: both drainage and proper irrigation.
"If we're talking about roofs, that a whole subset of pants that have to be wind resistant and drought tolerant, or at least able to sustain themselves in a more hostile environment compared to those on the ground," says Raymond. "Generally, there's a plant palette that we like to follow when we're doing rooftops. We have pushed the envelope and put many large trees up on roofs, and they're doing just fine."
Chicago's initiative remains in force despite a change in politics or administration. "Any new commercial building that going into the city of Chicago has to cover part of their roof space with a green roof that helps minimize water runoff and the heat island effect," says Vinyard.
"What's new in terms of rooftops is the city's requirement for planned buildings to have a certain percentage of their tops greened," says Alison Strickler, the director of marketing at Chicago-based Hoerr-Schaudt Landscape Architects. "And there are a number of different ways buildings can fulfill that requirement. It might mean greening up the façade of a building, or the rooftop, or having a certain percentage of the property be on-grade parkland."
Water Features
Water remains a key challenge even if the green spaces are in a courtyard, backyard, or other space at ground level. "A lot of spaces don't get a lot of water," Vinyard says. "The standard city lot is 25 feet by 125 feet, and most of that space is typically taken up by a building. So the water runoff from the building doesn't get back down into the soil; it's usually forced offsite through the sewers. So irrigation is really the problem for keeping plants alive."
Water features can be inside or outside and include anything from a simple brick-paved garden pond to an extensive man-made filtered pond complete with fish, waterfalls, flowers and plants. According to PondWorks, an aquatic design, construction and maintenance company that offers services in six states nationally from New York to Maryland, garden ponds are perhaps the most common type of water feature one can have.
Both formal and naturalistic, they come in nearly every size, shape and style and are found in both residential and commercial settings. Garden ponds are water features that usually contain plants and fish and can be lush living habitats for many species. These features accentuate and enhance the environment and are often a focal point of any design. Garden ponds are balanced, healthy aquatic ecosystems. Filtration systems for these water features use both biological and mechanical means but are generally smaller, less complex and less costly than that of a comparable size koi pond, according to PondWorks.
Koi ponds, says PondWorks, are water features designed around fish, and they can be either formal or informal. Pond volume and dimensions are key to achieving the best results. Koi ponds and the filtration systems that support them are designed to manage a given fish capacity and keep them healthy and thriving. Through proper design, filtration collects and neutralizes fish waste and controls outside environmental effects on the pond.
Pitfalls of an Urban Garden
Another challenge: sunlight—or lack thereof. "Lack of light is always an issue, especially with row homes or condominiums that are sandwiched against each other," says Raymond. "Salt or other ice-melting components, dogs and pets, pedestrian traffic, lack of proper water or too much water… these are all things that can weigh heavily on the success or failure of an urban garden."
But these challenges are not insurmountable. When assessing a space for green potential, landscape architects can be extremely creative.
"We worked with the town of Normal [Illinois] to help make sustainability a central focus of their downtown revitalization," says Strickler. "We designed a really unusual garden for them, in the middle of a roundabout, basically putting a park inside of a traffic circle. There's a water feature in the center that collects rainwater from different streets in the area, recycles it, and moves it through a natural bog system so the water is cleaned naturally by the plants. The water is also open to the public as an interactive water feature that kids can play in. It's a visual symbol of the town's commitment to sustainability." In short, the firm made green the new Normal.
If a residential building wants to create more green space on its property, what are the next steps? Because going green is more than just throwing some sod on the roof tar, the smart first step is soliciting professional advice. "I would say, consult a professional, at least to get a plan in place and do the proper due diligence," says Raymond. "Whether you want to do it yourself or not, I think that getting professional advice from a company that knows what they're doing is key."
This is sound advice because creating a sustainable green space is more than just horticulture—there are also rules and regulations involved, and Chicago, unsurprisingly, is a stickler for the rules. "Every municipality has different requirements, and the city of Chicago has a fairly strong landscape ordinance," says Strickler. "It has very clearly defined setbacks and requirements for how much green landscape there needs to be. For example, along the side of a parking lot, you need to have a fence, and you need to have a certain degree of landscaping to separate people from that kind of use. So it varies a lot, depending on where we're working, but it's always a factor, there's always a permit process, there's always a review process with the municipality."
How Much?
Then there's the million-dollar question—or what you hope is a more modestly priced question: how much does this cost?
"There are a lot of elements that go into pricing," says Vinyard. "If you're just putting in a patio and some trees, you could pay as little as a couple hundred dollars a tree, and the patio might be eight grand, with labor. Usually on a rooftop build-out, we tell the client that 100 dollars per square foot is a safe bet. That's for some plants and some deck spacing. On the ground, it's probably half that, or three-quarters of that."
This is in line with what Eco Gardens charges. "If we're talking about an environmental green roof, something that's aesthetic and also manages storm water and provides some insulation, that would be anywhere from about twenty to thirty-five dollars per square foot, installed. That doesn't include things like waterproofing or structural modifications," says Raymond. "If we're talking about a rooftop deck or amenities space, we've hit price tags anywhere from fifty dollars per square foot on up to well over $200 a square foot. That would be projects like kitchens, outdoor furniture, overhead structures, irrigation, and lighting. Those are all components that would factor into that budget."
With that kind of price tag, the question persists: why do this? There are many benefits to going green. One is to prevent flooding. "The number one reason for a green roof in an urban setting is to capture, and to slowly release, rainwater," says Raymond. "We've had some exceptional weather events lately, and any sort of urban flooding could be mitigated considerably if more structures had green roofs or permeable surfaces."
Another is to reduce the heat generated by cities that are mostly blacktop and tar roofs. "Whenever you're in an urban area, there's something called the heat island effect," says Strickler. "It's the result of hard surfaces reflecting the heat back into the atmosphere. Any time you're covering something with green, you're essentially decreasing this effect and making microclimates that are friendlier to humans and animals."
The most important may be the most difficult to work into a budget: pleasure. "People are happier when they have someplace to relax, whether it be on the rooftop of city hall, where there's an entire green space, or in a small lot that's been converted into a park," says Vinyard. "And you'll see that between buildings quite often, a small lot that now has a play area for children, and some benches and trees."
Greg Olear is a freelance writer and a frequent contributor to The Chicagoland Cooperator.