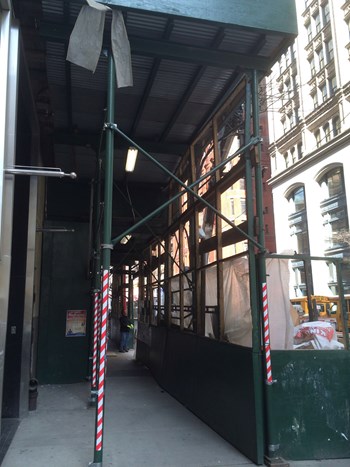 Walk down any street in Chicago and you're likely to go under or around one of the ubiquitous steel-and-plywood structures that shade the city's sidewalks, more often than not festooned with wheat-pasted posters for everything from the hottest nightclub parties to new movies opening this weekend.
They're called pedestrian canopies and scaffolds (in other cities they're known as construction sheds) and these blue or green plywood platforms boosted up above street level by crisscrossing metal poles and girders are usually installed on buildings in the midst of an exterior repair program.
What's That Thing?
"A pedestrian protection canopy is an assembly of structural steel beams, steel posts, corrugated steel sheeting, cross members, plywood, fasteners, accessories and other components that are assembled by skilled tradesmen at the project site," says Claudius Zurek, owner of Alpha Construction and Restoration. "Canopies vary in size, width, length and load rating. They are stabilized, leveled and squared by leveling devices and wood cribbing to prevent shifting or tipping."
By contrast, a scaffold is a temporary work platform, either suspended from the roof or some other part of a building or built up from the ground, typically with a system of pipe sections.
Both types of structures are often in place for years at a time, and can become tremendous eyesores, with flapping plastic and cracked, peeling paint that erode even the most luxurious building's curb appeal.
So, why do we need them? According to Mimi Simon, director of public affairs at the Chicago Department of Buildings (DOB), these structures are designed to prevent injuries and save lives.
"Their purpose is to protect the public from dangers and hazards during new construction, restoration of facades and any exterior trade work performed on buildings," Zurek adds. "Any building in the city of Chicago [undergoing work] that imposes a danger or hazard condition to the public right away is ordered by a city of Chicago inspector to protect the public safety."
During the first week of 2014, four vehicles were damaged when scaffolding collapsed in the Wrightwood Neighbors' Lincoln Park neighborhood on the city's North Side. No people were injured in that incident, but back in 2002, scaffolding around the 100-story John Hancock Center collapsed during a wind storm, killing three people in cars below.
The DOB prohibits people from working on a scaffold in winds over 35 miles per hour, and when scaffolding is, or is expected to be, unoccupied for more than two hours, the scaffolding must be safely and securely attached to the building in accordance with federal regulations, ANSI standards and the manufacturer's specifications.
The original rules regarding scaffolding originated in Chicago more than 30 years ago when accidents like this were more commonplace. That led to a boom of construction contractors and specialized scaffolding companies coming into the fold.
"When projects need to be done, it's not something that buildings just have at the ready, they need to rent them or hire a construction company who has their own," Zurek says. "Some jobs require a great deal of equipment and you need to go with someone who specializes in these big jobs."
Getting the Job Done
While some contractors own their own pedestrian canopies, they can also be rented from what are known in the industry as sidewalk shed erectors. Contractors hire them on a scale and the erectors set up the scaffold and shed (or canopy) prior to the job's commencement, then disassemble it when the job is done.
Alpha Construction sets up scaffolding and canopies for small to medium-sized projects. For large, more complicated scaffold setups, the company utilizes Contractors Access Equipment Inc., located in Chicago. CAE offers various configurations of sidewalk canopies with load ratings from 150-300 pounds per-square-foot, to ensure that each project is furnished with the most cost-effective form of pedestrian protection.
Regulations and Laws
The requirement to protect the public right away is a city of Chicago ordinance 33(13-124-030) for erecting temporary construction canopies and scaffold.
Title 13 of the Chicago Municipal Code requires that the erection of scaffolding may not be performed without a permit issued by the DOB. A scaffolding permit must be obtained where scaffolding work is required within the central business district of the city of Chicago and over 40 feet above grade; or anywhere in the city of Chicago over 80 feet above grade.
Scaffolding permits are effective for one year from the date of issuance and if work is not completed within that time, the owner and contractor can agree to either renew it or they are required to remove all scaffolding. If not, fines will be levied.
Simon says that as of April 2013, a new law went into effect where each operator and every other person who participates in any way in the erection, maintenance or use of such scaffolding, must have completed a safety-training course approved by the building commissioner.
Insurance Issues
Prior to obtaining a scaffolding permit, a contractor must obtain comprehensive General Liability insurance in an amount equal to or exceeding $1 million, which shall list the city of Chicago, its officers, employees and agents as an additional insured.
"The original insurance certificate shall remain at the scaffold site at all times and shall be produced upon request by the DOB," Simon says. "The insurance shall remain in effect at all times that the scaffolding is present."
Jonathan Rosenfeld, an attorney with Jonathan Rosenfeld Injury Lawyers in Chicago, says with respect to construction scaffolds and other equipment used by construction crews, condominium owners and associations are generally insulated from any resulting liability or payout when a worker or bystander is injured in an accident.
"Most commercial contractors have contracts that provide insurance coverage for any incident related to their work," he says. "Even in the situation where an injured person names a condo board or individual owner in a lawsuit, most general contractors have contracts that state they are responsible for defending and indemnifying the property owner in the situation where a lawsuit is filed."
While such contractual provisions are relatively standard in the industry, it is always a good idea for all homeowners and condo boards to look for such language in a contract before work even begins.
"If you are unsure of the scope of the language or do not feel comfortable, it is always a good idea to ask or have an attorney review before any work starts," Rosenfeld says. "Most of the time this language can be clarified relatively painlessly. The last thing you want is to find yourself exposed personally because of a vague clause in a contract."
Post No Bills
Most scaffolding and construction areas have signs not to post "bills" simply because they add to garbage and debris in the area. Perhaps it wouldn't be so annoying to pedestrians if they weren't plastered with posters and signs from top to bottom, harming the look of a neighborhood. In actuality, hanging posters on sheds actually violates the city's "Post No Bills" policy, and city inspectors cite canopy providers for graffiti or for over posting of bills and posters. The fines vary per the code.
According to Simon, according to the code, the only entity to place any type of advertising is the scaffold provider with its company sign for emergency contact information only. Provisions are considered for developers, new construction and long-term restoration projects to advertise their business or feature project.
Rosenfeld says that from a functional perspective, bills or posters on a scaffold or shed can be a safety hazard because they may prevent workers or city inspectors from looking at all aspects of the support system.
"In other words, a posted bill may make a beam or bolt that is decaying difficult to see. For this reason, there really is a safety component when it says 'no posting,'" he says. "While this is a good practice and makes good sense, I've yet to see anyone fined or punished for posting. Most of the time, a bill will be removed in the morning….likely to be replaced that evening."
Leasing options for advertising remain an open table discussion for marketing firms and many would like to see the law changed.
In a city known for old buildings and large skyscrapers, there will likely never be a time when it is completely devoid of pedestrian canopies and scaffolding but one day, maybe the look will be more appealing. The important thing to remember is that they keep the people of Chicagoland safe.
Keith Loria is a freelance writer and a frequent contributor to The Chicagoland Cooperator.