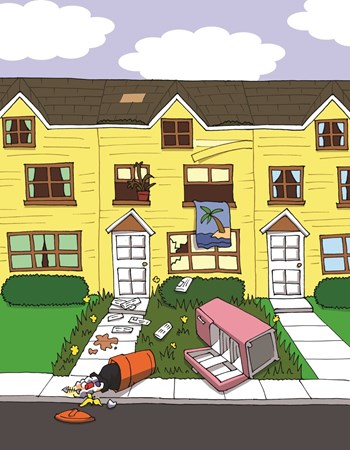 Condos and HOA communities can be a great setting in which to own a home and enjoy privacy and the comforts of your own personal space. That said, there is often a certain amount of tension between residents' desire to for autonomy and the need to comply with community rules regarding aesthetics and upkeep.
One of the great examples of this conflict is outside space. Balconies, lawns, terraces, and backyards are spaces that are part and parcel of private units, yet are not entirely private, because they can all be seen by neighbors or passers-by. These may sound like unlikely settings for controversy—that is, until you find yourself living next to a neighbor who insists on displaying a small army of garden gnomes on his yard, or who uses the railings of her balcony as a convenient place to dry her undies.
Limited Common Elements
"Typically, balconies are deemed to be 'limited common elements,' which are a subset of the common elements," says David Hartwell, an attorney and founding partner at the community association law firm of Penland & Hartwell LLC in Chicago. "So, the balcony doesn't necessarily make up part of the definition of the unit, but is deemed to be a limited common element because only that balcony appurtenant to that unit can be utilized by that unit owner."
Many—if not most—condo owners view their home as their castle, the safe haven where they can conduct themselves as they please. While a condo unit can certainly be just that, it's not the same as a traditional single-family home. Often, people don't truly appreciate the difference when they buy into a condo building or HOA. There can be strict guidelines for how the community as a whole operates—particularly in regard to aesthetics.
"People may feel a desire to decorate their balcony occasionally, or on a seasonal basis," says Michael Kim, an attorney and founding partner at the law firm of Michael C. Kim & Associates in Chicago. "Some associations are very tolerant about that—and others are more restrictive. If it's a momentous occasion, like the first time your hometown sports team makes it to the Super Bowl, your association may overlook banners or other items draped over the balcony railings in a show of support. But they may not be as tolerant if it's every weekend that they just happen to be playing a game."
Value through Visuals
Associations generally have the right to control the use and look of outside structures like balconies, backyards, and lawns. "Associations want to maintain a uniform look," says Hartwell. "There is generally a belief that a uniform look to the outside of a building helps preserve the value of the units in the building." Since balconies and decks are technically common areas, albeit for exclusive use by a particular owner, their maintenance is usually the responsibility of the association. This gives boards all the more incentive to make sure the materials aren't meddled with.
"I had a situation where somebody actually planted live grass on a balcony," Hartwell continues. "I had another person who laminated indoor/outdoor grass carpet to their balcony. They've done a number of different things. And that runs afoul of both the covenants to the declaration and the rules and regulations."
That said, unit owners in Illinois have quite a bit of leverage than other states, thanks to state legislation that protects outside displays in condominiums on First Amendment grounds. "That's an interesting situation where a homeowner may want to express support or opposition to a particular political candidate or particular proposal—and that's certainly a First Amendment issue," says Kim. "And whether or not the association can prohibit the placement of such political signs is certainly a grey area because there is that right of the individual owner to express himself or herself."
Unfortunately, many owners take their community's appearance for granted, and don't think about what rules and regulations might be in place to help keep it attractive. They may not even be aware that those rules exist. "Most people use common sense and are considerate, so there aren't many problems," says Kim, "but there are always a few people who want to express themselves in a way which might make their neighbors uncomfortable or frankly offended by what they put up."
"Certainly some associations try to avoid making decisions about what is tasteful or not tasteful by simply prohibiting everything, so it's an easy decision," continues Kim. "And who knows what 'tasteful' means anyway?"
Clear, Concise, and Fair
It's important for property managers and boards to make their rules about how privately owned yet semi-public areas must be maintained crystal clear and easily accessible, both to avoid conflict, and to give the board a firm leg to stand on when problems do arise. While boards and management aren't expected to walk the property every day and police decorations and exclusive common area use at all times, they do have make sure that, in general the outdoor spaces look as they should.
"The duty and obligation boards are charged with is for a uniform and consistent enforcement of the covenants and rules and regulations," says Hartwell. "So at least under Illinois law, what the cases say over and over, is that in order to be in conformance with your fiduciary obligation, you need to closely follow the covenants of your declaration, and your rules and regulations."
It's a difficult line to walk, because unit owners can wield a lot of power in the state's legal system. "Often times, a unit owner will get proactive, and they'll file a discrimination complaint first," says Hartwell. "Under Illinois law, you can file an administrative complaint to the Illinois Department of Human Rights. It's free to file it—they will even write the complaint for you. And unlike a lawsuit, there is not a civil procedure mechanism to get these administrative complaints quickly dismissed or adjudicated. It can cost an association a couple thousand bucks just to work through it, even if it's completely bogus."
While the list of commonly restricted items on balconies, yards, and windows is long, there are a couple of items that are protected by state and federal law—the biggest one being flags. Illinois has its own laws that allow associations to display American flags and flags for the Illinois National Guard. "So...an owner has the right to display the flag on their balcony," says Kim, "but there are some restrictions. This is kind of a complicated statute, because it refers to presidential executive orders with regard to display of the flag." For example, Kim says, a resident is not supposed to display the flag at night unless it's lit, worn or damaged flags should not be displayed, and must be properly disposed of.
Flags and AstroTurf aren't the only questions that crop up around semi-shared elements in condos and HOAs. For instance, what if a tree on one property hangs over and negatively affects another?
"If it's a hedge and you have approached your neighbor, and said, 'Look I'm gonna have my landscaper cut it. Do you mind if they access your property or reach over with their tools to cut it?' That should be step number one, is just have good neighborly relations," says Roberto Blanch, an attorney at a community association law firm in Florida. "If not that, if you and your neighbor can't or don't get along, you can also reach out to your association to see if there's any procedure established. And then perhaps the association should establish procedures if none are established, because you're landscaping and then what you plant on your side of the fence shouldn't unreasonably interfere with your neighbor's use of his property."
Keep it Reasonable
The key to it all is how an association manages to enforce and protect such regulations and restrictions. "As with any restriction, they need to be reasonable," says Blanch, "and they need to be uniformly enforced. The association can't be arbitrary in its enforcement of the rules. While some communities want to have a very sterile appearance and look the same, and owners tend to buy in the communities because of that uniform appearance and that regulated theme, the associations also need to be clear in what is and what is not allowed."
Nobody wants to be the bad guy—especially board members who are also neighbors of the people that they essentially have to police at times. But in the case of rules in regard to outside spaces, most pros agree that it's better for associations to err on the side of strictness rather than laxity.
"What owners try to get away with in many communities is immeasurable," says Blanch, "and again, an association needs to be proactive in its enforcement of its restrictions. But those restrictions also need to be fair, they need to be clear. And once they're fair and clear, everyone is on reasonable notice as to what should and shouldn't be allowed, then the association is in a proper position to start enforcing. Otherwise, you're creating a situation where somebody can violate, challenge the attempt to enforce, and it's really not doing you any good."
Tom Lisi is an editorial assistant and staff writer at the The Chicagoland Cooperator.