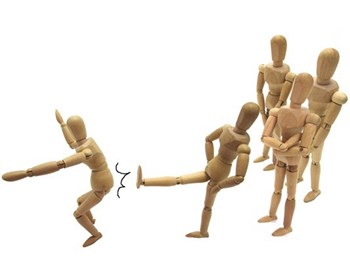 Removing a disruptive, abusive, non-paying, or otherwise problematic tenant from a rental building is relatively easy. Doing the same thing in a co-op is also possible, though substantially harder. But removing a condo owner from the premises (and effectively wiping out his or her equity position as a member of the condominium association) is very difficult indeed, and subject to very narrow legal interpretation—yet is doable under certain circumstances.
While theoretically a co-op shareholder could be evicted for non-monetary issues (prolonged patterns of harassment; ceaseless petty litigation against neighbors or the cooperative corporation; and criminal activity are a few examples), the same is virtually impossible in a condominium setting. Condominiums are pure real estate, not shares in a corporate entity. As a matter of fact, from a legal standpoint, even the word 'eviction' cannot be used relative to removing a condo owner, though it can be applied to removing a rental tenant in a condominium unit—a point we will return to later. The closest we can come to a legally recognizable term for this type of action is a removal.
Generally speaking, points of law on this subject are consistent from state to state with only slight variations. The important distinctions relate to whether the person being removed is the owner of a unit, or that owner's tenant. In both cases, laws are consistent on the most basic matters. Some states' statutes have slightly differing approaches and nuances, another point we will return to later.
Removing a Condo Owner
Attorney Michael Kim, principal at law firm Michael C. Kim & Associates in Chicago, explains that unlike any other state in the nation, Illinois law actually does provide for the eviction of condominium owners. "In Illinois we have a unique remedy for eviction for collection of unpaid monetary obligation," he says. "It is primarily for uncollected monthly assessments, but could also include fines and charges of other kinds that the owner has failed to pay. In most jurisdictions you cannot get someone out with an eviction case—you have to go through a lien foreclosure. In Illinois, we do have that remedy as well, but we use it sparingly."
Kim explains further that the eviction does not transfer title for the property; it merely transfers possession. The statute was challenged in court many years ago, was upheld, and found to be constitutional. It's similar to a landlord-tenant eviction remedy, but has distinct procedures of its own. When an owner is evicted under the statute, there is a 60-day stay issued during which the owner can cure the offense by bringing his accounts current. If that occurs, the eviction order is vacated. If not, the owner is evicted from the premises. This procedure can be used to collect unpaid fines as well. Once the condominium association has taken the unit, they can lease it out and collect rent on it. If the unit is already leased out to an acceptable tenant, the association can choose to let that tenant remain and take an assignment of rents from them.