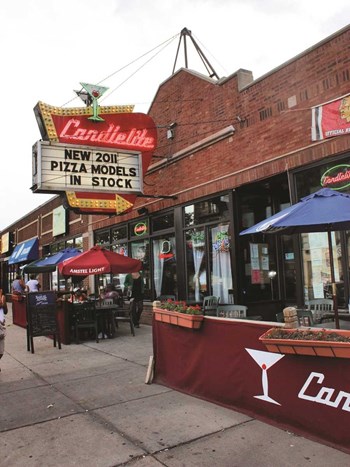 Once a Rogers Parker, always a Rogers Parker, it seems. Whether a current or long-removed resident, folks seem to take pride in their links to the community bordered by the lake, Western Avenue, Evanston and Devon Avenue.
It may be the independent thought and spirit often attributed to Rogers Parkers that unites them all. These are people who go their own way and think their own thoughts. If they wanted to be just like everyone else, they'd live elsewhere.
Arts, Shopping & Recreation
Nowhere is it more evident than in Jarvis Square, a rapidly revitalizing shopping and entertainment district nestled amid red-brick two flats in the shadow of the ancient, ivy-covered Morse Red Line station. The quaint two-block quarter is filled with one-of-a-kind businesses like Charmers restaurant, Poitin Stil Irish pub and Candlelite Chicago Thin Crust Pizzas and Gourmet Burgers. There's also Taste Food & Wine, a European-style wine shop and gourmet food store serving tempting imported specialty foods, and Luzzat Restaurant, an eatery serving Indian and Pakistani cuisine.
According to the locals, just a few years ago, you wouldn't walk around here at night without feeling like you were being watched. But now it's turned into everything you'd want in a neighborhood—families with strollers, people walking their dogs, people saying 'hi' to you on the street." Another up-and-coming district surrounds the one-month-old Morse Theatre, 1328 West Morse Avenue, whose arresting blue-and-bronze art deco neon sign reflects the theater's silent-film nickelodeon origins. The 299-seat house specializes in live music and recently added a restaurant next door, The Century Public House.
The Morse Theatre is an appropriate addition to a community already known for its performing arts. There is a dynamic theater scene with the 30-year-old Lifeline Theatre, renowned for creative set designs, as well as No Exit and Heartland Studio. The latter two are connected to Heartland Café, a Rogers Park institution in step with the neighborhood's independent stance.
The arts focus extends to visual arts. The 15-year-old Greenleaf Art Center, which, bills itself as the center for visual arts in Rogers Park. The center offers art classes, group shows and art studios.
For those who seek more active recreation, the community boasts numerous parks, with the best known being Warren Park, offering a fieldhouse, skateboard park, toboggan hill and even the nine-hole Robert Black Golf Course.
Early History
Rogers Park has an exciting history. The Rogers Park area was developed on what once was the meeting of two Native American trails, now known as Rogers Avenue and Ridge Boulevard, predating modern metropolitan Chicago. The Pottawatomi and various other regional tribes often settled in Rogers Park from season to season. The name of Indian Boundary Park west of Rogers Park reflects this history as does Pottawattomie Park near Clark Street and Rogers Avenue.
Rogers Park was named after a pioneer settler and developer, Phillip Rogers. Rogers often traded and worked with the local tribes. Envisioning a future settlement, Rogers eventually purchased the land from the tribes for later development.
During the mid-1800s waves of immigrants from Luxembourg and Germany came to Rogers Park, where farming was the main industry. On April 29, 1878 Rogers Park was incorporated as a village of Illinois governed by six trustees. In 1893, the village was annexed to Chicago. Successive generations brought about vast cultural changes to the former village. Elite Chicagoans began to move to new planned communities in the suburbs by the 1930s, which ushered in the migration of German, English, Irish, and Jewish families to Rogers Park. With the devastation in Europe following World War II, many additional immigrants found their way to Chicago and the Rogers Park neighborhood. A growing and vibrant Hispanic community has recently grown along Clark Street over the past dozen years.
Rogers Park has long relished a reputation as a renter-friendly community, one in which apartments were both more affordable and more spacious than elsewhere. The neighborhood east of Clark Street in particular is known as a haven for long-time renters, who stay for the good-sized apartments with sunrooms out in front; large bedrooms; and many of these apartments have lake views.
Concern that Rogers Park could lose its status as a hub of abundant renting opportunities led to creation two years ago of the Lakeside Community Development Corporation, whose mission is to speak for neighbors who want to retain the Rogers Park rental community, as well as represent the needs of condo associations.
Housing for All
It seems to be a healthy mix since Rogers Park primarily remains a rental community, but there are a number of additional condominiums that add owners to the community.
At the height of the housing boom, the for-sale market included two-flats and numerous vintage single-family homes, including turn-of-the-century Victorians on larger lots. Prior to the downturn estimated prices for single-family homes stood at around $350,000 to $700,000. According to CurbedChicago.com, condos in the area are reasonably affordable, selling for anywhere from $150,000 to $300,000. Like other parts of the U.S., the financial crisis of 2007-2009 hit the area hard, and many recently converted condominiums went into foreclosure. The Rogers Park rental market, however, remains strong, with rents up over 10% year-after-year. The continued strong demand for housing suggests that a condominium recovery may be on the horizon as well.
For most residents, the bottom line is they prefer residing in a neighborhood that marches to its own distinctive drumbeat...Rogers Park prides itself on being the antithesis of the cookie-cutter community.