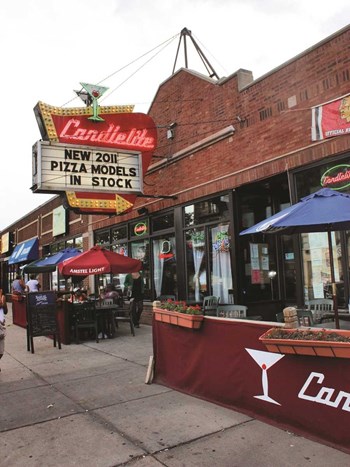 Once a Rogers Parker, always a Rogers Parker, it seems. Whether a current or long-removed resident, folks seem to take pride in their links to the community bordered by the lake, Western Avenue, Evanston and Devon Avenue.
It may be the independent thought and spirit often attributed to Rogers Parkers that unites them all. These are people who go their own way and think their own thoughts. If they wanted to be just like everyone else, they'd live elsewhere.
Arts, Shopping & Recreation
Nowhere is it more evident than in Jarvis Square, a rapidly revitalizing shopping and entertainment district nestled amid red-brick two flats in the shadow of the ancient, ivy-covered Morse Red Line station. The quaint two-block quarter is filled with one-of-a-kind businesses like Charmers restaurant, Poitin Stil Irish pub and Candlelite Chicago Thin Crust Pizzas and Gourmet Burgers. There's also Taste Food & Wine, a European-style wine shop and gourmet food store serving tempting imported specialty foods, and Luzzat Restaurant, an eatery serving Indian and Pakistani cuisine.
According to the locals, just a few years ago, you wouldn't walk around here at night without feeling like you were being watched. But now it's turned into everything you'd want in a neighborhood—families with strollers, people walking their dogs, people saying 'hi' to you on the street." Another up-and-coming district surrounds the one-month-old Morse Theatre, 1328 West Morse Avenue, whose arresting blue-and-bronze art deco neon sign reflects the theater's silent-film nickelodeon origins. The 299-seat house specializes in live music and recently added a restaurant next door, The Century Public House.
The Morse Theatre is an appropriate addition to a community already known for its performing arts. There is a dynamic theater scene with the 30-year-old Lifeline Theatre, renowned for creative set designs, as well as No Exit and Heartland Studio. The latter two are connected to Heartland Café, a Rogers Park institution in step with the neighborhood's independent stance.