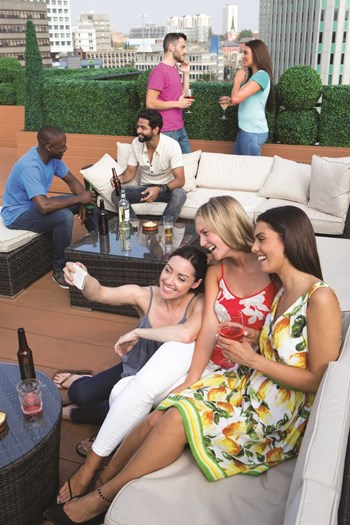 Winter in Chicago can be brutal—piles of slushy gray snow to wade through and frigid winds that keep you inside. So you curl up with a good book, sip a cup of tea, and watch the flurries through the window. As the flakes fall, you might find yourself daydreaming about spring and a spot where many Chicagoans go to be social—the rooftop.
Up on the Rooftop...
Rooftop decks have long been an icon of Chicago's neighborhoods. The wooden stairs behind many apartments that lead to panoramic views of downtown are one of the most distinctive features of Chicago. Perhaps the most famous rooftop decks in the world lay just across the street atop the ivy-laden walls of Wrigley Field.
In the last couple decades, rooftop decks have become very popular. Newer rooftop incarnations are becoming standard in newly-constructed housing developments, but many of Chicago's rooftop decks are simply wooden constructions built years ago that are no longer up to code, and it's causing safety trouble for residents and the city.
"The city currently is closing those down. So if an association has a wood deck, it's only going to be a matter of time until they're either shut down or they may have been shut down already, and they have to be reconstructed out of non-combustible material," says Jim Stoller, president of The Building Group, a management firm in Chicago. "The city is requiring building permits for this reconstruction, and depending on the type of construction of the building they may also want structural drawings from a licensed engineer to show that the roof structure can support the roof deck," Stoller says.
Part of the crackdown stems from the fact that rooftop decks have evolved into a full-blown amenity in many buildings, instead of a place for a few friends to hang out. It's not uncommon for Chicagoans to host parties outside on the roof during the summer, and with more people populating the roof at one time, safety can be a real concern.
"We had collapses of balconies in the Wrigleyville area, when the Wrigleyville area started putting these rooftop decks on. All the buildings that are outside of the park itself, there was just a massive amount of engineering that was being done and people were looking at these old structures, putting new rooftop decks on them, without even seeing if the building can even support the load," says Phil Mahan, president of Structural Technologies in Bloomingdale.
"We have buildings down there where they put a concrete deck on top of a wood, a plywood or tongue-and-groove wood deck, they poured concrete over them and never even did the calculations as to what this was doing to the building."
Nowadays, people have been adding to their decks chairs, picnic tables, planters, even the occasional hot tub. Many consider those luxuries well worth the investment. The purposes of rooftop spaces, however, are something that must be taken into consideration during the planning phase. How will you use your recreational space? Grilling? Gardening? Catered events? Enjoying the outdoors during the summer months is the easy part, but ensuring your deck is safe and well-maintained is essential for its longevity.
Rooftop Planning 101
A licensed and certified engineer should conduct a roof level survey to check for problem areas on the roof, such as ponding or damaged roof membranes. Once trouble spots have been repaired, the next step in determining the amount of support a roof has for recreational use is through a structural evaluation and load calculation assessment. This will measure the roof's ability to handle "dead loads" (the actual roofing system) and "live loads" (people, chairs, patio furniture, etc.). It is also necessary to plan for potential problems that can occur once the deck is installed. "When we do a rooftop, we usually just bring in the right people, we bring in the architect, we'll bring the structural engineer to make sure that the roof is strong enough to carry the 100 pounds per square foot live load," says Frank Knight, owner of Mr. Porch, based in Chicago.
As far as defense against the elements, rooftops have a unique problem compared to the rest of a building structure. "The biggest enemy of any kind of decking is going to be the UV rays. The UV rays is actually what really kills the deck and punishes it. With 100% direct sunlight, it's hard to warranty anything like that. We usually recommend the composite that would have a 30-year, or 25, 30-year warranty that would come with the product," says Knight.
Of course water infiltration is a major threat as well. Even with a proper drainage system in place, roofs are susceptible to collecting pools of water that could sit until evaporated or removed during routine maintenance. It is extremely important that a roof is able to handle this condition for long periods of time without the danger of leakage.
Rooftop Design and Construction
Who designs a rooftop space? Believe it or not, there are roof deck kits and sectional surfaces available on the Internet for enthusiastic do-it-yourself owners trying to avoid extra labor costs. It can be tempting to just go for a prefabricated product and try to wing it. After all, the zoning and permitting process for rooftops in Chicago is difficult and drawn out. But, without an architect or engineer that can assess the weight-bearing load of the roof, you could be putting yourself and neighbors in harm's way.
Unfortunately, drainage is not the only challenge in maintaining the safety of roof decks. The change in extreme weather patterns over the course of the last few years has impacted how securely the surface must be built onto the existing roof.
Just how crucial this is was brought home earlier this spring, tragically, when a woman was struck and killed by a piece of plywood that blew off the roof of a condo under construction in Manhattan's West Village. Even on a completely finished roof deck, all objects, from furniture to plant material, must be in compliance with safety codes and ratings.
For this reason, the connection between the roof deck surface and the roof is crucial, just as important as installing a proper drainage system. Prior to helping the water reach its destination, the roof is protected with various methods of overburden. Polystyrene insulation and sometimes asphalt combine with drainage mats and filter fabrics, guiding the water to the interspersed drains below. Drilling the pavers at the roof drains also makes it easy to locate them when needed.
On Deck...
Chicago has a history of fire, so it's no surprise that the city has become very strict about the materials that buildings can use on their decks. "Obviously, people are trying to get to more maintenance free. What used to be just pressure-treated lumber decks we're moving away from those. We've moved to products like Ipe, tropical woods that are very high density, very good appeal, visual appeal, but also fire resistance ratings of A," says Mahan. Ipe trees are found in the tropics, growing abundantly in South and Central America. This large hardwood tree is known for its strength, durability, and natural resistance to wet conditions.
It sounds expensive, and it is expensive. For buildings that are looking for a more affordable option, the market has gotten more creative with cheaper materials. "We've used Trex decking, polymer deckings, composite deckings now. We may also use aluminum guard rails around the perimeter edges of these as opposed to just wood railing systems. We've got aluminum guard rail systems and stainless steel and glass systems," says Mahan. Guard rails are now required by Chicago law, and buildings are getting creative about how they can meet the code without compromising views and ambiance. Glass has been a very popular guard rail solution.
There are still a few roof decks made with Trex planks, a faux composite, made to look like wood. Terraces on the higher end may consist of quarry tiles placed into a thinly set bed of mortar, but that tradition is fading away. Still rarer are minerals like bluestone and limestone. The load-in process of materials depends on one of two different scenarios, depending on the type of building and state of construction. If the roof deck is being added to an existing structure, the materials can either be loaded from the inside via access to the roof, or for higher elevations, loaded with a rooftop hoist. When a roof deck is being added as part of the initial construction, there is commonly an outside elevator used specifically for the period of construction, or a truck mounted crane for loading.
More recently constructed buildings are equipped to support wood decks with an elevated paving system, but older buildings often require steel structures to be built into the parapets because the wood roof on its own does not have the structural integrity to handle the additional load.
Regardless of the material used, it is essential the surface is level. This allows the deck to be applied flush, with no edges or raised corners. The last thing you want is to have people tripping after construction is complete, say the professionals.
Maintaining Your Roof Deck
Once the roof deck is installed and inspected so that it meets city codes and ordinances, it is important to maintain it. Since the roof is highly susceptible to the elements, most roof decks won't get much protection beyond the warranty of the materials used for construction. In certain types of wood in existing decks, paraffin oil helps maintain the integrity of the deck planks. "It actually puts the oils back into the wood and then protects it from the UV rays. It will actually bead the water up to push the water away from soaking in, because once you start soaking in and it starts rotting up there, that's when it gets pretty bad," says Knight.
A primary maintenance concern is making sure it was built correctly, with an absence of weight on the roof flashings and the proper elevation system underneath. When both of those assurances are in place, it only becomes a matter of keeping it clean. At least three to four times a year, it's good to clean out any debris that may have accumulated in between the roof and deck surface. A wooden roof deck that is close to trees losing leaves in the fall, or located in a corner that creates a wind tunnel, is more likely to suffer from these issues.
As long as the deck has sections that are removable so the underlying roof can be easily accessed, maintenance and repairs can occur without damaging the deck in any way. Concrete pavers and wood occasionally may need to be sealed, but the actual surface can be cleaned using a pressure washer by an experienced technician, perhaps a trained building superintendent.
Decks as Assets
No doubt, a roof deck increases a building's appeal. By utilizing a recreational rooftop as long as the weather allows, those hours of enjoyment are worth every penny. How long that investment lasts depends on the attention given to the planning phase. Spending the time and money to do it right the first time prevents headaches later. The goal is to make the asset last as long as possible.
So get to the roof this spring. Whether that entails an evening of grilling and entertaining friends, or spending a quiet afternoon tending to the potted geraniums, the possibilities are limited only by your imagination on a rooftop deck.
Nicole Van Giesen is a freelance writer and a contributor to The Chicagoland Cooperator. Staff writer Tom Lisi contributed to this article.