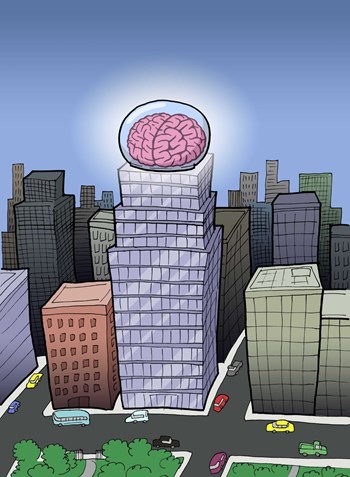 If phones can be "smart," why not buildings? With the ever-expanding array of consumer technology available today, it should come as no surprise that residential buildings are incorporating more and more cutting-edge technology into their communications, security, and operating systems than ever before, and unifying building operating systems so they can be monitored and run from a central location by a building staff member, or by residents themselves with smartphones and iPads. Many of these innovative systems are being installed from square one in new construction, but also in the form of upgrades and retrofits in older buildings. Let's take a look at the state of the industry.
Automating Communincation
and Technology
"Intelligent buildings is more or less a focus on building automation systems, and communications and information technology systems," says James Carlini, founder of Carlini & Associates, a Chicago-based consulting firm specializing in intelligent buildings and intelligent infrastructure. "It started in the mid '80s and what it's evolved into now is tying an element of green or environmental into intelligent buildings as well. Intelligent buildings are focused on adding technology to a building. In other words going beyond traditional amenities and adding intelligent amenities like high-speed communication systems, high speed computer systems and state-of-the-art security systems."
Generally speaking, commercial buildings are more likely to be ahead of the curve with respect to systems integration, while residential buildings tend to be behind the curve. This is changing, however, as more and more boards are finding wisdom in investing in the new technology. At first blush, it would seem that the needs of both kinds of buildings are the same, but residential buildings have different needs.
"A lot of Chicago area residential buildings are looking into something called Triple Play," says Carlini. "They would provide a service where you get one systems integrator to provide you with high-speed internet, voice communications and your television server, your cable TV. So you get one bill for all those services. It's way beyond what you'd get from a typical phone company connection. You wouldn't need that service in an office building. What's happening is that the three most important things in real estate have become location, location, connectivity, because more people are running businesses out of their homes."
"Intelligent buildings typically tie together multiple, disparate systems," says Rawlson King, communications director of the Continental Automated Buildings Association, a 20-year-old international industry association, composed of about 350 corporate members. CABA is dedicated to the advancement of intelligent home and intelligent building technologies. "In fact, it can be argued," says King, "that intelligent buildings transcend integration to achieve interaction so that previously independent systems work collectively to optimize building performance, including monitoring comfort levels, security systems, energy systems and operations."