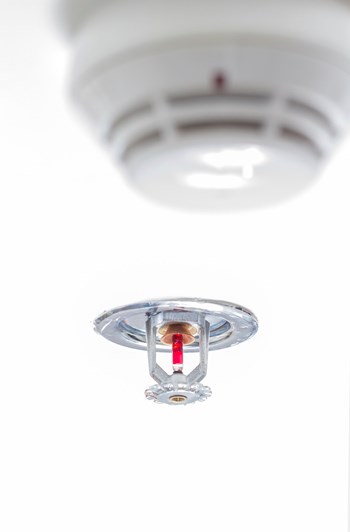 When a fire erupts in a Chicago building, it's terrifying but it doesn't have to be deadly. There are a few essentials that can save the lives of the people who are inside that building: namely, a working smoke detector and a sprinkler system.
The Law in Chicagoland
As of April 1, 2005, the city of Chicago passed a Life Safety Ordinance (LSO) requiring that high-rises built after 1975 that were over 80 feet tall install sprinkler systems. Compliance also requires building owners and administrators to file a life safety data sheet with the city, install a voice communication system, and undergo a thorough life safety evaluation, along with fulfilling several other criteria. The LSO applies to residential and commercial buildings, including rentals. More than 600 residential buildings across the city of Chicago fit the criteria required to submit the Life Safety Evaluation report, which Mayor Rahm Emanuel deemed essential to improving fire safety standards.
"The city will do whatever it can to ensure that buildings are able to comply with the law, and ensure this essential work gets done," said Emanuel in a press release. Condos affected by the ordinance had 9 years to come into compliance, but about 5 years ago, they had to supply the city with a self-assessment. Final assessments to be in complete compliance had to have been completed by December 31st of last year.
While the law only applied to relatively new buildings, State Fire Marshal Larry Matkaitis argued last year that all buildings should be required to have sprinklers. In 2003, six people died in a fire that broke out in a Cook County administration building. An investigation found that a major contributing factor to the fatalities was that the building didn't follow state code on fire sprinklers. Matkaitis stressed that this would have been the perfect time to have all buildings install sprinklers—not just those over a certain height.
After lawmakers, building boards and management companies fought against him, arguing that putting sprinkler systems into old building systems would be too expensive, Matkaitis conceded—but only grudgingly. "As the brave first responders alongside whom I have served during four decades in fire protection know, Illinois needs 21st century fire safety standards," he said.
Do the Right Thing
While Matkaitis wasn't able to get his amendments to the LSO added, Philip Zaleski, executive director of the Illinois Fire Safety Alliance, says that this is one area where buildings shouldn't skimp, even if they're allowed to skimp. "It's a life safety device," he says. "If someone were to find a cure for cancer—wouldn't you want to use that cure to prevent cancer from happening?"
Zaleski says that most people believe that a fire won't happen to them or to their family, so they're not prepared for it. In fact, half of fire deaths in the United States occur in homes that don't have working smoke alarms. And according to the National Fire Protection Association (NFPA), 85 percent of all recorded fire deaths in 2010 occurred where people live—but when fire sprinklers are combined with smoke alarms, the risk of dying in a fire is cut by at least 82 percent compared to having neither one of them.
Fire sprinklers are individually heat-activated and are connected to a network of copper or steel pipes under pressure. When the heat of a fire rises to a sprinkler's operating temperature—usually between 135 and 175 degrees, a fusible link or glass bulb will activate only the sprinkler over the fire. Many people worry that every sprinkler in a home or building will go off in the case of a fire and drench everything but that's simply not true. "It's a very simple preventative measure," Zaleski says.
Cheaper Than You Think
When the LSO was announced in Chicago, there was a lot of outrage from building officials who were worried that it would be very expensive for them to get updated. Zaleski says that part of the problem was that there was a lot of misinformation that was being spread about the costs involved—and about how fire sprinklers were retrofit in existing high-rise buildings.
"These groups were claiming the costs are three to four times higher than the actual completion costs documented by fire sprinkler contractors who have recently retrofit high-rise buildings here in Chicago at $4.00 to $8.00 dollars per square-foot," says Tom Lia, the executive director of the Northern Illinois Fire Sprinkler Advisory Board.
"Unfortunately, they were making these claims in press releases, letters to their members and constituents, and on their websites. The fact is, there are dozens of major cities around the country that require fire sprinklers be retrofit in older high-rise buildings, including New York, Los Angeles, Atlanta and Houston."
Lia says that most buildings that were built after—and even before 1975—already have the basic infrastructure in place for retrofitting a fire sprinkler system, such as the water supply, standpipes and sometimes even the fire pumps. So the standpipes simply need to be tapped and extended to the tenant spaces. Plus, Lia says, the Chicago ordinance requiring resident high-rise buildings to pass the Life Safety Evaluation is less stringent than the national standard listed in the NFPA Life Safety Code adopted by the state.
The cost to retrofit an existing high-rise building with fire sprinklers averages $4.00 to $8.00 per square foot, according to completion costs from Chicago-area sprinkler contractors provided by Lia. He adds, that in most cases, the commercial high-rise retrofit ordinance permits equipment already in place such as standpipes and fire pumps to be incorporated into the sprinkler system installation.
And it's not just a one-sided shelling out of money, say the pros. According to Lia, retrofitting a high-rise building can also result in a fire insurance savings from 20 percent to 60 percent for common areas, and condo owners and renters can save between 5 percent and 20 percent.
If buildings, boards, management companies or residents have any questions about installing sprinkler systems or finding a sprinkler, Lia says they can contact the Northern Illinois Fire Sprinkler Advisory Board, who can help them without charging them any fees. The board also has 80 contractors at their disposal, who can answer questions, offer quotes or speak with the condo board about the process of installing the sprinklers, Lia says. They can also speak with boards and residents about all the extra fire safety measures advised, such as adding fire safety doors and voice alarms, both of which are required in newer buildings and strongly advised in older buildings.
Avoiding Tragedy
Self-closing fire safety doors might have saved the life of Shantel McCoy, who was killed in Lakeview in 2012 after the elevator she was riding in opened directly onto a fire on the 12th floor of her Lake Shore Drive building. The door to the condo unit where the fire had broken out had been left open, drawing toxic gases out into the hallway. The heat was estimated to have been 1,500 to 2,000 degrees when the elevator doors opened. If the door to the unit had been an automatically closing fire-door, McCoy might have survived, Lia says. At the time of the fire, the City Council had passed an extension, giving owners until December 31st to implement the fire safety upgrades.
The new laws don't just save the lives of the people living in the buildings—they also protect the safety of the first responders called to the scene in the event of a fire. "A fire in a high-rise building without fire sprinklers is one of the most dangerous calls," Lia says. "It can be difficult for firefighters to reach the upper floors, since the highest fire ladder in Chicago only extends eight floors for effective rescues. Above that, firefighters most solely use stairs and elevators while carrying fire hoses and other heavy equipment."
The Risks of Non-Compliance
Despite tragic incidents like the death of Ms. McCoy, and risk to firefighters, many buildings still aren't fire-safe today, even when required by law to be. Chicago condo resident Brian Connolly lives in one of those buildings, and it makes him very nervous—and angry. He's on the 30th floor, and his building doesn't have a sprinkler system, self-closing fire doors, or many other required safety systems in place.
"I'm concerned," says Connolly, who has been living there for 13 years, previously served on the board, and now writes a blog about the 57-story building. "The bottom line is safety."
Since Connolly's building was built after 1975, it was required to install all the safety measures. It failed to do so, and in December, they failed the life safety inspection, he says.
"We approached it with, 'Eh, there's not really a problem,' " Connolly says. The building didn't have self-closing fire doors, trash chute doors didn't latch, exits were obstructed, potentially hampering evacuation by residents or entry by emergency responders . . . the list goes on and on. "We could not have been less prepared," Connolly says. "We were completely exposed." Now, the building has to go to court with a prosecuting attorney and a judge, and they could be fined.
And those potential fines are huge. Buildings are being fined $1,000 to $2,500 per day for their violations, says Mimi Simon, spokeswoman for the Chicago Department of Buildings. Originally, the fines were $200 to $500 per day, but they were increased in 2012 by the City Council in order to strengthen the ordinance. "The fines will be part of the court process, and every case is evaluated differently," she says. And Connolly's building isn't the only one facing them; there were 732 buildings in the city's portfolio at press time, and 455 still weren't completely compliant.
In February, the city was looking at every building's paperwork to figure out which building should go to court first. "We're triaging them, and sending the most important buildings to court first," Simon says, explaining that it's the responsibility of the building owner or administrators to meet the requirements of the new laws.
While Connolly says that it can cost a lot of money and time to get buildings into compliance, it's still something that every building needs to do—especially his.
"When there's a will, there's a way," he says. "It's not about difficulty—everything in our building can be fixed in short order if we wrote a large enough check. It's just a matter of money."
If you or your board is unsure of your building's status in terms of the Life Safety Evaluation, you can check it at data.cityofchicago.org/buildings/life-safety-evaluations.
Danielle Braff is a freelance writer and a frequent contributor to The Chicagoland Cooperator.