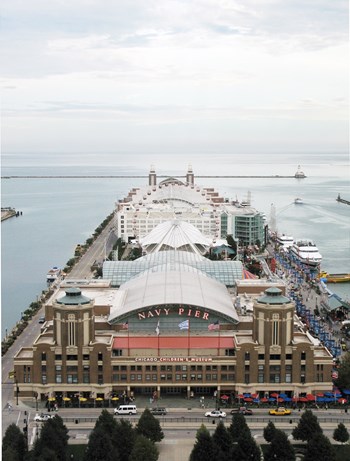 On Wednesday, November 15th, hundreds of board members, managers, building owners, and condo, HOA and co-op residents will flock to the Navy Pier Convention Center in Chicago from 10:00 a.m. to 4:30 p.m. for the autumn edition of The Cooperator Expo Chicagoland.
Since its launch in 2011, The Chicagoland Cooperator's Fall Expo at Navy Pier has become an industry landmark, drawing hundreds of vendors, service providers, industry professionals, and attendees from all over the greater Chicagoland area for a day full of networking, service-shopping, free advice, and information-rich educational seminars – all at no cost to attendees.
Why attend the Expo? Because it gives anyone involved – or just interested – in their building or association's day-to-day operations the opportunity to learn about the latest in building services from over 300 exhibitors, attend valuable seminars, get free advice from legal and management experts, and more. (Did we mention that it's FREE to register? Just visit chicagcondoexpo.com – it's that easy.)
Education Is Everything
Exhibitor booths, information, and demos are the heart of The Cooperator Expo Chicagoland, but they certainly aren't the end of the story at the Pier this fall. A full slate of well-curated educational seminars and expert panels will be running all day long, giving attendees the opportunity to take master classes on a broad array of timely topics. A quick run-down of the day's offerings is as follows:
10:45 a.m. – 11:45 a.m.
Saving Big on Utilities - Cutting Costs While Delivering 5-Star Service
Sponsored by: DRF Trusted Property Solutions
No matter how robust your operating and reserve funds may be, no community wants to pay more than they have to for utilities. With electric, gas and water rates going up, condo and HOA communities need all the help they can get to contain utility costs. Come learn how your community can save money and improve the efficiency of your building mechanical systems and reduce water consumption and waste.
11:45 a.m. – 12:30 p.m.
Privacy...or Prying? Striking a Balance Between Security and Residents' Rights
Presented by: The Chicagoland Cooperator
Whether condo, HOA, or apartment building, security is always a concern in multifamily settings. This seminar will discuss privacy laws as they intersect with boards and owners' responsibilities, the use of surveillance technologies, proper training for staff members, and the importance of doing an accurate, realistic assessment of your property's security needs. Panelists will include attorneys, security pros, and property managers.
12:30p.m.-1:30p.m.
It's Your Money—Appealing Association Property Taxes
Sponsored by: Sarnoff & Baccash
This seminar will help managers and board members alike better understand how, when and why property taxes should be appealed. Presenters will cover the appeal process itself, how percentage of ownership influences property taxes, the fiduciary duty of property managers, the strongest appeal strategies, and much more.
1:45 p.m. – 2:45 p.m.
Tough Cases—Handling Difficult Situations and Resolving Conflict
Sponsored by: The Building Group/Kovitz Shifrin Nesbit
Even the most tight-knit community faces challenges. Whether that takes the form of board overreach, management issues, or a personality clash between neighbors, knowing how to mediate and resolve conflict can mean the difference between restoring harmony or facing litigation. This seminar will discuss how boards, managers, and residents themselves can work to head off problems before they wind up in court— saving your community both money and goodwill.
2:45 p.m. -3:45 p.m.
Chicago's 'Wet' Buildings -- Moisture Intrusion, Mold, and How to Fix Them
Sponsored by: WickRight, Inc., WickRight General Contracting LLC, 365 Construction Tents LLC
Find out why your building is wet, and how to fix it right the FIRST time using proper flashing techniques and passive ventilation. After a brief building science presentation and demonstration, our panel of experts -- including a structural engineer, architect, building envelope specialist, and Certified Master Home Inspector -- will answer questions about your building, water migration, structural integrity, passive ventilation, indoor air quality, repair staging and payment strategies.
...and So Much More!
In addition to all that, of course the Expo will include the amenities (and freebies!) that exhibitors and attendees have come to expect, including a well-appointed food court, free legal advice booths, product demos, and valuable giveaways from exhibitors throughout the day. As one board member at the 2016 Expo said, "As a board member, I never realized the wealth of resources available. [The Expo] has been exceptionally helpful and I got as much information as I could to share with my fellow board members. Next year I'm going to get others to come with me."
The Chicagoland Cooperator and Yale Robbins Publications are thrilled to invite any and all who have a stake in a condo, HOA, or co-op, to take part in this phenomenal opportunity. We welcome you to join us at Navy Pier on November 15th; for FREE registration, visit chicagocondoexpo.com. We look forward to seeing you at the show!