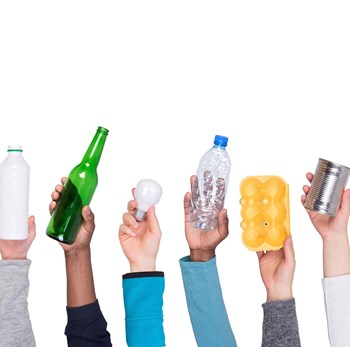 When it comes to how co-op and condo communities navigate the race to address climate change, a goal like switching to 100 percent renewable energy may seem too tall an order. On the other hand, recycling household glass, paper, and plastic products seems relatively easy. Even so, getting residents to actually sort their trash for collection can feel like an uphill battle for boards and managers.
In a condo or homeowners' association, a gentle push in the right direction can sometimes come from a property manager who's particularly committed to reducing his or her client communities' environmental impact. The Chicagoland Cooperator spoke with a handful of managers in various markets who have encouraged or facilitated an array of eco-friendly programs in their associations to help spread the message of recycling.
The Green Apple
Victor Berrios formerly managed a 620-unit co-op in the Bronx, New York, and turned a building that once met the idea of recycling with a collective shrug into a lean, mean, green-conscious machine.
CC: What was the situation at the property like when you originally took the reins?
VB: Come recycling day, I'd see a porter put out a single bag of bottles and cans on the curb. We put out more than that at my house, and it's just me, my wife, and two kids. So I reached out to a not-for-profit called GrowNYC that assists with recycling efforts, and promotes and teaches conservation. We held classes for building staff, and during open shareholder meetings. For the latter, we'd have giveaways to encourage participation. You have to incentivize these things."
We eventually had a mountain of recyclables. The Department of Sanitation had to reconfigure its assignment because of the amount of time our pick-up was taking. They used to pop by for five seconds, [but] hat eventually increased to 40 minutes, visiting two different recycling pads at either end of the complex.
Where did you find the motivation to push these projects?
I just enjoy it. I have a garden at home. I have chickens. I'm that guy.
When I was a kid, I'd go fishing under the Whitestone Bridge in Throggs Neck with my dad, and we'd catch snappers right off the edge of the water. You could fill a bucket in 20 minutes.
Now I have children, and I took them to that very spot. We spent a whole day and came back with two fish. I thought it was just bad luck, or the wrong tide, so we returned a few weeks later. Nothing. I started talking to the other people out there, reminiscing about how things were years ago, before the pollution...and I think that's what did it for me: the knowledge sinking in that my kids would not enjoy the same things living here I did with my dad.
Compostable New England
Vermont has a reputation for being environmentally conscious, so it's no surprise that the state is gung ho when it comes to composting. In fact, by 2020, Green Mountain State natives will be legally required to separate organic food waste from trash and recyclables. Marian Servidio, owner of The Park Place Management Company in Burlington, Vermont, weighs in on how her properties are responding to this initiative.
CC: What sort of properties do you manage, and how have they generally received this composting mandate?
MS: We have a mix of mid-rise buildings with attached parking garages where they keep their trash totes. And we're trying to get ahead of the composting mandate by issuing non-mandatory programs throughout our developments now. Our service providers have been really great at coming to our meetings and providing literature, as well as separate composting totes.
One thing to note, though, is that our associations are actually paying to have this composting service done, on top of our normal trash service. But everybody seems to appreciate that it's very much worth doing, even though it's an additional expense and a lot more work. It starts out slow, but it catches on. Now, at my mid-rise buildings, we might see as many as four totes that get emptied weekly. That said, it can be a challenge to keep people invested. It takes some marketing.
It can be hard to see the short-term reward for such an investment.
Well, in Vermont, oftentimes you're charged for trash pick-up based on weight. So the carrot we're using is, if the associations can train themselves to compost, a lot of their trash and rubbish fees will go down, in addition to the fact that they're doing a good thing for the earth. Because the heaviest thing in your trash is the food.
So the biggest task for a resident is really just sorting out their compostable waste from trash and recycling?
Right. They don't have to handle too much, churn it up, stir it or add to it. We had done that years ago at one property, and we ended up with more compost than we could use. We didn't know where to put all that soil. So I think that this works much better. The compost goes to a central hub here in the city where they process it, bag it and resell it as soil."
Did you have boards prior to the mandate that were enthused about this stuff?
I have a downtown mid-rise that's always on the cutting edge. They want to look into solar, but they've been hesitant due to the age of their membrane roof. But they're always looking at alternative energy and ways to be green stewards.
All of these efforts started last year, which was three years out from the mandate, which I think demonstrates that the associations have a healthy interest in taking care of things.
We have one tiny development with 38 units that didn't really have a convenient place to put a compost tote – which isn't particularly attractive in and of itself. But this community – which mostly consists of elderly people – really embraced it. They put a committee together to educate each other about what's compostable. Here in Vermont you can compost a lot of things that you wouldn't include in a home composting program.
And this group of older people...they all watch each other and coach each other, send each other little notifications. They're really into it. They were so excited when we rolled it out. They put this big green tote right by their mailboxes, near a little park bench and some trees, which I thought was pretty bold! It's important to them, and they really embraced it aesthetically.
Windy City Reuse
Jim Stoller, President and CEO of The Building Group in Chicago, takes recycling seriously on both a business and personal level. The Chicagoland Cooperator chatted with him to assess the lay of the Chicagoland area.
CC: How do your various properties embrace recycling?
JS: The different associations we manage have different levels of interest, recycling-wise. Some will do the minimum required by the city – which is to recycle paper and plastics – while others are very excited about it. We'll set up committees to oversee the recycling of a multitude of products. There's a recycling center in Chicago where people drop off everything, including batteries and electronics. So we're always ready to work with them if they want to step up their initiatives. We encourage our staff to recycle at our own headquarters, and work with green cleaning products. We're trying to be the green management company.
Is there any correlation between resident demographic and recycling enthusiasm?
It's definitely not age-related, I can say that. We have people young and old who are into recycling, and some don't care at all. I don't find it economically stratified either; it really just depends on the interest of individuals.
When there is interest, who usually spearheads the initiatives?
"We talk about recycling with our boards, but even when they have the drive to push further than the city's required minimum, a lot of it is dependent on whether they have the space to do more. Because you need to designate an area for batteries and computers and other products, and in some buildings there's just not the space to do it.
But in others, like our Clinton Street Loft for example, we had the space in the loading area of the garage, so we set up an elaborate recycling system, and we've seen a lot of interest from residents in that building, so it's a nice communal activity.
As a business owner, from where does your inspiration to encourage recycling initiatives stem?
For me, it's more a moral decision. I've been green for 30 years. I have solar panels on my house. And it's always the way we've run our business. We're always looking at ways to save money while being more environmentally friendly. Our approach to evaluating systems is to ask if they're cost effective; if it's something we believe in, morally; is [it] something good for the environment? Are we leaving the world better than we found it?
Mike Odenthal is a staff writer/reporter for The Chicagoland Cooperator.