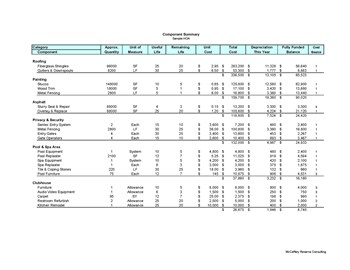 One of the trickiest things in planning a budget for your building or HOA is the surprise maintenance problem or structural crisis that comes out of nowhere and depletes your community's bank account. While you might be prepared for snow removal, (recent blizzards, aside) you may not have the funds necessary to fix a collapsed roof or façade.
While there may be no way to truly prepare for a freak storm or undiagnosed structural problem, having an adequately funded reserve can lessen the shock when these kinds of things rear their heads.
The First Step
"Capital improvements are any repair or replacement of assets (outside of routine annual maintenance) that extends or increases the useful life of that asset," explains Nik Clark, director of client services for Reserve Advisors in Milwaukee, and they require a different kind of budgeting than regular operating expenses because the expenditures are infrequent, usually high-ticket, and outside of what an association normally has to plan for.
"If a building community is really behind the curve with reserves and major maintenance projects, the first thing they should do is hire an engineering company to process a reserve study," Clark says. This study will show the life expectancy of the buildings' components along with cost of replacement when needed.
"All buildings are different based on the type of materials that are used, the condition it is in and how many common areas they have. To determine the money needed, they need to run the actual calculations," says Kevin Bobb, an engineer reserve specialist and the founder of Building Reserves in Milwaukee. "A pool or clubhouse or a fitness room or underground parking can really increase an association's reserve requirements."
The reserve study is a multifaceted tool used to predict the cost of each common property component and the year the component will require maintenance and/or replacement. A reserve study recommends annual reserve contributions that balance the expenditures. As a result, the property is prepared for capital improvement and maintenance projects.
"A reserve study provides many beneficial features. The most popular is that it provides the community with a strategic reserve contribution to adequately fund reserves," says Sean J. Schutten, founder of the consulting engineer firm 3E Reserves in Milwaukee. "However, a reserve study also provides guidance in prioritization of projects. It serves as an historic document featuring photographs and the past information of maintenance and repairs."
A thorough reserve study does more than just lay out the maximum useful life of components. Adequate reserves are now a requirement for communities to achieve FHA loan compliance criteria.
"Although it is a great tool to assist the board in making decisions regarding the maintenance and expenditures of the community, the Illinois Condominium [Property] Act does not state a specific dollar amount that a community needs to set aside for reserves," says Joseph Baez, CMCA/AMS of Advanced Property Specialists, Inc. "The most effective way of achieving this is through the results of the reserve study."
Conducting the Study
The reserve study process from contract initiation to report delivery can run anywhere from 6 to 10 weeks. Most reputable studies are performed by engineers and architects who have obtained either the Community Associations Institute (CAI)'s Reserve Specialist (RS) designation or the Professional Reserve Analyst (PRA) designation given by the Association of Professional Reserve Analysts (APRA). Although in some states you must be licensed by the state itself, in Illinois there is no such requirement.
All reserve study specialists have their own way of doing things, but there are essentially two parts to any reserve study: a physical analysis and a financial analysis.
The physical analysis includes an on-site inspection, condition assessment, and photo documentation of the common property components. Specifically the engineers and architects make a visual assessment of all the assets that the association is responsible for. This could include roofs, exteriors, concrete flatwork, paving, paint finishes, floor coverings, building mechanical systems, pools, and even other assets, like fitness equipment and furniture.
"We actually walk the building," says Daniel Baigelman, AIA, of Full Circle Architects, LLC in Northbrook. "We go through every stairwell, every corridor, go in every mechanical space. Before we develop their costs, we do a thorough evaluation and inspection—called an 'existing conditions evaluation'—this way we can really put a good useful life on some of these main components before we do the so-called reserve study."
"The physical analysis involves gathering quantity data (measurements of building/property elements for replacement cost calculation purposes), condition assessment and useful life analysis (gauging remaining useful life based on condition) and engineering recommendations that would bring to the board's attention practices and opportunities that would help them extend useful lives of their assets," Clark says. "In addition, engineers and architects look out for deferred maintenance, premature aging of assets, assets that are failing as a result of poor design, construction, or materials. They also look out for damage from environmental causes as well as unit-owner/occupant use and misuse."
"The professional should use a combination of factors while conducting the reserve assessment," Schutten says. "He or she needs to use historic documentation provided by management and/or the board, must take excellent notes and photos while in the field. The professional must also focus on any near term capital projects or other financial obligations."
Baigelman also says it's important to interview all the maintenance contractors who work on the building (those who work on elevators, service boilers, etc.) to talk to them and get their take on how much life is left in the equipment.
"A good working reserve study can't be done out of a book," he says. "A piece of equipment may be supposed to last 20 years, but if you don't maintain it, it's not going to last that long. You need to ask the questions of the people who actually have worked on them through the years."
Money Matters
The financial analysis portion of the reserve study includes cost estimation, project scheduling, and reserve contribution recommendations. Inadequate reserves will lead to a special assessment—never a good thing—so getting a clear picture of an association's financial situation is crucial.
Let's say your board needs $1 million to replace the roof, but it only has $200,000 in reserves and needs to take out a loan for $800,000. To pay down the loan, the board will likely have to levy a special assessment on unit owners. That could mean a one-time lump sum payment from each owner—or it could mean that an owner would need to pay x-amount of dollars before they could sell their unit.
"Sometimes a board tries to shy away from having a reserve study done because they don't want to spend the money," Bobb says. "But if you are improperly funding reserves, you will have special assessments. So reserve studies are really gaining a lot of value in the long term in knowing if they are under or over budgeted."
The cost of a reserve study varies greatly based upon the level of comprehensiveness of the study and the type of property.
"Most comprehensive studies fall in the $2,000 to $10,000 range," Clark says. "The lower end of the range will be for newer, smaller townhome properties with 10 units or less and no interior common elements—only roofs/exteriors. Whereas a 30-plus-year-old 50 floor high rise, with lots of amenities—i.e. a pool, fitness center, etc—would be on the higher end of that range."
The industry standard for a reserve study is a 30-year report. Most studies document itemized expenditures for 30 years and leave an ending reserve balance at year 30 that is adequate for replacements not itemized in the report, which will occur after the 30-year window.
"Updating the studies every 3 to 5 years will bring those items into the 30-year window," Clark says. "Shorter studies of 5 or 10 years do not cover a long enough time-frame to bring an entire cycle of major asset repairs and replacements into consideration within the study and thus tend to result in under-funding of reserves."
Everyone Makes Mistakes
Simply put, the most common mistake concerning preparing for these big jobs is that boards fail to contribute anything towards a capital reserve account until a particular asset begins to fail and needs replacement in the next budget cycle.
"Often times, when a contribution exists, it is based on an amount that feels comfortable, rather than one that anticipates the costs of future projects," Schutten says. "Furthermore, many boards find it difficult to prioritize capital improvement projects."
Another common mistake of buildings and condo associations is to rely on arbitrary benchmarks for what an adequate reserve balance should be.
"Something we do is we get contractors out there to the site who are actually used to doing this sort of work," says Baigelman. "If you are doing a roofing project on a high-rise, it's not a number you can pull out of a book. You want a number from someone who is actually in the field. I like to meet masonry contractors, and get realistic numbers from them into the reserve."
Acting on the Info
The basic practical use of the information in the study is for boards to accurately set unit owners' assessments based on the study findings.
"I often speak to boards on the importance of critically reviewing the report and taking action based upon its findings," Clark says. "This includes remaking sound business decisions about how to achieve the level of funding needed for a particular building/association."
Baigelman warns that if boards continue to defer maintenance, their projects end up being larger and the repair projects more costly than ever anticipated in the reserves.
If proper levels of funding recommended in the report cannot be met through normal assessment increases, associations should make business decisions about what repairs can be deferred and finding other sources of financing (such as a bank loan).
"Planning immediately after the project has been turned over to the owners would be in the best interest of the community," says Baez. "This will allow them to actively set aside a substantial amount of proceeds to fund future projects that will be needed throughout the years of the property's existence."
Keith Loria is a freelance writer and reporter and a frequent contributor to The Chicagoland Cooperator.