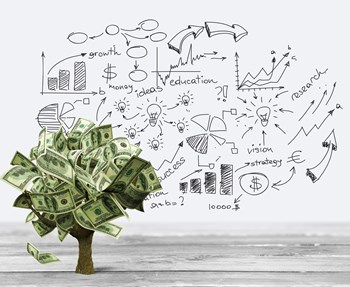 There are plenty of reasons why a condominium, co-op or homeowners' association might see fit to spruce up its common areas. Dated décor, seasonal inspiration, excess cash on-hand, or just sheer boredom with the current look all come to mind. But regardless of reason, a board has a fiduciary duty to its owners and shareholders first and foremost; it must act in the best interest of the association, and make decisions that will protect the investments of all involved. Because of this, redecorating shouldn't be done on a whim. It must be carefully considered and undertaken in a frugal way that maintains (or even improves) property value without draining the association's coffers.
Analyzing a remodel or redecoration from a cost/benefit perspective can seem complicated, but there are several core considerations that an association can rely on in order to assess whether it's the right time to make an aesthetic change.
Curb Appeal
It is an accepted truism in real estate that curb appeal can have a strong influence on potential buyers before even stepping into the unit they came to see. They may even fall so in love with the place that they make a mental commitment to it based on that first impression alone. To this end, ensuring that common areas catch visitors' eyes and linger in their minds can prove a legitimate boon to sales.
John F. Holzinger Jr., President of Barhite & Holzinger, Inc., a real estate and insurance brokerage in Westchester County, New York, recommends that an association go no longer than 15 years without overhauling its interior design scheme. "After 15 years, it's time!" he says. "Curb appeal as reflected by common areas is very important – especially when the market is soft, but generally speaking as well. If there isn't granite on the countertops, it's time. If you've got wood-style cabinets, like cherry or oak, those are too dated."
"Aesthetic improvements, if executed wisely, will translate to a positive ROI," adds Jennifer McCaw, Director of Operations with Advocate Property Management in Naperville. "Always keep the budget in mind, and aim to renovate for the long term, utilizing classic styles rather than trying to be too fashionable or trendy."
The latter is very much worth keeping in mind. Only the most affluent of associations has the funds to chase after the latest fads; most need to weigh what's currently hot with what will still be pleasing to the eye several years down the road.
"You're not necessarily making drastic changes," advises Heather Fiore, Regional Manager with Corner Property Management in Springfield, New Jersey. "If the trend right now is polka dots, you really should not be painting your lobby with polka dots. You're looking for more neutral, long-lasting tones. Things that will last at least five years. You want to bring it up-to-date while keeping it as universal as possible. But developers are putting up buildings left and right that are up-to-the-now and beautiful, so you do need to compete if you want to stay within their price range."
Balancing Budgets
Were money no object, an association could theoretically overhaul its common areas at pace with the hottest new styles. But in reality, the main challenge is to assess how much to spend on redecorating in a way that adds – or at minimum maintains – value without going too far.
In this, it's important to remember that board members are volunteers, and may not have any background at all in design, real estate markets, or sales in general.
"Prioritizing marketability can be tougher with condos than it is with rentals," notes David Barrett, President of RCM Services in Allston, Massachusetts. "Many condos do not have as steady a hand on marketability as they should. Some of your higher-end properties tend to pay more attention to this, but generally, managers are always trying to educate associations on the fact that resale value is very important, and that aesthetics – especially those of common areas – need to be kept updated, because they seriously impact the ability to get a higher price for a unit."
To that end, Barrett recommends that associations scope out their competition to get a better sense of trending aesthetics. "Look at similar, comparable properties in your area and gauge what their common areas and amenities look like," he advises, "then look at the sales prices and compare them, such that they can figure out what kind of value-add an upgrade could have for them."
Having residents who are enthused to tackle their community's outdated look can be a double-edged sword; on one hand, they may lack design experience or the practiced eye needed to make sound aesthetic choices that will stand the test of time. On the other, forming a design or redecorating committee in-house is one way to avoid leaning on outside professionals, thereby cutting costs.
"You might have a handful of homeowners who are constantly complaining about the look of things and how dated that might be," says Fiore. "So turn that into a resource. Set up a design committee, give them a budget, and say, 'Listen, if you want change, have at it. Research it, bring us some ideas as to what's both popular now and what may prove long-lasting.'" If hiring an interior designer is beyond what your community can comfortably spend, Fiore says, "utilize those resources that you do have."
If you can afford to hire a design professional, an audit of your existing scheme can help a board determine what they can stand to change now that will lead to reliable returns down the line. "A simple review by a designer will show what improvements can be accomplished at estimated costs such that, for a few thousand dollars, you can receive multiple suggestions and then use good judgment [to choose which items to update]," says Holzinger. "Again, value often returns to the owner for investments in common areas better than it does in individual units. Altering colors, materials, lights and other details may seem like a big investment, but it helps to consider it on a per-unit basis. $500,000 divided by 100 units is $5,000 each, and the return on a unit's sale price is invariably way more."
It's also worth considering that being too timid about spending some capital funds for a needed facelift can actually cost a community more down the line. "Run-down common areas negatively impact home values and sale prices within a community," warns McCaw. "This is seen through declining prices, as well as extended average market times of listed units within the association. It's important to listen to feedback. If the same objections come up over and over, they should be evaluated."
Quick Fix
Just because an association may not have the liquidity available to make a total decorative overhaul doesn't mean that it shouldn't be looking for simple tweaks that can increase the aesthetic value of the common areas.
"You can change the art [on your walls], switch up the materials in the furniture," suggests Fiore. "It's very cheap to alter the fabric on a chair, for example. Change up your plantings. Add reasonable decorations. Put out flowers in spring. Decorate for the holidays. Ensure that things are always evolving, even in a moderate way, such that both residents and visitors have something to look forward to."
"Clean and uncluttered common areas are helpful with regard to the overall perception people have when entering a building," adds McCaw. "A little paint goes a long way, but choose contemporary hues. Hardware and light fixtures can be inexpensive items to upgrade. And a well-lit common area also enhances the general appearance of a building's entrance or hallways. These are all inexpensive ways to keep common areas looking good. When it comes to value, the pathway to an individual home is as important as the interior of an individual unit. The entryway and common area make the first impression on someone who enters your home, so make it count!"
Finally, if things are so dire that the appearance of the common areas are detracting from the overall value of the property, and the association just simply can't afford to do anything about it, it can consider borrowing as an investment in the future.
Holzinger cautiously advises that "borrowing is expensive, but it can be practical if the common areas are making the place look bad when compared to its nearest competition in the neighborhood, or to other similar styles of property in its general price range."
Mike Odenthal is a staff writer/reporter for The Chicagoland Cooperator.