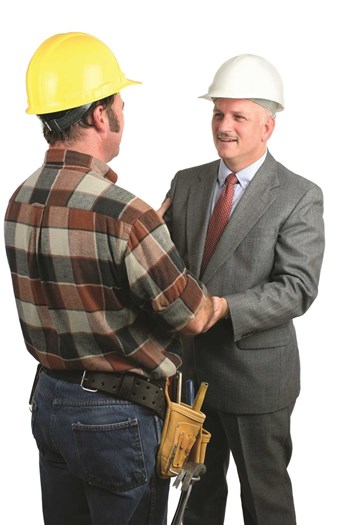 Dealing with service vendors is a daily necessity for any condo development or HOA community; there are always things that need to be repaired, replaced, replenished, serviced, cleaned or renovated. Among the laundry list of vendors that Chicago condos should expect to work with are landscapers, painters, roofers, pavers, snow removers, elevator repairmen, boiler cleaners and many, many more. That's why it's vital for boards and management companies to establish strong relationships with its vendors.
Expectations and Connections
"Of chief importance is having a clear expectation of the desired outcome—either service or product or materials they are delivering—and communicating correctly is really critical," says Donald W. Kekstadt, chief executive officer for Associa Chicagoland. "Vendors like to understand exactly what the client ultimately wants. If you continually provide that to them, they will succeed."
Kim Merrigan, president of McGill Management, Inc. in Arlington Heights, says that meeting vendors in person is vital to establishing a good relationship from the get-go.
"I am always in favor of face-to-face meetings, allowing them access to my entire staff and allowing them to have access and a relationship with the boards of the communities that hire them," she says. "It's more personal and makes the relationship stronger."
A vendor who is treated fairly can be one of a condo's biggest assets. In fact, an association who maintains good working relationships with their vendors could see the benefit at the time when the association is in most need of help. Lauren Hundman, president of Owl Management LLC in Chicago, has worked with hundreds of vendors over the years, and says it's not too hard to keep things on a solid ground.
"The secret to a strong relationship with vendors is respecting and appreciating them and the work they do," she says. "They are an integral part of the team or project, and they should be treated that way. Vendors also always value timely payments on their bills."
Communication Matters
Another key to building a good working relationship with your vendors is to ensure that any areas for ambiguity and disagreement are eliminated—which is why proper communication is so important.
A manager or board can save significant time and resources by taking the time to draft a detailed scope of work as part of the bidding package prior to soliciting the bids themselves. By having clear expectations, a board not only ensures that they are obtaining the desired result, but they area also providing the vendor with an understanding of what service they are expected to deliver to the association.
Most problems arise when there is not a meeting of the minds, and in those cases where the contract is not clear, there is likely to be a breakdown in the working relationship as both the association and vendor start pointing fingers at each other and trying to assign blame for the arrangement going awry.
Communicating is obviously important throughout the building/vendor relationship, but it comes into play in particular when a board or management is unhappy with the work that has been performed. At that point, it's crucial to verbalize the problem either by phone or email, with a record being kept of all related communications.
Vendors Are Out There
Vendors who arbitrarily overcharge, or who don't communicate or report issues to their clients properly will quickly find themselves with one less client. Same goes for vendors who are unprofessional, who miss their deadlines, run a messy job site, or are unresponsive to client complaints.
When a vendor gets it right, however (and most do their best to do just that) Kekstadt says that there is value for boards and management firms in maintaining that relationship, because the vendor will better understand the community and its nuances. "Complacency is what you're afraid of; the vendor gets too comfortable, too expensive or are not doing the job as well as they have," he says.
It only makes good business sense that if something goes wrong and needs fixing at a condo, the board or managing agent is going to do some due diligence to choose the correct contractor, and this is normally done by gathering bids. After all, if you don't compare the price and terms quoted to you by one vendor to those quoted to you by his or her competitors, how will you know if you're getting a fair price, or being fleeced?
And where does one start to look for prospective vendors, outside of the Yellow Pages or a blind Google search? Industry trade shows (such as The Chicagoland Cooperator's annual Condo, HOA and Co-op Expo), word of mouth from other managers, vendors or boards, and also from direct solicitation on their part, showing good old fashioned marketing still works.
Of course, it's folly to discount online sources as well—the Internet has also been a great tool for managers and boards to locate specialty vendors, thanks to review sites like Yelp and Angie's List, so they can see first-hand what other people thought of their work.
According to Merrigan, vendors mainly come from referrals and industry trade shows. "Community management contracts are truly unique due to the numbers of units and the general size of the contracts, so you have to work with providers that understand associations and can meet the requirements of serving that many owners at once," she says. "We are always on the lookout for the best vendors, and take references seriously."
At McGill Management, the responsibility of checking on references falls to the vice president of operations, who checks all claims, previous job sites, as well as ensuring vendors are properly registered and licensed with the state. "It they are awarded the job the VP also checks into their insurance to make sure they're adequately covered," Merrigan says. "We also send board members to take a look at previous jobs completed by the vendor, if they have the time and are interested."
Securing a Fair Price
Of course, money is central to any vendor relationship, and there's a certain art to securing a good price without cutting corners or doing something unethical. It all starts with education and prior preparation.
Not all vendors can be negotiated with, some pricing for goods and services is pretty much set in stone. Still, if you're savvy about when you're hiring them and offer regular or repeat work, many vendors will work with you on price.
"You need to be mindful of situations in which you may be able to negotiate" Merrigan says. "Let's say you have interior hallways to paint; this is a project you want to complete during the winter, because the vendor may charge less because you've provided them with indoor winter work."
It's important for management to regularly assess vendors and their service contracts for pricing, service and response times. Although there is no set time frame for reassessing service contracts, most in the industry feel that revisiting them every two to three years is a good approach. Since all vendors are entitled to make a reasonable profit for their work, ensuring that their profit is tied into the quality of the work provided to the association sets both parties into a win-win relationship.
Another suggestion that not all management companies employ is partnering with other communities to buy goods and services jointly, in order to take advantage of bulk pricing. "Not only have we done that, but we've done it with other communities that we don't manage, sort of a team effort between management companies," Merrigan says. "It's a win-win. The vendors get more jobs and we save more money."
Regardless of the price agreed on, paying your vendors promptly is another key to a successful business partnership. Also, timing is very important in vendor pricing. If you call about a project that needs to be done immediately, chances are it's going to be more expensive. Planning ahead and budgeting appropriately can save both time and money.
What Not To Do
When dealing with vendors, there are a few 'don'ts' that an association may commit due to time constraints, lack of knowledge, or in some cases, the belief that the vendor will look out for the association's best interest. Other things that can turn the relationship sour include having too many points of contact rather than one or two go-to people to interface with the vendor; allowing residents or board members to approach crew members while they are on site, asking them to perform additional tasks, or negatively commenting on their work while it's being done.
In Kekstadt's opinion, another way to hurt a relationship is by having vendors do something not in their wheelhouse. "You may have worked with them in the past, so you want them to try and do this other job for you, but it just doesn't work out - and then everyone is unhappy," he says. "Not having the right person do the right job is the biggest mistake you can make."
Final Thoughts
Some other good tips to keep a relationship strong include having a weekly 'check-in' call or visit on any project underway with the vendor, inviting vendors to open board meetings, and offering continuing education for the board members to ensure that they're able to keep expectations reasonable and specific.
A condo association should never be afraid to rely on management, an attorney or other professionals to guide the board in the scope of work, bidding and oversight process. In most cases, this can be money well spent to avoid the potential issues that could arise.
And remember, vendors are people, too. Don't be shy about complementing them on their work and thanking them for a job well done.
Keith Loria is a freelance writer and a frequent contributor to The Chicagoland Cooperator.