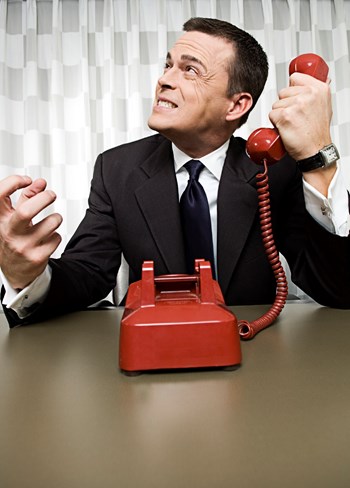 It was an odd call to management, but Erik Conrad, president of InCommercial Property Group in Chicago, knew that when his residents have a gripe, they also have the right to call and let him know what the problem is.
In this case, however, Conrad was somewhat at a loss; he knew there was nothing that his company could do about the resident's stolen chocolate milk. "We don't know why he called us about it," he says. "Maybe he thought a staff member was in his unit, but they weren't."
Another resident, in a building that Conrad's company had just started managing, called to ask for a new bucket. "When I asked him why, he said the old bucket wasn't big enough. Seems the previous management company would take $50 off his fees each month in lieu of fixing the leaky problem."
Whenever a problem arises in an association—whether it's a leak, draft or some other issue, it's typically the impulse of the resident or board member to pick up the phone and call the property manager. In most cases, that's the right thing to do, but as pros like Conrad have learned, that's not always the case. Calling too much, at inconvenient times or about trivial items (such as stolen chocolate milk, for example) is not the best use of the management company's time and resources.
Fortunately, Conrad says that very few calls from board members or residents are unwarranted or outright inappropriate because reaching out to one's property manager is generally a sign of an active, well-meaning individual. "For the most part, the board calls to inquire about finances and legal or process questions with regard to collecting assessments, moving tenants in and out, et cetera," he says.
But there are those times when well-meaning board members or residents step over the line. "At times the requests are inappropriate, such as asking us to enforce rules not in the condo declarations," explains Conrad. "But to call to find out what recourse is allowed if someone moves a dog into their unit against the rules is appropriate even if the desired action is not—we can't just take someone's dog away."
The Best of Times...
Who you should call and when you should call all depend on the association you live in. Jim Digre, business development manager of Dowling Properties, LLC in River Forest, says that the best time to contact his staff is in the morning during the work week, although residents can call anytime. "In the morning, managers are reviewing emails and prioritizing and doing planning for the day," he says. "They should understand though that certain things have a higher priority than others."
Obviously emergencies, such as leaks or safety concerns, will take precedence over basic generic questions. "If you're contacting us regarding a non-urgent matter, it's best to send us an email," says Digre. "That email then creates a written record of the contact and any miscommunication is kept to a minimum."
...and the Worst of Times
Most people don't like being bothered during dinner and late at night with non-urgent telephone calls, solicitations and work issues that can wait until the next day. If management has a voice mail system—and most do—it's okay to leave a message when it's convenient for you to do so. The manager should return your call the next business day, but it's not okay to call them at home when it's a non-urgent matter.
Robert B. Levin, CPM, the president of Wolin-Levin Property Management in Chicago urges his residents to call the janitor if there is an emergency. "Everybody's emergency is important, but if it's a non-emergency, the property manager's time should be free when the office is closed," he says.
Allan Kalman, president of Kalman Management in Libertyville, manages several buildings from a small six-unit condo to a 654-unit homeowners association and says that each contract is set up differently. "We prefer them to call us when they need to and we'll do triage and decide if it's something we should do or if it should go to someone else. Sometimes it's worse if they don't think they need to contact us and go ahead and take care of a problem themselves."
"Just as frequently, we have residents who tend not to call, even when they are having a problem too," says Conrad. "If your roof is leaking, we want to know what's going on—it shouldn't be looked at as harassing the manager."
To help reduce the number of unnecessary phone calls to the manager, Conrad's firm educates residents on simple things such as turning off their water or flipping a circuit breaker. "If you wait for a manager to come over after you call, the situation will get worse, so it's important to know these things," he says. "A real emergency can be stopped by the resident so it doesn't get any worse."
On the other hand, some managers are flooded with calls from residents who really don't understand what condo ownership is all about and want to complain about every little repair.
"We try to convince the person that their problem—a clogged sink, a running toilet—is in their unit and so is their responsibility," says Kalman. "They keep calling us and want us to fix it. We can recommend a contractor but it's their responsibility to fix it. We spend a lot of time convincing people that their condos aren't maintenance free."
Give it a Minute
Once a resident makes a valid call to their management company, it's up to them to be patient and give the managers a chance to get back to them. Depending on what the call is about, property managers may need to get additional information, hire an outside contractor in order to fix the issue the resident is complaining about or talk to another resident if the call is about noise they're making. In addition, they must still handle the day-to-day responsibilities as well as any emergencies that arise. In some cases, they may have to approach the board to get approval on the resident's particular matter. That can also bring up some communication issues.
"We need the board to make timely decisions on issues that need to be addressed," says Digre.
If the board has a complaint or needs to reach the management company, it's best to have one member of the board be the liaison. "We ideally like to work with one member of the board to reduce conflicting requests," Digre continues. "All board members should also be on the same page and submit their complaint or request to the manager after the board discusses and agrees what course of action they want us to take and put it in writing."
With all of the emails back and forth between residents and managers and board members and managers, there are bound to be times when there are misunderstandings. To reduce the chances of miscommunication, Levin suggests that boards be transparent with all of the residents and managers. "Send out newsletters and email blasts to let everyone know what's going on in the building—and no secret meetings."
Of course, even with ample communication, managers are still going to run into residents who call too much, like Conrad's other resident who called to complain because the top of the cabinets were dusty when she moved in or a woman who complained that her bathroom tub had mildew. "We didn't take that one too seriously," he says. "The woman just needed to clean her bathtub."
In today's fast-paced technological world, where you can be contacted almost instantaneously through a phone call, text or even an email, it's still important to maintain the idea that managers have work to do and priorities to address and may not get back to a resident or board member right away. Unless it's an emergency, give the management at least a day or two to get back to you and then follow-up if you need to, but don't abuse the manager's time and work schedule.
Lisa Iannucci is a New York-based freelance writer and author and a frequent contributor to The Chicagoland Cooperator.