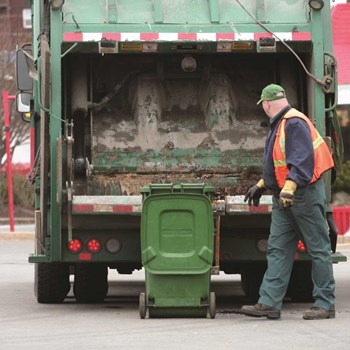 Removing a multifamily community's trash and recyclables is an important job, especially in a private development that is not served by municipal or city-run sanitation services. And though it is crucial to their daily lives, most people don't think much about the garbage after they throw it in the chute or into a container for pickup. But who removes the trash, how frequently it is collected and what is recycled are concerns that many Chicagoland co-op or condo residents should consider. Not doing so is tantamount to forgetting both the association's bottom line and its core services.
Public or Private
While choosing a dependable waste hauling company is vital to good co-op/condo management, hiring an outside contractor should be negotiated in the best interests of the community. As such, the management team and board members typically handle negotiations with the service companies that want to do business with them. But the trick in making the most of these negotiations is in knowing what questions to ask of a carter, as well as what to expect of them.
Understanding what a community needs from its waste hauling company, as well as what the hauler can provide for the community, are good places to begin learning about the waste management process. Only after evaluating the community's needs and much more, such as what the association can afford, can a building community determine which waste disposal solutions are best for them.
The main difference between private waste management companies and public municipal sanitation services is often first defined by local law. Some municipalities and cities have their garbage handled through municipal services, and if you have such a service you usually can't opt out of it. But even in communities that receive the city's waste removal service, tons of garbage quickly accumulates from resident move-outs, building renovations, evictions and other trash-generating instances. Often, these situations are cleaned up by private waste carters.
Public waste removal services differ from private carting companies in a few ways, including frequency of service. Chicago's garbage trucks work on a set schedule, with changes dependent upon holidays. Private carters, though, will remove garbage from a community or multifamily building as frequently as the building's management would like.