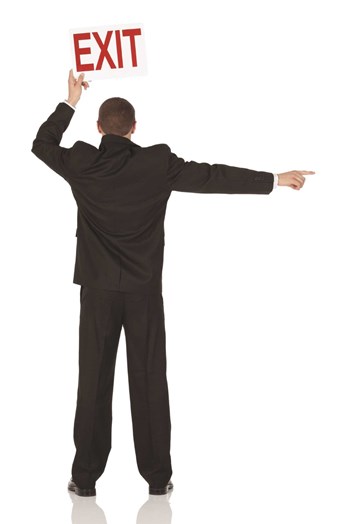 While the Chicago area has seen its fair share of disasters, both natural and man-made (they didn't call it The Great Chicago Fire because it was a trifle), its resilient populace has always bounced back with renowned vim and vigor. But, perseverance aside, it's still in the best interests of residents to be on guard for many potential calamities, be they the aforementioned fires, floods or building collapses. To brace a condominium association for these and many other possible catastrophes, it's critical to have an updated emergency plan in place that reflects the uniqueness of the building and property. The end goal in any emergency event is a clearly defined, safe plan for evacuation and recovery.
An Ounce of Prevention
The first thing that an association wants to do when considering an emergency plan is to identify precisely what said emergencies may consist of. As Mindy Maggio, a commercial lines sales executive at Rosenthal Brothers Insurance in Deerfield notes, flooding, snow storms, fires and earthquakes possess the largest threat of significant property damage. "An ounce of prevention can result in a pound of cure," says Maggio. "All community associations are at some risk of disaster, and it is their duty to be ready when these things do occur."
The most important attribute of an emergency plan—as any property manager, insurance agent or attorney would concur—is to ensure the safety of both residents and staff. "Regardless of the nature of the disaster, you need to mitigate further damage to ensure that no one gets hurt," says Donald Kekstadt, CEO of Associa, Legum & Norman Midwest in Chicago.
Emergency plans should be tight and specific; convoluted, minutiae-focused agendas will only lead to confusion and further chaos when disaster actually strikes. As Janice Subasic, a community manager with ACM Community Management in Downers Grove, puts it, "you want to make sure that the plan is efficient, and that you can get everything back in order and up and running ASAP. The bottom line is to make sure the plan is orderly and can be easily communicated to residents -- and that you've done so well before you're impacted when possible.
Law & Ordinance
While the maintenance of an effective emergency plan is just very good sense in suburban properties, in Chicago proper, it's the law.
"In the city of Chicago, there is an ordinance that requires buildings of a certain size, be they condos, co-ops, apts., etc., to have a disaster plan in place, and to have it updated, run through, and modified according to the city's regulations," says Kekstadt. "So the knowledge that there's government oversight in this area should give a board adequate motivation."
As Kekstadt explains, city officials outline what is required of a community association in regard to signage, exit routes, which floors need to report in case of fire, etc., and to what type of disaster specific criteria pertains. An association would be well advised to seek out this information and review it thoroughly before attempting to iron out its own plan, lest it miss a crucial requirement.
Much of the inspiration for the city ordinance comes from the many skyscrapers that litter the Chicago skyline. Without an incredibly specific evacuation plan in place, a disaster could quickly turn to chaos, leading to property damage, injury and even death to both residents and staff. While this level of tumult is less likely in the suburbs, smaller and more rural associations should not take this as an excuse to be lax with their planning.
"Suburbs don't have an ordinance," says Subasic. "Regardless, all of the communities that I manage make sure that they've some type of plan in place. I think that it's imperative, because if an emergency were to occur, one of the issues faced is ensuring that everyone arrives at an agreed-upon location and that help is notified in a timely fashion. This is all quite difficult without assigning specific roles, chain of command, evacuation procedures etc. beforehand."
Subasic also advises, that, should a disaster strike and an association find itself ill-prepared to face the situation, to by all means make it into a learning experience. Evaluate what went right and what went wrong, and implement that into a more precise plan, as disasters can and will strike twice.
A Plan Comes Together
Once an association has realized the importance (or mandatory nature) of a plan and has identified from what said plan should aim to protect, it's time to start talking specifics. Fortunately, there are resources outside of city agencies to which they can turn, including management companies, Citizen Corp, the community preparedness division of FEMA and the Community Associations Institute (CAI).
In smaller, less bustling towns, Subasic notes associations can often turn to their local fire department for help. "Municipalities really do want to help their communities, so if you're a smaller association—the type that may not be able to afford an expensive plan or consultant—you can turn to your fire department and they'll help more often than not."
Any good plan should take into account what makes that community or property unique; emergency concerns are not one-size-fits-all. Important variables to acknowledge include structure, in regard to high-rise vs. low-rise; is the property spread out, or is it condensed? How old is the building? How was it constructed? What sort of safety features are already in place?
It also helps to stock up on necessary supplies for any disaster, in the likelihood of a power outage. As Maggio advises, make sure to have first aid kits easily accessible in several agreed-upon locations. Have surplus food, flashlights and batteries on hand. And, should a property have a generator, make sure it is adequately fueled.
Maggio also recommends forging solid relationships with outside vendors that may be of service down the road before things get hairy. Numbers of plumbers, roofers, HVAC, water mitigation companies, etc. are all good to have on hand, as they can help mitigate damage before a problem escalates out of control.
It is also important to make sure that the association's insurance coverage is up-to-date and as inclusive as it is intended to be. Maggio explains that insurance "is a key factor in disaster planning," and recommends that associations have "a good policy with an A-rated carrier or better. An association should contact its agent to find out if it is covered for flooding, water damage, earthquakes, etc. Know what the deductible is, and make sure that unit owners understand what is their responsibility to insure. Both unit owners and the association should make sure that their policies are compliant with state law."
And Subasic recommends checking on a policy at least semi-annually and after any emergency. "After making a major claim, an association should sit down with its adjuster, review what it needs, what was found deficient, and make any necessary upgrades."
The cost of a plan can vary based on the particulars of a community, and can grow quite expensive for high-rises and any other property that requires greater care and specificity. Subasic suggests carving out a certain budget or credit to which an association can add every year. "Sometimes you can do it in steps, and expand the plan as you move along," she says. "If you're a big enough community, you can hire an outside adviser to prepare an entire plan for you, but that can grow quite expensive. I'd recommend, at the very least, following municipal ordinances, and checking annually to ensure that your property adheres to zoning requirements that may have evolved since it was built."
Share the Wealth
Once the basic tenets of a plan are in place, the next move is to educate residents as to what exactly it entails, and what their roles are therein.
"A copy of the plan should remain at the front lobby and entrance to all buildings and be on hand with either door or maintenance staff," says Kekstadt. "And owners should be well-apprised of its contents, and practice or walk through the plan at least once per year."
Subasic adds that a plan should be prominently displayed on an association's website, should it have one. Any meetings should be promoted there as well, so residents know the importance of attendance and can talk through the plan together. Advertising it in the association's newsletter is also a winsome option.
"If it's a new plan, you can even do an in-house training with all of your residents, as well," she says. "Having an in-depth, in-person discussion is the best way to properly make sure that they're aware of what's going on. If you provide a welcome package for new residents, make sure that the info is included, so that they're aware of it from day one."
Another area of which everyone—from board to residents to first responders—should be kept abreast is whether or not there are any elderly or physically incapable residents (or pets) that will not be able to successfully evacuate a property in the event of a disaster. This is especially important, Kekstadt notes, in high-rises, where there is often but a single main entrance through which the majority of residents must file.
"Part of the city ordinance—and part of any successful disaster plan, really—is to identify any handicapped, elderly or special needs unit owners, and have them pinpointed and mapped out within your building. Make this information available, so that authorities, including fire department, police, EMTs, etc. can be specifically directed to those units."
Communication is Key
While there are always going to be variables and unforeseen circumstances in the event and aftermath of any disaster, the best emergency plans are those that advocate clear and concise communication among all parties involved. And, once the experts arrive on the scene, it is crucial for resident, boards, management etc. to take a back seat to those more qualified.
"From a property management standpoint, we know to cooperate with the fire dept., the police, EMTs, whoever arrives on the scene," says Kekstadt. "They're the ones in charge, and we're just a conduit of information to assist them. The same goes for building staff. If there is door staff, or engineering staff in place, for example, they can help first responders with elevators, mechanical systems, turning off water, whatever need be done, as they possess the greatest knowledge of the property."
By being calm, collected, communicative, and, most of all, prepared, an association can successfully carry out its primary responsibility to its residents even amid the most dire of circumstances: keeping them safe and secure, while simultaneously looking out for the property itself.
Michael Odenthal is a staff writer at The Chicagoland Cooperator. Freelance writer Brad King contributed to this article.