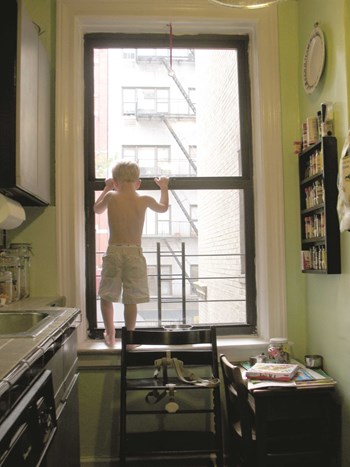 Those who've lived through a Chicago winter know they don't call this the Windy City for nothing. Winters here can be brutal, and most building's exterior structures, or 'envelope' are the first area to suffer wear-and-tear. Allowing leakage of warm air from a compromised or inefficient building envelope is like tossing away money on lost energy.
Anyplace there are connections in a building's envelope, whether they are seams in the roofing material, the area where a window is connected to the structure, or elsewhere, there is a tendency for the connection to break down or wear out. Windows are a frequent spot where the weatherproof seal fails, but a savvy resident can learn to see the telltale signs of imminent window failure.
Sometimes, windows just need to be replaced, especially if they are outdated and no longer perform their function well. But how do you tell? With a bit of knowledge, co-op and condo residents can be aware of the money being saved or lost as a result of the type of windows they have. With that knowledge, they can plan accordingly.
Preserving Architecture
Chicago's condominium market includes many high-rise buildings, located mostly along Lake Michigan's shorefront. Many of these older high-rise buildings have large single-glazed windows, with small operable window units at the bottom for ventilation, or curtain wall window systems. Other city condo buildings are low-rises, with an average height of two to eight floors, many of whom have windows that are double-hung.
Windows in low-rise buildings often can be improved with new vinyl or aluminum replacement windows. Due to the large amount of manufacturing companies, the cost of those windows is relatively low and replacement is simple, easy and doesn't create any special problems for the resident or the board.
The city's many historical landmark buildings generally have old wooden double-hung windows and large wooden picture windows that cannot be replaced and must be restored by refurbishing the woodwork, replacing the glass with pre-manufactured modern insulated glass units, and installing copies of original hardware.
One of the leading window restorers is TMC Windows Inc. in Skokie, Illinois, says Ryszard Borys, president of Signa System, Inc., a window restoration company based in Chicago. There are also a number of small artisan carpenters that specialize in the restoration of wood windows and woodwork in old historic buildings. Contact the Historical Society of Chicago or the state of Illinois Landmark Commission for more info on them.
And while sometimes an old window must be repaired or replaced, simple maintenance can help a lot in the meantime. One simple way to improve energy conservation in a condo is to completely close the windows, Borys says.
"After years of use and abuse without any maintenance, many windows cannot be completely closed, leaving gaps through which heating and cooling escape. Repairing and replacing hardware like window hinges, locks, lifters and weatherstripping often is the most cost-efficient investment in energy conservation a building's management can take," Borys says.
The procedure will cost less than a hundred dollars per window, and may reduce the energy consumption of the building from 20 percent to 40 percent. Another inexpensive improvement that can boost efficiency is the application of solar window film on windows. While the cost of this improvement is $6 to $8 per square foot of glass area, it could reduce the cost of the cooling of the building by 20 percent to 27 percent, depending on the building's orientation and the glass area, Borys says.
Experts also recommend applying caulking to weatherize windows before winter. The caulking will cost about $10 to $15 per window in a Chicago co-op or condo, and the method allows the sealing of all gaps and openings to prevent cold air infiltration. The caulking is easily removed from the windows in the spring to allow the windows to open and close again. The process must be repeated each year.
Saving Windows
Maintaining windows in a co-op or condo building means being vigilant about how your residence is functioning. If you can't sit comfortably by your window in the winter or in the summer, it means you've got a leakage problem.
While noticing that your windows are leaking is pretty obvious, finding the right contractor to do the work of repairing or replacing them isn't as obvious. Experts say the best way to start that search is with recommendations by people who have already had such work done. Also, pick a company that has been in business for at least a decade.
When it is needed, any time of year is good for installing windows, though in late fall, winter and early spring, such work could be inconvenient for residents, and weather conditions can slow down the work. That being said, some replacement methods don't require the removal of the existing glass, and those companies can install their window weatherproofing process in the middle of the winter without much disruption.
If your building is a designated landmark or is located in a historic district, you could replace the windows with modern windows as long as on the exterior they do not alter the historic look of the building. And you don't have to use the same materials. When you replace old wood windows, you may use modern vinyl or aluminum windows as long as their design and outside appearance are the same as the old windows you replaced. In the case of historic buildings, you have to request a review from the local landmark commission; it takes 30 to 60 days to receive their opinion, Borys says.
As long as you don't disturb the street and pedestrian traffic, you don't need any special permits from the city to replace windows or do maintenance on them. Materials commonly used to improve efficiency of windows include double or triple glazing, utilizing Low-E, and filling the unit with a heavy gas, such as argon. Applying solar film to existing glazing will eliminate most ultraviolet radiation and prevent hardwood floors, wallpaper, carpeting and furniture from fading.
In some cases, a window contractor can customize their designs to to match nearly any architectural style, says Stacy Einck, a spokesman for Andersen Windows in Saint Paul, Minnesota. To prepare a building's windows for the winter, experts recommend that the property manager provide cheap solutions to all unit owners in the form of either a pre-winter newsletter addressing the topic, or through a meeting with unit owners and representatives from firms providing these types of services. Teaching unit owners about simple measures like the application of removable caulking, installation of new weatherstripping and repairing hardware, can help a lot.
When Replacement is Necessary
Knowing when to replace your windows isn't always as obvious. If your home is 15 years or older it's a good time to check and make sure your windows are still operating efficiently. If you have trouble opening or closing your windows, or the glass fogs up from the inside of double pane windows, chances are they need to be replaced. Obviously, air and water leakage into the home through the windows also is another indicator that replacement is needed.
Many older homes still have windows with single-pane glass that are not energy efficient. Those old windows often freeze shut and they feel cold to the touch. They also develop frost on the inside of the window, which increases the chances of moisture damage and breakage. Andersen Windows created dual-pane glass windows 51 years ago, setting a new standard for window energy efficiency.
Surprisingly to some residents, replacing your old windows with new ones could save your ears a bit, too. "Replacing your windows with dual-pane or a laminated glass can reduce the noise transmission into your home. Many homeowners are often surprised how significant the reduction of exterior noise is once they've replaced their windows," Einck says.
Sometimes, a resident can get a few more years out of their windows, which can be a good thing, especially if the building doesn't have the money to replace them. A treatment that retrofits old single-pane windows to make them double- or triple-pane windows is one way to get the most out of a window without replacing it (and cheaper than replacement, too). Residents should check their governing documents or with the manager to see if replacing windows is their responsibility or the association board.
Andersen offers ways to convert older windows to newer models. "Installation is quick and the results are fantastic. Conversion kits install easily with less mess than ordinary window replacement. Plus, it matches your existing window inside and out and is backed by our full warranty," Einck says.
Child Safety
Maintaining windows so that they perform well is important for both comfort and energy efficiency. But another aspect of window upkeep often is forgotten by residents: installing window guards. While Chicago doesn't have specific requirements for window guards, officials can look into an incident in which a child fell or was hurt due to there not being a window guard in an apartment. That's why industry experts say the best course is to be safe and install the guards in windows in apartments in which children age 10 or under live or visit.
Annually, 2.3 million children aged 14 and younger require emergency room care for fall-related injuries, according to the National Safe Kids campaign. In Chicago, for example, studies have documented that most falls occur from low heights of two to three stories. According to a 2005 article in Injury Preventionmagazine, 98 percent of falls were reported to be from the third floor or lower. The authors indicated that "As most falls occur in multi-unit properties, it is important that the prevention message also be targeted to building owners, managers, and their tenants with young children. In Chicago, property owners must inform prospective tenants about the potential of lead exposure at the time the rental lease is signed.
"A similar strategy to inform tenants about window fall risks at the time of property rental might also be successful in reaching a group at risk for window falls," the article concluded.
The International Building Code, the standard for all local and state codes across the country, says window guards should be installed where the window sill of an operable window is 72 inches above the finished grade (or floor). Windows that extend between the floor and a height of 24 inches should be fixed or have openings through which a 4-inch-diameter sphere cannot pass.
City and state officials rarely inspect window guards after they have been installed, says Mark Meshulam, a building envelope consultant in Northbrook. "But if an accident happens, the lawyers will be looking very closely," he says.
Meshulam advises that a residential building's management require the devices, which cost about $20 and are easy to install. He also advises that property managers fine residents who don't install them. In New York City, where window guards are serious business to city officials, some buildings keep a stockpile of new window guards on hand to install for residents.
No matter whether you live in a historic building or a brand-new high-rise, keeping your windows properly sealed and weatherproofed is key to both energy efficiency and resident safety.
Jonathan Barnes is a freelance writer and a regular contributor to The Chicagoland Cooperator.