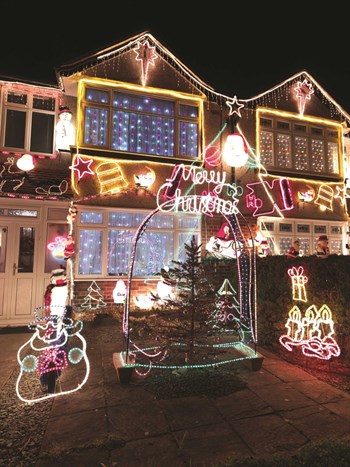 Holidays are usually synonymous with good cheer, smiles, and a festive atmosphere—but occasionally, they can be the cause of friction and ill will as well. When people of various faiths and traditions all live in the same high-rise building or HOA, rules and aesthetics for holiday decorating have to take into account the whole community—not just those members who happen to be a part of the dominant culture. Good boards and managers tread carefully and are mindful of their associations' diverse residents when it comes to mapping out policy for holiday decorating in common areas such as lobbies, garages, hallways and balconies.
In cooperative buildings and condominiums, intense conflicts often arise when it comes to figuring out the level and aesthetics of holiday decorating in common areas such as lobbies, garages, hallways and balconies.
When people of various religions all live in the same high-rise building or community development, holiday decorating has to please everyone's customs and traditions, which is a very difficult task.
In Illinois, there are no statewide rulings about how much is too much, how religious is too religious and how long is too long to keep up those holiday lights or decorations.
So it all must be decided and regulated by cooperative and condominium boards. In an effort to keep everyone happy, many of the management companies suggest that boards have formal decorating policies related to holiday décor.
"It's a sensitive subject, and nine times out of ten, there isn't anything in the association's declaration that speaks to it," says Fred Rodriguez, director of property management with Heil Heil Smart & Golee LLC based in Skokie.
The declaration needs to touch upon how much religion is allowed when it comes to the decorations, what types of ornaments, lights and décor can be in the common hallways, how much to put in the lobby and even the size of the holiday items.
"If you're going to have an 18-foot Christmas tree, don't get a tiny menorah," Rodriguez says. "Get a menorah that's at least three or four feet tall so it will balance out. That way, you strike an even balance between the two."
Typically, the declaration only refers to overall holiday décor rather than specific holidays—despite the fact that residents tend to get into the largest number of holiday decoration arguments in the month of December. But if they already know that they're limited by how many flashing lights or obtrusive items they can put up in the common areas, they can apply the same knowledge to other holidays, such as the Fourth of July or Thanksgiving
Structure & Consistency
Most larger buildings—specifically high rises, have deck and patio restrictions so that there is a uniform appearance from the ground, says Angela Falzone, a consultant with Association Advocates, Inc., based in Chicago. They may also have window decorating criteria, including documents stating that all windows must be covered with a certain color or type of window decoration so that the building will avoid having uneven or incongruous appearances from the outside.
And all buildings should have rules that state the date that holiday decorations can be installed, along with the date they have to be removed, Falzone says.
Generally, the time frame states that holiday décor can be put up 30 days before the holiday, and taken down 15 days post-holiday, says Lisa Evans, community association manager with Vanguard Community Management, an Associa Company, based in Schaumburg.
Those rules should be in the governing documents, but the board has the ability to create new rules annually as problems or concerns arise.
One of the biggest issues residents have is concerning the aesthetics of holiday décor, Rodriguez says.
"I know of one community that has a mezuzah war going on," he says. "The more prudent way to go is to establish something that allows for that to take place with a little control. In communities where you have a lot of Jewish residents, we'd typically recommend that the association pick two or three mezuzahs that will fit into the overall aesthetic of the community. That circumvents the whole process."
But when it comes to choosing and creating the aesthetic look of the holiday season, it's a lot more difficult than having the boards simply tell the residents that they have a choice between two colors—and then letting them happily go about their holiday decorating.
"Aesthetics are one of the hottest topics because everyone has an opinion as to how the building should be decorated," Rodriguez says. He suggests that when it comes to the aesthetics of the holiday décor, that boards engage the services of several decorators who can do a holiday decoration project or a lobby.
"That'll keep it at an arm's distance. Have the decorators put up sample boards, and have the residents vote on them. That still means that people will be upset, but at least from the board and management system, you went through a fair process."
The decorators may be able to create an overall aesthetic, but it's up to the board and the residents to first decide what exactly should be off limits. Falzone says the first step is to figure out how to maintain the building while the holiday decoration is up.
Candles shouldn't be allowed in the hallways because they could be a fire hazard, and wreaths should be hung via over-the-door hangers instead of on top of nails. Live Christmas trees should be bagged when entering and exiting the property, and all the needles must be vacuumed. Board should also take note that dry trees may be a fire hazard, so some buildings have restricted their use altogether or given deadlines as to when they must be removed.
Common hallways usually can't have an obstruction such as Christmas trees or big statues due to fire regulations, so boards must speak with their local fire department about what they can and can't do to stay within code. "The basic principle that boards should use when designing decoration policies are aesthetic value, health and safety issues," Falzone says.
There have been many legal battles regarding religious items—most recently the case in Chicago about a mezuzah being removed from a door post of a Jewish family's unit—so lawyers recommend that associations don't attempt to restrict anyone on the basis of religion. The Chicago case that made headlines was recently settled, but others cropped up around the country. A similar case in Texas led to a state bill signed June 17 requiring homeowner associations to permit religious displays on residents' doors, including mezuzahs. Florida enacted a similar law in 2008.
To make sure their grounds are covered, rules should be reviewed by the association's attorney prior to adoption so that issues of this nature are within legal rights. At the same time, the association could strive to make the décor less religious and more neutral so the entire building will be happy.
They can do this by using white lights instead of red and green ones, and wreaths and greenery instead of a massive Christmas tree, Evans says.
"Generally, you should keep everything generic," she says.
Don't Go Into the Light
Flashing lights are one of the big arguments—especially if the lights are in the hallway and their shadows reflect inside a unit. Some people also get migraines from flashing lights, so they may not be acceptable in the lobby area either. Also, if the lights are plugged into a common area outlet in a hallway, then the association's electricity bills may rise dramatically if it's a big building and there are extra lights on every floor.
"The issue of sound emitting from decorations comes under the heading of nuisance, and is clearly covered in all declarations and condo laws," Falzone says. "Therefore, any sound criteria included in decorating rules must comply within those guidelines as well."
Still, you may want to make an exception to allow for some fun music playing softly in the lobby on Halloween, some Christmas music on December 25 and some Hanukkah tunes on the 8th day of Hanukkah. It's something the board can vote on and decide if it's a good idea for their building.
All the rules in the world won't do any good if the residents don't know about them before they buy their decorations, however. So in addition to being outlined in the rules and regulations, associations should put a posting in the lobby about two months before each holiday reminding the residents of the condo's current rules.
"If owners know the ground rules from the beginning, there should be no ambiguity, which is generally the cause of such battles," Falzone says. "Clear, fair and legal rules, and quality enforcement are the recommended ways to avoid battles over decorations while still allowing residents some freedom of expression."
If communities have competing interests and some residents feel the need to celebrate every single holiday, or to use flashing lights, noises or bright colors, the board can tell them that they're free to celebrate in a fashion that they like—but they must do it inside their unit or in another location, Falzone suggests.
When the association starts making concessions for one resident, they'll start falling down a slippery slope, and everyone will start asking for some leeway with their own décor. That's why clear rules are so important, Falzone says.
Not Just December...
"There should be some criteria for all holidays, whether generic or specific," Falzone says. "I can see fireworks being an issue of July 4. Obviously, they should be banned in condo buildings, which seems logical, but it's been known to happen."
These rulings may seem extreme, but holiday décor arguments are becoming a bigger issue than ever before, Evans says. "People may be a little more sensitive these days, and we've noticed more of a trend. There's a lot of things affecting that—and the economy plays a large role. People get a little more sensitive during sensitive times, and you always want to keep that in mind."
But also be aware that most people do want to celebrate the holidays with a few decorations, so try not to throw up your hands and ban everything. Remember, as the popular Biblical-based folk song by The Byrds so eloquently relates, "To everything there is a season, and a time for every purpose under heaven."
Danielle Braff is a freelance writer and a frequent contributor to The Chicagoland Cooperator.