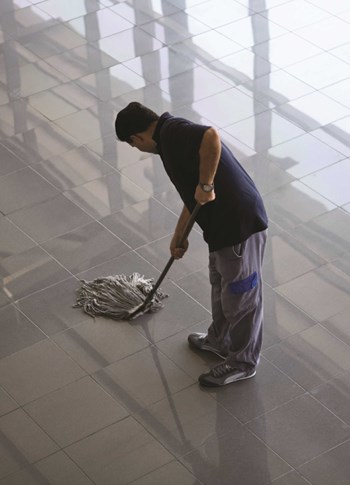 Hardy Chicagoans stash their winter coats away as soon as spring temperatures allow; and, come fall, they resist pulling out those parkas again until their teeth are chattering. Buildings, however, need preparation that's a little more thoughtful than that. Some matters require attention at least a couple of months before icicles start forming and falling, before snow accumulates on roofs and black ice forms on pathways, before ruptured downspouts and power outages, and especially before complaints from residents.
Smart Starts
A good once-over of a property during early fall months can prevent costly repairs later on. "If anything is happening to the exterior—wood trim rotting or paint peeling, for example—that we know will get worse in the winter with freezing and thawing, we can fix it," says Robert Berman, president of Desirable Dwellings Corp., based in Inverness. In fact, Berman suggests property managers or maintenance teams tour properties continually. "Walk-arounds of properties tend to keep the properties in better shape," he says.
One task that often comes up during these inspections is cleaning the gunk that builds up in the gutters during the year. "A lot of associations don't do appropriate downspout and gutter cleaning, and that leads tremendously to an ice-damming problem," Berman points out. It's also essential to keep sewers clear of any leaves and gravel to help prevent backups in gutters and flooding in basements.
Another pre-winter prep item is window cleaning. "We do a deep cleaning before temperatures drop and that includes cleaning the windows outside," says Stefan Dicu, manager of Chicago Cleaning Land. "It's impossible to clean them during the winter because of freezing temperatures, so that's a major task for us."
Although generally the responsibility of individual unit owners, changing out furnace filters is vital to the upkeep of any heating unit. It's worth reminding tenants, either with signs posted in the building or notes to an association board. "I'm a fan of purchasing less expensive filters and changing them more frequently," says Erin Kearns, executive project manager at The Building Group in Chicago. "They make a significant difference in the efficiency of your furnace," says Kearns, who has heard many complaints about heaters not working properly, only to discover that the culprit is an old filter. "People forget and you can see immediately where people have been negligent and can require replacement of expensive heating units," she warns. Also, be sure that even in foreclosed units, the heat is kept on to prevent pipes from freezing.
Another heat-related maintenance issue: dust-ridden ducts. "Pretty much our busiest time of the year is when people first turn on their furnace and get the smells and realize everything that is built up in their system," says Bruce Sanders, president of Air Care Services, Inc., based in Lisle. "We can always tell when the first cold day is, because our phones are ringing off the hook," Sanders says. "Everything gets built up, and that's what they're breathing in: all that soot and dust that's been sitting for four or five months," he explains.
Avoid being one of those last-minute callers by planning ahead. Sanders estimates a whopping half-pound of dust builds up every year, which means a lot of dirt could be circulating in those ducts if they haven't been cleaned in five or six years. They don't have to be cleaned yearly. Sanders uses five years as an average length of time between cleanings but says that several factors can push that schedule up. It could be accelerated if a building is located on a busy city street, if it's an older building, or if a unit has pets or residents with allergies, for example. For people who are especially sensitive to dust, he does recommend cleaning every year. He also suggests a cleaning after home improvement work has been done, such as the installation of new drywall or new carpeting, which both create a lot of dust and allergens.
Sanders says it's not common yet in Chicago but some buildings around the country are looking into sealing ducts with a type of foam. A recent EPA study argues that it improves efficiency and, although the initial price is steep, Sanders says the work is guaranteed for 10 years.
No matter what your building decides to do with its ducts, Sanders warns against using a company that advertises a surprisingly low price. "They try to get in your home and sell you all kinds of sanitizers and cleansers," he explains. "They start with a $49 ad and try to get the sale up to $700; they are basically salesmen." What Sanders does suggest is contracting with a company like his to come in and do all units at the same time. It saves his crew time and gas, which is then passed onto customers with a savings in price.
It's "Snow" Hassle
It's important to review any contracts that involve winter specialty vendors. Kearns says her company starts to look at snow removal contracts as early as August. "You never know in Chicago when that first dump of snow is going to come," notes Kearns, who generally reviews snow removal contracts on an annual basis even though the duration of the contract splits two years and two different budgets. "When you're looking at your budget, remember to account for the fact that winter around here doesn't fit into a tidy one-year budget," she advises.
When you read through the contract, look at what it covers: Does the company come out at one inch of snow or two inches? What kind of salt provisions are included, and is the salt appropriate for the type of exterior material—namely, asphalt or concrete—each building has? "It's not one-size fits all," Kearns says. These days, you can easily find salt that's safe for pets and carpets as well. The snow removal company should provide bags of salt for entrance ways, but it's a good idea to have additional salt on hand for clients.
Berman's company puts out salt bins just before winter hits. "They're [repurposed] dog food containers, so they have swinging plastic doors and they're not expensive, but they work, and we keep them supplied with salt and a scoop and pick them up at the end of the season," Berman says. To save money down the line, his company buys large stocks of salt, so they're not affected by spikes in demand or price-gouging.
For top-notch due diligence, gather and present to the association board three different proposals that compare apples to apples. Make sure the potential vendor comes out to your site to see first-hand what would need to be done. If a board has a long-standing relationship with a particular vendor, it may choose to simply stick with that, but it makes financial sense to at least reassess in order to best protect their investment. "If you have a good reputable company that you're working with for snow removal, it makes a really big difference—it's one of those relationships that are pretty important to have," Kearns says. " It angers people when they can't maneuver around their buildings."
Ice Ice, Baby
No resident enjoys walking under a canopy of melting icicles, either. Being unfortunate enough to have an icicle fall on them is even worse. Berman has found that for buildings whose roofs have gutters, electric heat tapes work wonders. These wires on the roof are thermostatic- and moisture-activated, so electricity is only being used when required. They help prevent bothersome and potentially dangerous situations by melting snow and ice accumulation about 2 feet above the gutters. The wires run into the gutters and out, "so it prohibits the formation of icicles and keeps areas completely dry, which is just magnificent," explains Berman, who has dealt with one litigation involving icicles. "Heat tape also reduces manpower of sending people out to hack off icicles all the time," Berman adds. "It's an expensive installation but boy, does it save money down the line."
Pretty Things Up
Sometimes, looking good requires a little extra help. Berman says Desirable Dwellings has maintenance vendors at-the-ready. He works with people who have their own vehicles, which saves him money, savings that he passes on to the associations he works with. Like many management companies, Desirable Dwellings also has latitude to spend up to $1,000 on minor fixes, which helps Berman's company stay proactive rather than reactive.
Keeping costs down definitely helps during winter when maintenance costs can be a bit higher than the rest of the year due to snow removal and cleaning needs. "Depending on the expectations of the homeowners and the property, they may choose to increase staff or increase frequency of cleaning," Kearns says. Although the cleaning product may not change for the winter season, the dilution may vary depending on the job. "Now it's generally an all-in-one green product," Kearns notes.
"I would watch my janitorial team mopping the lobby in the morning and by 11 a.m., it was just caked with salt again," she says. In larger buildings, adding extra mats all the way from the lobby to the elevator can help combat that problem. On the outside, a little holiday sparkle goes a long way. Management companies or an association might consider hiring an outside contractor to handle hanging up lights and any big landscaping job. "They will hang lights and take them down at the end of the season," Kearns says, noting the convenience of such a relationship, as well as the expertise to do it right and with minimal disruption. "One property was concerned about the fact that they had invested a lot of money on exterior landscaping and when it came to hanging lights, they didn't want it destroyed with ladders."
Keeping up appearances is an important part of creating and maintaining a comfortable place to live, even when the outside temperatures are anything but inviting.
Elisa Drake is a freelance writer and a frequent contributor to The Chicagoland Cooperator.