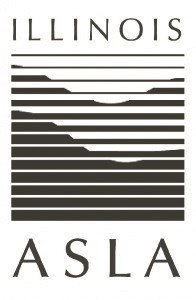 The American Society of Landscape Architects—ASLA, for short—was founded in 1899 by eleven prominent landscape architects, among them John Charles Olmstead, Frederick Law Olmsted, Jr., and Downing Vaux, second-generation landscape architects whose fathers' firm designed New York City's Central and Prospect Parks.
In the ensuing century-plus, the ASLA has burgeoned into an expansive professional organization with around 18,000 members and 48 professional and 68 student chapters, in every state and territory in the U.S. and 42 other countries. In short, it's grown like a sprig of clover in a sunny backyard.
Headquartered in Oak Brook, the Illinois chapter is headed by Amy Olson, of Olson Landscape Architecture, now in the second year of her three-year term. There are some 500 members in the state, making it one of the largest in the country.
The Mission
The mission of ASLA is simple: leading, educating, and participating in "the careful stewardship, wise planning, and artful design of our cultural and natural environments," according to the official documents. It accomplishes these goals by a combination of advocacy (the most important action item on the agenda at the moment, according to ASLA reps) and education. ASLA also provides a needed forum for landscape architects to network, compare notes, and engage in conversation about topics relevant to the trade.
The organization is also a vocal proponent of land stewardship, involving itself in the conservation of parks and forests in the state and elsewhere. For example, the Illinois chapter lobbied to have its local members renovate Grant Park.
Then there is the promotional aspect. ASLA is the public face of the profession, and as such, strives to increase awareness of the profession, as well as appreciation for the fruits (literal and figurative) of the landscape architect's labor. The first thing Olson mentioned during the interview was a study in Japan that found that taking a walk through a forest has salient health benefits—the science, she said, has corroborated what we intuitively know. "It increases brain function and health," she explains. "Without gardens and nature, we'd all be in a sorry state." She predicts that the new trend in Japan will be to go for forest walks.
Members & Leaders
Landscape architecture is a trade that combines the hard science of engineering and botany with the high art of aesthetic design. "Landscape architects have a broad education," Olson says. They have to know about grading and drainage as well as flora and fauna. They must be able to prepare large-scale design plans—for parks, say—as well as blueprints for mid-sized subdivisions, and they have to be adaptive enough to work in smaller spaces as well. Their primary clients are developers, municipalities and other governmental entities, condominium complexes, and individual homeowners.
Any landscape architect may join ASLA, says Olson, and although licensure is not a membership requirement, the lion's share of members are licensed—15,000 of the 18,000 total membership. An inclusive organization, ASLA is also open to students and to others who are interested in advancing the professional ideals. Membership is open to all landscape architects as well as students and others interested in the profession's issues, values, and goals.
As far as the leadership is concerned, Olson seems born to the role. Growing up in Ohio, where she spent summers on her grandfather's farm, Olson knew from the age of 11 that she wanted to be a landscape architect. She maintained a vegetable garden—a big one, she says—through high school. "I saw how much impact plants have on our lives," she recalls. Her father, a metallurgical engineer, encouraged her to pursue a career that she was passionate about, and underscored the importance of membership in a trade organization. "Make sure you support your organization,' he said, 'because they support you.'"
Programs
One of the main thrusts of ASLA, and the Illinois chapter especially, is education. "Our professional organization looks out for us by improving the quality of education at the university level," Olson says. "We update and change the licensure exam, to make sure what they're testing is relevant to the current practice." ASLA encourages continuing education for its members, to that they can keep up with current practices. With the green movement, the profession find itself in a position of change—although landscape architects are not to be confused with, say, their clients the developers when it comes to environmental awareness.
"We've been green since 1899," Olson says.
For her part, Olson has dedicated her efforts to publicity—seeking opportunities to communicate to the public what ASLA is and what it's doing to make the grass a little greener. The ASLA awards program, for example, used to be a members-only affair in December—not exactly the best time to pay homage to landscape architecture, what with the lake effect snow. This year, she moved the event—called Celebration 2011—to April, which in addition to (and perhaps because of) being the first full month of spring is also National Landscape Architecture Month. She's bringing in a distinguished keynote speaker—Dr. Richard Jackson, of the UCLA Center for Occupational and Environmental Health. And to underscore the fact that landscape architecture is as creative as it is scientific, she's holding it at the Museum of Contemporary Art. Celebration 2011 "is a zero waste, carbon neutral event that offers a high quality, inspirational, and vibrant opportunity to showcase the best of the profession."
Another initiative Olson is spearheading—with a grant from the national ASLA—is a postcard campaign aimed at promoting landscape architecture's role in the sustainability movement in Illinois. She's also reaching out to other professional organizations whose factions overlap what ASLA does—especially the vendors landscape architects use, and sponsors of the organization.
But number one on her list is advocacy. "Our biggest priority is advocating for the profession," she says. In the past year, ASLA has dedicated much of its resources to lobbying. She got to lobby in Washington, talking to the Illinois representatives about ASLA's concerns—more parks in urban environments, better water storage waste management. Other lobbying concerns include licensure, the environment and sustainable design, livable communities, surface transportation, and historic preservation.
On a national level, ASLA has other programs and services. Its website, asla.org, features information for both professionals and the general public. It publishes a trade magazine, Landscape Architecture, as well as Sweet's Landscape Architecture Directory, a product guide; maintains an online directory of landscape architects, a library of professional practices, and a job database; blasts out an electronic newsletter, LAND Online; sponsors an awards program; and throws an annual exposition. ILASLA also publishes a monthly newsletter, Dispatch, and a quarterly journal, Elevation.
The Future
The role of the profession continues to expand, as public awareness of sustainability increases. Eighteen months ago, the state's Landscape Architecture Act was signed into law, requiring, among other things, licensed landscape architects in Illinois to have a seal. This brings Illinois current with the neighboring states, and allays confusion when municipalities require stamped documents; the state is still working out the seal's design.
So despite all the advances in technology brought by a more complex society, the ASLA remains the voice of the landscape architecture profession through resources, collaboration, advocacy and outreach.
Greg Olear is a freelance writer, novelist and a frequent contributor to The Chicagoland Cooperator.