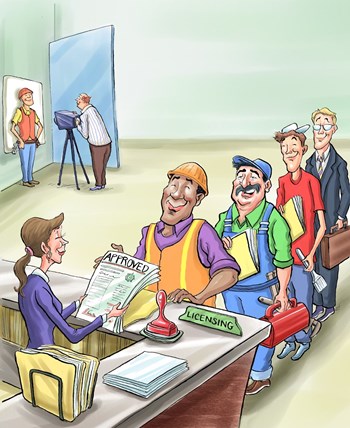 Just think about this—you go to a doctor's office for the first time and, hanging on the wall is an empty frame where his medical degree should be. You question him about it and he tells you, sure, he graduated from med school. He's totally qualified to wield a scalpel and prescribe drugs. But there's no proof. At this point, you probably get off the examination table and head out the door. After all, with no degree, you probably wouldn't let him take care of you. It could cost you your life.
Or how about this: would you ride around with someone who didn't have a driver's license, or car insurance? Of course not—and you would question the wisdom of anyone who did.
Working with contractors is not much different. In Chicago, contractors doing work on residential buildings need some sort of documentation verifying that they are qualified to do whatever job they're doing. Some need certain licenses, some just need proof of insurance, and others need to prove they have both. Building and HOA administrators deal with contractors all the time, whether for a simple lobby repair job or a major capital improvement. Things can always go wrong on a project—that's just the nature of any business. But without the right paperwork, things can go from bad to much worse.
Due Diligence
It's easy to find examples of this. A simple Internet search of 'contractor wasn't licensed,' and up comes thousands of scathing service reviews and cautionary tales from all over the country. According to consumer advocate and rating website AngiesList.com, in 2010, several Chicago-based customers were owed more than $100,000 in total by one kitchen contracting company. The company either took payments and never started the work, or they started work on a customer's kitchen and never finished it. The consumer website states that city records indicated that the company wasn't licensed.
To prevent such headaches, it's crucial that boards and their managers perform due diligence before hiring any type of contractor—ideally as soon as the call is put out for bids.
"Most condominium associations feel that every contractor is created equal," says James E. Collins, AIA, NABIE, ASHI, of Criterium Collins Architects & Engineers Inc. in Oak Park, a registered architect in Illinois, Indiana, Wisconsin and Michigan and a member of the National Academy of Building Inspection Engineers. "But when we talk to a board, we try to explain to them that not everyone is equal—or qualified to do the job. In today's economy, when things are slow, contractors may exaggerate their qualifications or experience to get the job because there's not much else going on."
When Collins' firm goes to an association job site, they are responsible for writing a report of what the conditions are, creating a design on how things should be repaired or replaced and determining the most economical decision for their investment. "Then with the drawings and specs, every bidder is bidding on the same thing," he says.
Collins' firm also researches potential contractors, checking background and potential complaints with the Better Business Bureau. "We like to work with the board to find the right contractor, and we're looking for the best one for the client because it reflects back on us," says Collins. "If we design something and it's not performed properly, we look bad."
I's Dotted, T's Crossed
Once a contractor is chosen, it's important that they come with the right paperwork. "They have to have the required insurance certificates," says Collins. "We have a pre-construction meeting to go over everything."
What documentation is needed also depends on the location of the job, but typically there are licensing requirements at the state and city levels. "The contractor should provide proof of licensing that can be verified online," says Gregory L. Howe, AIA, a principal with Searl Lamaster Howe Architects in Chicago. "Insurance coverage requirements—the scope and coverage limits—of the contractor should be checked with the building insurance carrier, and should include liability and workman's compensation."
According to the law, general contractors must submit proof of insurance and pay a fee, and no certifying exam is required. Annual fees range from $300 to $2,000 and insurance coverage minimums are $1 million to $5 million. But the general contractor license allows an individual or business to hire subcontractors and obtain permits, whereas a home repair license does not.
Howe explains that it's also standard to have a rider drafted naming the building as an additional insured. "The American Institute of Architects has standard contracts establishing general standards," he says.
According to Susan Hofer of the Illinois Department of Financial and Professional Regulation (IDFPR), the Department does not license general contractors, nor does any state agency. However, IDPFR licenses roofers, and the requirements for licensure are not dependent on the type of roof being installed.
For example, an applicant for a roofing license must submit evidence that they have obtained public liability and property damage insurance, worker's compensation insurance covering employees, that they have an Illinois Unemployment Insurance employer identification number or have proof of applying for the number, have submitted a continuous bond to the Department in the amount of $10,000 for a limited license and $25,000 for an unlimited license and have satisfactorily completed the examination.
"Not having standardized licenses and insurance is a clear sign that a contractor is not a good fit for your project," says Howe. He warns that managers should not move forward in the hiring process without confirming this information.
According to a 1992 Chicago law, businesses that fix, replace, alter, convert, modernize, improve upon or make an addition to any real property that is primarily used as a residence within Chicago's city limits must possess a home repair license. To obtain one, companies must pay a $250 biannual fee and submit proof of $300,000 liability insurance.
Other Considerations
When it comes to subcontractors, the Illinois Attorney General's office also states that a contractor must provide a written list of the names and addresses of "all parties furnishing materials and labor and of the amounts due or to become due to each." This list, or affidavit, must appear either as part of the contract or in a separate printed statement, and it must contain the following language: "The law requires that the contractor shall submit a sworn statement of persons furnishing materials and labor before any payments are required to be made to the contractor."
The law also requires every subcontractor listed in the affidavit to notify the homeowner, either personally or by certified letter, when he or she has furnished materials or performed labor on the homeowner's remodeling project.
"If a subcontractor doesn't have a license or adequate insurance, for example, who is liable if problems arise? "We're probably going to rely on the general contractor for the right documentation," says Collins. "He can change subcontractors. Once we get the job, we are looking for the insurance documentation."
If a subcontractor doesn't have a license or adequate insurance, Howe explains that the general contractor's contract should establish his umbrella responsibility. "This is key, since the full scope of a subcontractor's involvement is not always known at the start of a project," he says.
When it comes to notifying the residents about the work being done, Collins says that any remodeling job or repair is always a team effort. "We're not there 100 percent of the time, so we need to listen to homeowners and get their input and let them know what's being done."
Remember to check their warranties too. Is the company guaranteeing the work that they do? Most contractors provide a long-term warranty that shows the work they are doing will last for a minimum period of time. If anything were to happen with the item before then, they will cover the cost of replacement or repair.
Verifying a Chicago License
Visit cityofchicago.org and click on "Chicago Government" then "Department Directory." For home repair licenses, go to "Business Affairs and Consumer Protection." For general contractors, electricians, plumbers and masonry contractors, go to "Buildings."
Most renovation and repair projects go off without a hitch—but when things go wrong, knowing that your contractor is a fully licensed, fully insured, reputable professional can help take some of the headache out of dealing with the mishap. So whether you're a self-managed board hiring contractors directly, or working with a property manager to choose the best service provider for your building's project, verifying your contractor's documentation is a vital part of that process.
Lisa Iannucci is a freelance writer and frequent contributor to The Chicagoland Cooperator.