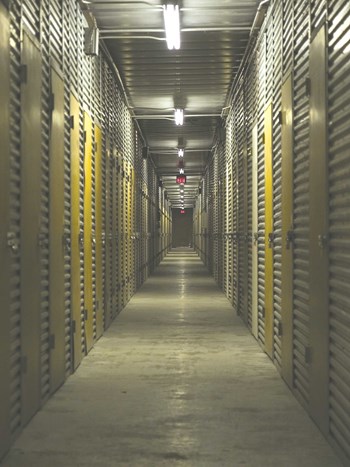 This is about the easiest decision—the closest thing to a no-brainer—a board of directors will ever need to consider: what to do with vacant space.
Install storage lockers. If you already have storage lockers, install more storage lockers.
What other building amenity pays back its initial investment in a year or two, turning a bleak, dark hovel in the basement into a perpetual money machine while making closet-space challenged residents very happy?
"The benefit is being able to have on-site storage," says Michael Tolva, president of City Storage in Chicago. "Most people, especially who live in condos, the space inside their units is small. The need for storage is very great. The fact that it is in their own unit is a huge amenity, especially when they are storing seasonal items. They don't have to get in their car and drive down the street, they can retrieve things a lot quicker."
For co-op and condo conversions of older buildings, which were not typically designed with built-in storage space, turning vacant basement or other space in the building into a storage room is a great way to bring in new revenue.
Planning the Storage Room
The number of lockers to install is figured based on such variables as the dimensions of the room and the projected demand for storage space among residents.
"When a board is looking for storage, sometimes they have space in mind, other times, we can help identify other spaces. So we will come out and do a survey of their property. We'll let them know how many units we think they will be able to get in," says Tolva.
The building doesn't need to rush to fill every inch of the vacant space in a new storage area with lockers. "We don't want you to put 100 units in if you're not sure you can rent 100," says Jamie Barnard, owner of New York-based Giant Industrial, which is affiliated with the national storage company Wirecrafters. "Start with 30 and when they are done we will come back and do 10 more for you."
The most common locker size is around 4' x 4' x 8' and most buildings opt for using wire mesh units. However, there are many sizes and options available, depending on your building's needs. Instead of wire lockers, Tolva's company builds custom steel lockers that vary in size and shape depending on the dimensions of the space and how many units are needed.
"Because we build them custom on site, we can get into a lot more tougher spaces. There are a lot of rooms that the pre-built wire cages cannot go in because either may the ceiling is too low or there is a water pipe that goes through," he says. "Almost all our units are traditional swing doors. We do have some that are roll-up doors and we do that when we build larger units. Our average size is usually five feet wide by six feet deep. Some of our units we will raise the floor. If we are in a room where there is potential for water damage or there has been flooding in the past, we will raise the floor to provide an extra layer of security," he adds.
Rental rates for storage lockers, as with most fees on services to the shareholders or association members, are set with an eye to balancing profit with providing an amenity.
"Some buildings want to provide the amenity and keep the cost down," observes Barnard. "They look at it as increasing values. The more amenities you have the higher the property values."
But in some cases it's tempting to apply the law supply and demand. "If you get a high-rise with 200 apartments and they'll only be able to fit 30 or 40 storage units," says Barnard, "they will kick the numbers up." Plus, the board must be careful not to give owners who do not want extra storage space the idea that they are subsidizing the ones who do.
To serve a greater portion of the population and cut costs per unit, the building can offer half-size units at half cost. They might offer a 4' x 4' x 4' bin, which still holds plenty of stuff, for about $30 a month.
To Rent or to Own
There are two distinct approaches to installing and maintaining a storage facility: outsource the entire operation to an outside vendor, which collects rent directly from the residents and remits a percentage to the association, or install and manage the facility yourself.
Giving the storage concession over to a private operator severely limits income to condominium corporation over the long term—and for that reason, it is a choice boards rarely make these days. But it does have its advantages. It is by far the simplest way to go; most of the building's labor is done after the phone call to the vendor. And it eliminates all start-up costs.
"We sign a master contract, which is like a lease agreement, similar to that of a laundry service, they lease a space in that building, install the equipment for free and 25% percentage goes back to the association. We sign a master lease and then enter into individual storage contracts with unit owners," Tolva says.
"We don't just install the units. We manage the whole thing. We meet with the tenants and we lease to them. We carry all the insurance, the maintenance and the staff for the units. The associations will never spend money with our products after installation," he continues.
Tolva says that this arrangement benefits the association because for one, "they don't have to come up with the money to provide this amenity to their residents if they want to do it now," he says. Additionally, he adds that the association frees themselves of liability. "If they built cages and started renting them out, they are trying to operate like a self-storage company and they usually don't carry the insurance for it." Lack of insurance can lead to problems if theft occurs or there is damage to the units or the belongings inside.
Do It Yourself
Still, most buildings prefer to keep the operation of the storage room in-house to enjoy the steady income stream. And while it does take extra effort to plan and maintain, the professional storage providers make it easy.
"Most calls," says Barnard, whose company has installed some 80,000 bins, "we go out and do a survey, design the room and give you a sample five-year profit projection," based on typical rents in the area. "In most cases," he adds, "your payback for the cost of the units is inside of 12 months—and then they generate income for you forever."
Often on first inspection of a building's basement, says Barnard, "we see an overrun, cluttered fire trap. In many instances the fire department has gone through and written them up and told them to straighten it up."
Any residents who might have stored some stuff down in the basement for years for free are not particularly happy to hear about the storage project, notes Barnard. "The building will ask people to go down and tag their items and remove them within a month or two." Meanwhile the company orders the bins, custom-fitting stock sizes to fit the dimensions of the room. Once the building cleans, patches and paints the room, the installer can put in 20 to 40 bins a day depending on their sizes.
To See or Not to See
Wire mesh is the material of choice for storage bins today. Barnard estimates Giant does 90% wire to 10% solid walls. They are cheaper because units share common walls, while solid metal containers are self-contained—closed all around. But more than that, according to Eddie Murphy, president of national distributor SpaceGuard Products, "wire mesh makes it easier to manage what people are storing, to make sure they are not storing, say, combustible materials inside their units. It also allows fire suppressant systems to operate unimpaired." Solid metal walls prevent water from sprinklers from getting inside the units.
On the other hand, many association and residents prefer to not to have their valuables exposed and opt for using sheet steel.
"[With steel], we can get into a lot more tougher spaces. There are a lot of rooms that the pre-built wire cages cannot go in because either may the ceiling is too low or there is a water pipe that goes through," Tolva says. He adds that "when you deny the ability to see what others are storing, it creates a lot more safety. As a company we own a lot of traditional self-storage facilities and whenever there is a break-in it is not random. It gets broken into because someone knew what was in there. When you know that your neighbor cant see what you are storing, you can store more things and it is more secure. If you are re-doing your wall and you need to store your plasma TV you wouldn't want anyone to see that it was in there,"
Put It in Writing
The corporation should make sure the rental contracts on the storage it provides are as solid as the bins themselves, clearly delineating the limits of its liability to renters.
"We have a four-page lease written to say that there is no exposure to the renter's losses," says Mitchell Stein of Orsid Realty, a New York City-based property manager. "A building pipe may break and flood your bin and destroy your property and you would need to have your own insurance cover it. In other words, if you lose it, you lose it."
Also, says Stein, "we recommend that the board include a provision in the lease that says upon vacating your apartment you would need board approval to retain your bin. You often find that people who have moved out want to retain the bin."
Stein advises residents to verify that their homeowner's policy covers damage in storage lockers. Some policies treat a locker with the owner's possessions in the same building in which they reside as if it were a closet within their apartment, while some want an extra premium for the coverage of stored possessions.
"You need to verify with your insurance company that your homeowner's policy covers that," he says. "It is not cut and dry."
Steven Cutler is a freelance writer and a frequent contributor to The Chicagoland Cooperator. Editorial Assistant Maggie Puniewska contributed to this article.