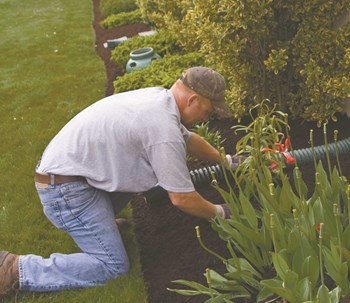 Part of the job of a condo board is to keep your association's grounds or lawn looking healthy and attractive. After all, curb appeal can do wonders when it comes to appraisals and even the morale of your community members. But most condo boards—whether their urban or suburban—are populated with volunteers, few of whom are likely to be professional landscapers or horticulturalists.
That being the case, they'll probably depend on a professional landscaper to maintain and beautify the grounds. We polled landscapers throughout the Chicagoland area to figure out what you need to be asking the landscaper before you hand over the keys to your green space. Here are their top 10 questions, in no particular order:
How much do we need to do? When the landscaper is done with the job, the job definitely won't be done with him, says David Boss, vice president and co-owner of Alan Horticultural Enterprises in Lemont. "All plants need to be watered, re-touched, moved and adjusted on a constant basis," he says, so you need to know the association's role ahead of time. You should write up a contract clearly stating how often the landscaper will return to water the plants and do other duties—and how much the association will be expected to do.
"The contract specifications have to be very specific," Boss says. "If they're vague, neither the contractor nor the association will know what's going to be done or not done. The words 'as necessary' or 'as needed' should not be in the contract. You need to say, 'You will come to our area once a week to maintain the property.'"
How much insurance do you carry?Your landscaping company should carry its own insurance, and $2 million is generally the accepted amount in Illinois, Boss says. Even though gardening and landscaping may seem to be a laid back, relaxing business, the truth is that they're using engines with flying blades on them, and they'll be driving vehicles on your property. "You're inviting this contractor onto the property to work, so anything can happen during that time—injuries to employees and residents."
Make sure you have a look at the insurance that your landscaper carries to see if it's legitimate, and double-check the amount of insurance that he carries. Larger buildings could use a landscaper carrying more insurance than smaller companies, but anything within the $2 million range should cover everything you need.
What are the extra costs of going green?There's no more natural place to go green than in a green space like a lawn or flowerbed, but most associations will be surprised at how much extra it will cost them to be completely environmentally friendly, Boss says. If you're truly going green, you're not going to be able to use any pesticides, so you'll have to put up with insects or insect damage, he continues. The other option will be replacing plants that you already have with plants that aren't as susceptible to insects and disease.
Add to that the costs of more expensive fertilizer and green cleaning products, and you could rack up many more expenses than you had expected. "It's difficult to really be completely green and also still provide what customers want—at least right now as far as the aesthetics of the property go," Ball says.
Are you a member of a professional organization? Membership in a trade association such as the Illinois Landscape Contractors Association (ICLA) is always a good indication that the company is serious about their professionalism, says Arun Aggarwal, president of Rent A Gardener, Inc. in Aurora. "The primary purpose of these trade associations is to provide education, and most members join them to take advantage of these training opportunities," Aggarwal says.
You can also ask the landscaper which training courses he's taken recently to learn more about his expertise. For example, if you're interested in hiring a green gardener, he should have taken some classes about environmentally friendly gardening.
Can we speak with your previous clients?You need to make sure your landscaper's style fits your needs, so it's very important to speak with previous clients and actually visit their properties to see the perspective landscaper's work, Aggarwal says. Ask if they would hire this contractor again, and find out what they liked and what they didn't like about the company.
But it shouldn't just stop there – the landscaper may only be leading you to clients who were pleased with the job. You should also see if anyone filed any complaints against the landscaper. You can do this via the Better Business Bureau (www.bbb.org), where you can see any complaints filed against the company for free. You can also spend a minimal amount of money to get a paid membership to Angieslist.com, where you can see all the reviews of the landscaper. Through Angieslist.com, you can also see what he charged past clients.
How many people are in your crew?You may only be meeting with one person at your initial meeting, but it's essential to make sure there are enough people to do the landscaping job quickly and efficiently, says Mark McDevitt, a partner with Cutting Edge Landscape Contractors, LLC in Effingham.
For a medium-sized condo building, you will need a minimum of four people to get the job done, McDevitt says. Find out if they're all full-time workers for the company, or if they'll be called on an as-needed basis. Also, find out if each crew member has their own insurance.
What are your extra charges? When the landscaper gives you a quote, he may not be telling you about the extra fees that you'll need to pay on a monthly or even a weekly basis, McDevitt says. These extra charges might be for raking up storm debris—or even having to double-cut the lawn when the rain limits access. He might even charge a fee every time he makes a special visit, even though you'll be paying him a flat fee for his time.
Once you negotiate the extra fees for services, ask the landscaper to put everything you discussed into a contract so there will be no surprises. At the end of the contract, make sure you write something along the lines of, "There will be no extra fees beyond what's stated in this contract for any of our landscaping needs."
Will you do snow removal? If you live in Illinois or elsewhere in Chicagoland, you've lived through enough blizzards to know how expensive snow removal can be. But here's a little secret, says Scott Grams, executive director of the Illinois Landscape Contractors Association. "Sometimes, you can work a better contract if you mix landscaping and snow removal together," Grams says. "Also, if they know they're also doing the snow portion, they'll have a better knowledge of how and where to push the snow when it's covering all the landscaping."
Grams says there are plenty of great landscaping companies that don't do snow removal, but if you're looking for a deal, find one that will do both services for one good price. Another bonus of having the two combined is that you always know who to call when you need service done in your green space—and you know that they won't be trampling over your garden when they're removing the snow because that only means more work for them.
What's your solution? Landscapers should be able to do more than simply following the associations' directions to create a beautiful green space. Because let's face it: most people on the association or condo board aren't experts in landscaping. So when you're interviewing a prospective landscaper, ask them about problems that your specific building faces, Grams says. For example, have you noticed that the grass under your tree is having a hard time growing? So every year, you've been putting more sod down next to the tree in the hopes that the sod will help the grass grow taller, greener and thicker? Try asking the landscaper what he or she would do in that situation.
"It should be up to the landscaper to think outside the box, and think of other creative solutions," Grams says. Or, if you spend time and money pruning the hedges under your windows every few months—and you're required to call maintenance to trim the hedges on a weekly basis—ask them how they can save money on this. Perhaps, they'll suggest putting in new hedges that don't grow over a certain height.
Do you have a single point of contact?Picture this: A resident notices that a tree is curving dangerously low to the ground. So when he spots someone working on pruning the hedges, he runs downstairs and points out the problem. The worker smiles, nods and agrees that there's an issue. A few weeks later, when the tree comes crashing down, the resident complains that he already told the landscaper about the problem, and it was never fixed.
Here's where the problem lies, says Grams: You need to make sure that there's a singular point of contact with your landscaping company—one person whom the residents can call if they have a problem, who will be the one to coordinate any work or maintenance that needs to be done. Typically, this person is called the site coordinator or the sales person, but it's key that they're willing to give out their phone number or e-mail address so that everyone living in the community can report any issues that they see happening.
Danielle Braff is a freelance writer and reporter living in Chicago.