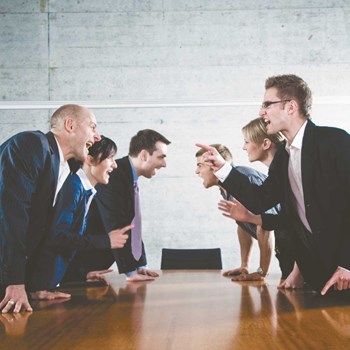 It was time for the the Chicago-based senior association's annual meeting. The board and residents, men and women, some in their 70s, were emotionally charged and concerned about various issues that the board would discuss. The issues do not matter now, because soon after it started, the meeting became so out of hand that insults began to fly, from audience members to board members. Soon, the president of the board became so enraged that he slugged someone. The police were called. Arrests were made.
No, it's not the newest reality show, "Boards Gone Wild," although if you talk to enough real estate attorneys and managers you can definitely put together a cast of characters that could make The Jersey Shore kids look like angels. Each episode could include chilling tales of board members who are embroiled in crazy lawsuits, mishandled misunderstandings, fraud and shady dealings. Hollywood, are you listening?
Jordan Shifrin, a principal with Buffalo Grove-based law firm Kovitz Shifrin Nesbit says that he's seen and heard of many types of crazy scenarios like this. "This situation was illustrative of an association that couldn't get anything done and wasted time at meetings," he says. "They didn't have the funds to do projects they wanted to do, and here are these two septuagenarians rolling around. When you charge someone or take a swing at someone, you're not thinking."
No charges were filed in the throwdown between the two elderly board members, and nobody's mug shot appeared on America's Most Wanted, but the board members were given a stern lecture from the judge about behaving themselves.
Fiduciary Duty
In his 30 years of practice, Michael Kim, an attorney at law with his own firm, Michael C. Kim & Associates in Chicago, says that he's come across a wide variety of appalling board members too.
For example, Kim remembers a board member who wasn't paying his portion of an assessment because he was extremely delinquent in his dues. "The treasurer of the association was sympathetic and didn't disclose it to the rest of the board," says Kim. "But we're talking a substantial, multi-year period delinquency. The treasurer breached his fiduciary duty and the association lost that assessment income that was wrongly covered up."
As a result of the board's actions, the residents responded with their feelings by voting the board out at the next election. The next board president wasn't as volatile, was level headed and dealt with the issues at hand. "In hindsight, they needed to deal with issues and put personalities aside," says Shifrin.
In his book, Condos, Townhomes and Home Owner Associations, author Patrick Hohman categorizes what he considers a few common bad behaviors among board members, including rude or non-communicating, takes interest only in himself, lacks skills, seeks no interest in fixing things, no longer pays dues, and takes kickbacks.
Money issues are common for board members who have run amok. Ryan Poliakoff, a former lawyer and the co-author of New Neighborhoods: The Consumers Guide to Condominium, Co-op and HOA Living, once wrote about a former South Floridian president of a condominium development, Century Village, who was charged with embezzling over $30,000 from her association.
"The fraud was uncovered when another retiree volunteered to be on the board and asked to see the year-end finances," writes Poliakoff. "When told that they were "unavailable," she did some digging and discovered that the president had not been paying her association bills. When this was brought to the attention of the rest of the board they immediately removed the president and asked her to turn over the books of the association. A quick investigation revealed that two condo accounts had been closed due to overdrafts, and an audit revealed the embezzlement."
Self-Interest is a Problem
Just search the web for many other real-life examples of bad board members arrested for fraud and stealing. In Florida, two members stole thousands of dollars from residents that were set aside for renovations and upkeep of the building. By inflating estimates for repair work, they would pocket the extra money for themselves. In Las Vegas, an FBI fraud probe concerns allegations that a condo president plotted to elect board members who would authorize construction defect lawsuits. The president had earned more than $100 million in construction defect litigation.
Armando Chacon, a real estate agent with Century 21 SGR, Inc., in Chicago and the president of his condo board, believes that bad boards start with bad members who are only interested in themselves.
"They come to serve their own interests versus serving to help manage the property effectively," he says. "I had a situation where the owner was only on the board because he was concerned about water penetration issues in his unit and that's all he talked about. He didn't even finish basic tasks and responsibilities that we had to do."
Unfortunately, some boards will encounter members such as these who will break the law no matter what, but for the most part board members are hard-working volunteers who have a dedicated interest in their association. Boards should still be prepared to fix problems as they arise.
For example, avoiding outrageous situations, such as the board brawl, requires understanding, says Poliakoff. "Understanding on the part of owners that the board members are unpaid volunteers who, by and large, are trying to do what they think is best for the community."
Poliakoff also says that there needs to be understanding by board members that the homeowners, even though they are not elected to serve the community, have a significant stake in what happens to their homes.
"Board members should always listen to owners respectfully, as looking at an issue from multiple sides can often help directors make better decisions, and owners should understand that board members have very difficult jobs, and that they often have to make unpopular decisions for the long-term good of the community," he says.
Trust But Verify
Better communication might be good for some of these scenarios but how can a board prevent stealing and theft? "Things like this do not happen all the time," says Kim. "But one way that you can prevent it from happening and monitor a situation is for the board of directors to take an interest and not just rely on a treasurer, for example, to watch the transactions. It's easy to create a system of checks and balances in the board."
For example, if money concerns are an issue, Kim suggests that every month the financial documents be scrutinized. "We're not saying you should feel that the operator has a hand in the till," he says. "In my experience, board members are honest, but those who are dishonest are that way to begin with or they have becomes victims of temptation, such as substance abuse or gambling, and are desperate for money."
Kim remembers a series of scandals where the property managers embezzled due to gambling problems. "The board was so entrusting of the manager that they never questioned the reports that he was producing," he says. "There are always potential controls to minimize the threat of the situation."
In addition to overseeing the financial documents, Kim says there needs to be a level of trust. "Another factor is that there is a relationship of trust with the board member that's been established over the years," he says. "Former president Ronald Reagan once said, 'trust but verify.' A good member will welcome that. You're not perfect and you could've made a mistake."
Another way of preventing potential problems is to have a neutral party involved in the meeting, such as an attorney, especially if there is a history of chaos. Shifrin says that if he were present as the association's attorney in the elderly tussle, he would have played the part of the referee in this match. "If I'm there, I'll assert myself to calm everyone down and sit at the board table," he says. "Someone has to step up and that's the role I provide. I would have had them sidetrack the issue they were upset about and then get back to thinking."
In hindsight, Shifrin says that in the senior cat-fight, someone needed to step up and be an adult. "A sensible homeowner needs to stand up and tell everyone to take a breath and calm down, and deal with issues and put the personalities aside," he says. "If I had been present, I would try to have been a referee and got them back to thinking about their issue."
For more information on bad board behaviors and what should be done about them, check out the sidebar.
Lisa Iannucci is a freelance writer, author, and a frequent contributor to The Chicagoland Cooperator.