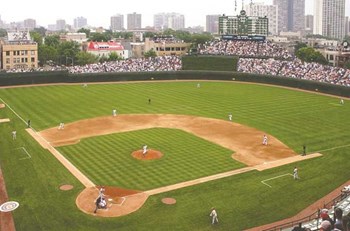 Formerly a working class neighborhood heavily populated by factory workers and their families, Wrigleyville is the nickname of the neighborhood surrounding the Chicago Cubs iconic baseball stadium Wrigley Field, but the area is more commonly referred to as Central Lakeview. The district features low-rise brick buildings and more affordable houses than its Lakeview East neighbor.
Wrigleyville teems with life and hometown spirit thanks to rowdy fans in the summertime during baseball season, particularly on the main thoroughfare North Clark Street that feature an abundance of sports-themed restaurants and bars such as Sluggers, Casey Moran's, Roadhouse 66, Sports Corner and The Cubby Bear. Legendary broadcaster Harry Caray's Wrigleyville restaurant location closed in 2010.
But Wrigleyville is more than just baseball, the neighborhood boasts an impressive assortment of boutiques, specialty shops, live music and theater venues, and a bevy of restaurants that serve up everything from Chicago-style hotdogs to trendy comfort food to haute cuisine. Northwestern University, the Goodman School of Drama and Truman College are also located nearby.
Wrigleyville borders run from Diversey Parkway and Irving Park Road to Halstead Street and Racine Avenue.
The Early Days
Originally called Lakeview Township, the area was initially used as a camp and trail path for the Miami, Ottawa and Winnebago Native American tribes.
Swiss immigrant and local farmer Conrad Sulzer, who raised vegetables and flowers, was the area's first property owner in 1837. Sulzer hauled his produce into Chicago (which only came as far as north as North Avenue) to sell, the same way farmers from Indiana, Michigan and rural Illinois today bring theirs to Lincoln Square.
By the mid-19th century the area's local farmers (many from England, Germany and Luxembourg) were boasting that they were the celery capital of the United States. In addition to celery, cucumbers were also a popular vegetable that sold well in the area. Many farmers pickled their cucumbers. The burgeoning Polish and German population provided a ready market for the pickles.
During this time the population grew at a rapid pace as immigrant farming families flooded the area. In 1854, James Rees and Elisha Hundley built the Lakeview House hotel on Byron Street near Lakeshore Drive as a get away for potential land investors and wealthy Chicagoans seeking a summer refuge from the city's stifling heat. It is believed that the hotel served as a refuge for Chicagoans during the 1885 cholera outbreak.
According to urban legend, 90,000 residents (this number was never confirmed) died of cholera and typhoid fever in 1885 from contaminated drinking water. It was alleged that during an extraordinary storm, the rainfall washed refuse from the Chicago River, and that sewage reached Lake Michigan, the source of Chicago's drinking water.
Lakeview Township
In the mid-nineteenth century access to the community was provided by a wooden plank road connected to present-day West Fullerton Parkway, which was called Lake View Plank Road and is the present-day North Broadway.
With a growing population and infrastructure in place, residents realized it was time to structure a formal government to provide basic public services.
In 1857, the area was organized into Lake View Township and shortly after, the first township election was held. In 1872, residents built a town hall at Halsted and Addison streets. Sixteen years later Lake View was incorporated into a city but in 1889 despite a controversial vote, and the resistance of Lake View officials, the city was annexed to Chicago.
The area today is home to many residential neighborhoods. Lakeview East, especially along the Lake Shore Drive and Broadway corridors, consists of upscale condominiums and higher-rent mid-rise apartments and lofts. Small businesses, boutiques, restaurants and community institutions are found along North Broadway and North Halsted Street.
Take Me Out to the Ballgame
Construction on the Wrigley Field baseball park began in 1914 and was financed by Chicago lunchroom magnate Charles Weegham, the owner of the Whales, a Federal League team. The Federal League was a professional baseball league that operated as a third major league in competition with the more established National and American leagues.
The park was built in six weeks at a cost of $250,000 ($5.3 million in 2011 dollars) and was designed by architect Zachary Taylor Davis, who had recently designed Comiskey Park for the Chicago White Sox four years earlier. When the parked opened in 1914 for the Federal League season it had a seating capacity of 14,000. Today the stadium seats 41,159.
The following year the Federal League folded, and crafty businessman Weegham formed a partnership with chewing gum magnate William Wrigley Jr. to purchase the Chicago Cubs from Charles P. Taft for $500,000.
Straight away Weegham moved the Cubs from the dilapidated West Side Grounds to his two-year-old park. In 1918, Wrigley obtained a controlling interest in the club and in November 1926 renamed the stadium Wrigley Field. The following year an upper deck was added.
In 1934, the baseball team's iconic marquee was installed, a large red, art deco style awning painted in white letters that read Wrigley Field, Home of the Chicago Cubs.
Even though Wrigley Field has been home to the Chicago Cubs since 1916, its long-suffering fans have yet to see their beloved Cubbies win a World Series. The last World Series win by the Cubs was in 1908. There is also an alleged sports curse on the Cubs called the "Curse of the Billy Goat." Billy Goat Tavern owner Billy Sianis brought a goat (yes, a live billy goat) to a World Series game in 1945 and was asked by management to remove the animal from the park. Incensed, he declared that the Cubs would never win a World Series as a result—they're still waiting.
Up on the Rooftop
Many residential homes surrounding the ball park on Waveland Avenue (overlooks left field) and Sheffield Avenue (overlooks right field) has Wrigley Rooftops—the marketing name given to bleachers or seating that is attached to residential rooftops to view baseball games or other events at Wrigley Field. The rooftops had always been a gathering place for free views of the game until the 1980s when the popularity of the Cubs began to rise and the building owners began to charge admission, to the annoyance of Cubs management.
After years of legal battles, an out-of-court settlement was reached in 2004; eleven of the thirteen rooftops agreed to pay 17 percent of gross revenue to the ball club in exchange for an official endorsement.
Christy Smith-Sloman is a staff writer for The Chicagoland Cooperator.