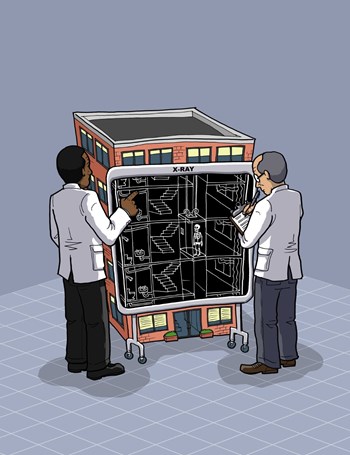 From the outside, the structure of a condo or co-op building may appear to be monolithic; just one big piece of brick and steel, punctuated with some glass here and there. That's an oversimplification, however. A multifamily building is perhaps more like a human body, with a multitude of organs and moving parts working together to keep the building healthy and vibrant. From the roof to the boiler and all points between, ensuring that systems are operating efficiently is a continual challenge.
The primary operating systems in a multifamily building include roofing, the building envelope, waterproofing, electrical, mechanical, heating, ventilation and air conditioning (HVAC), plumbing, and in some cases, elevator systems. In high-rise or multi-unit buildings especially, the association is responsible for providing many of these basic utilities to unit owners.
Climate Control
The problems that beset HVAC systems largely depend upon the type of system installed, and whether it was installed properly in the first place. "A primary problem with HVAC systems is having an improperly sized system," says John Lillis, vice president of All Temp Heating & Air Conditioning Residential Services in Chicago. "When that happens, you have uneven temperatures, and you'll have cycling—which is the unit running on and off frequently. That leads to deterioration of the system, and the comfort level will not be what it's supposed to be."
And while the size of a building might matter in terms of scale and expense, the actual approach to maintaining HVAC equipment is similar. "Annual maintenance is the key for both small and large buildings," says Lillis. "It basically entails cleaning and checking the entire system from top to bottom to make sure it's performing the way it should be, that way you can catch any problem before it arises."
Experts believe that larger buildings (six stories or more) tend to have more complex systems, may require more maintenance personnel and when problems do occur, they can occur on a grand scale while small buildings tend to have less maintenance.